Health Warrior Superfood is all about superfoods! In fact, Health Warrior Superfood's website states, "Better health starts with the right ingredients, which is why the first one in all of our products is a superfood – the most nourishing food on the planet." Health Warrior has a bunch of healthier and convenient food options for you and your diet.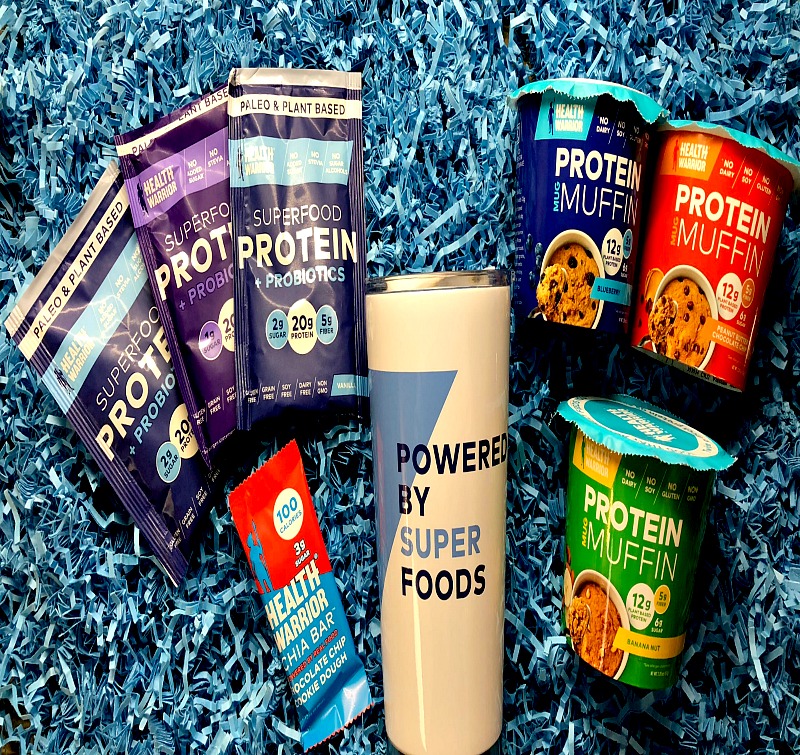 Muffins In A Mug—Yum!
One such option is their new Protein Mug Muffins that you'll want to check out! These aren't your ordinary muffins. These are muffins that you can spoon out of a mug! Doesn't that sound fun! But, that's not all. These Mug Muffins have two times the protein than sugar! According to the product's website, they also contain 12 g of plant-based protein and only 6 g of sugar. They've got ingredients you can feel good about eating, such as pumpkin seeds, flax seeds, and almonds. And, to make them even better, they are free of dairy, soy, and gluten. Plus they are gluten-free.
Health Warrior Protein Mug Muffins come in the following flavors: Peanut Butter Chocolate Chip, Banana Nut, and Blueberry Protein. You can purchase them on the Health Warrior website. They come as a package of 6 Mug Muffins for $17.99. And, if you hurry, I noticed they have a "Launch Special," which says you can receive 2 free mugs when you order a 6-pack (no code is needed and only 1 per customer while supplies last). I'm not sure how long the special will be available, so I'd hurry and get yours!
Protein Probiotics
Health Warrior also has their Superfood Protein Probiotics. These are paleo-friendly and a plant-based protein powder. They have no added sugar, no stevia, and no sugar alcohols. And, they contain 20 g of protein. The vanilla flavorke has 2 g of sugar and 5 g of fiber and the chocolate flavor has 1 g of sugar and 6 g of fiber. Plus, what I really love, is that they have probiotics, which the website states can help promote healthy digestion. I love probiotics. And now you can easily open a packet and add probiotics and protein to your smoothies to give them a nice nutritional boost!
What I also really like about the Health Warrior Protein Powders is that they don't contain a lot of ingredients and I recognize all of the ingredients. For example, the chocolate flavor powder contains the following: pumpkin seed protein, hemp seed protein, organic Dutch process cocoa powder, flaxseed protein, chia seed protein, apple powder, natural flavor, sea salt, cocoa extract, bacillus coagulans GBI-30 6086 (probiotics), and monk fruit extract. This is definitely a powder I'd love to add to my daily smoothie. And, one packet contains only 120 calories!
Chia Bars
If you need something a bit more on-the-go, Health Warrior also has their Chia Bars, for a quick and simple healthy snack! Their Chocolate Chip Cookie Dough Chia Bar is one such option and it contains only 3 g of sugar and 100 calories! And, again, the ingredients are all recognizable, so I feel good about eating these as I know what I'm putting in my body. These bars are available here for $15.99 for a box containing 15 bars.
So, visit the Health Warrior website. They have a lot of options, many of which would be wonderful to pack in your lunch to take to work (or your kid's lunch for school)!
Connect with Health Warrior: Website | Facebook | Twitter | Pinterest | Instagram