Fairytale Brownies are a mail order brownie company and they have some of the best brownies I've ever tasted. The ooey, gooey, chocolatey treats taste very fresh and the chocolate used is out of this world. The brownie, cookie and blondie bar gifting company have great gifts and ideas for holiday gatherings, especially Halloween. Their brownies are individually wrapped and available in three different sizes (Brownie, Sprite and Morsel).
I was happy to receive the brownies in one of their specially designed packages – for Halloween. This year for Halloween, why not share these unforgettable treats and nix the tricks? Instead of candy, surprise everyone with a Halloween gift of rich, dark chocolate brownies in a variety of scrumptious flavors. Or send Halloween greetings to a student away from home. Fairytale Brownies has the perfect size for college students to share with their roommates and dormmates or to share at their internship office.
Sizes:
Fairytale Brownies
3″ x 3″ | All 12 flavors
Fairytale Sprites
3″ x 1.5″ | All 12 flavors
Magic Morsels
1.5″ x 1.5″ | 6 flavors
Flavors:
Caramel
A creamy caramel layer creates the ultimate chewy temptation
Cinnamon Cocoa
A touch of cinnamon mixed in brownie batter topped with a cocoa, butter and pecan crumble.
Chocolate Chip
A delectable double dose of chocolate extravagance
Cream Cheese
Soft cream cheese swirled through silky chocolate brownie batter
Espresso Nib
Filled with rich espresso flavor, sprinkled with crushed cocoa nibs
Mint Chocolate
Cool mint hand-drizzled over rich chocolate
Original
Callebaut Belgian chocolate brownie – lovingly handcrafted
Pecan
Bursting with handfuls of fresh, crunchy pecan halves
Raspberry Swirl
Lively raspberry puree twists through silky chocolate batter
Toffee Crunch
Golden, buttery toffee pieces are baked in for a delightful crunch
Walnut
Classic brownies piled high with premium grade walnut halves
White Chocolate
Sweet white chocolate is drizzled over this chocolate brownie for a delicious taste of both worlds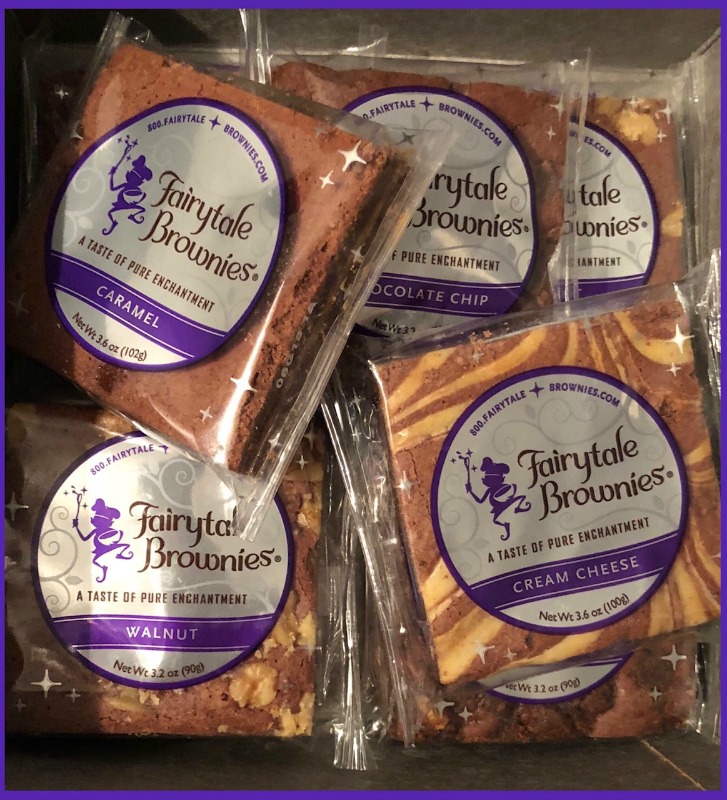 About Fairytale Brownies
They bake these favorite gourmet brownies, cookies and bars with only the finest all-natural ingredients like rich Callebaut Belgian dark chocolate, creamery butter, fine cake flour and fresh eggs. They don't use ANY trans fats, preservatives or artificial colors. Fairytale Brownies takes pride in sourcing only the best ingredients for their family recipe to create delicious favorite treats. Expert bakers bring it all together into fresh, individually wrapped desserts.
By supporting Fairytale Brownies, you're also giving the gift of play. They've contributed over $300,000 to their non-profit partner, KaBOOM!, to help build playspaces for kids across the country.
CONNECT WITH FAIRYTALE BROWNIES: Site | Facebook | Instagram | Twitter