When it comes to showing your enthusiasm towards different things you are left with a lot of options. There are a lot of people in the world who love to decorate. Whether it is going to be inside or outside you will be able to spice the look of things up a bit. Right now, we are continuing our way through the fall season. The weather is starting to change and there are a lot of ways for you to bring that fall sense of style to your home. Now, celebrating the joy behind the wonderful changes to our environment has to be done right. The question is, how would you go about doing so?
Finding the right additions to make to your home decorations can be tricky if you don't know where to look. While you have a lot of options to pick and choose from, I have just the perfect idea. Celebrate the excitement of changing leaves and chilly air with Precious Moments fall-themed pieces!
Fall Masterpieces From Precious Moments
As we know, Precious Moments has continued to give the world some of the most beautiful figurines on the market. Their fall collectibles will put a smile on you and your loved one's faces guaranteed. You will be able to find the perfect decoration for you to add to your home this year. These adorable keepsakes add the perfect touch to fall tablescapes, autumn/Halloween home décor and more – plus, they make great gifts! One you should consider is their Trick Or Treat, You're So Sweet, Direct Exclusive Bisque Porcelain Figurine!
Too cute to be scary, this sweet jack-o'-lantern and her French bulldog puppy wear matching pumpkin hats, treating everyone to Halloween fun as they embark on an evening of trick-or-treating. Now, this is a Direct Exclusive which means this cutie is only available through PreciousMoments.com!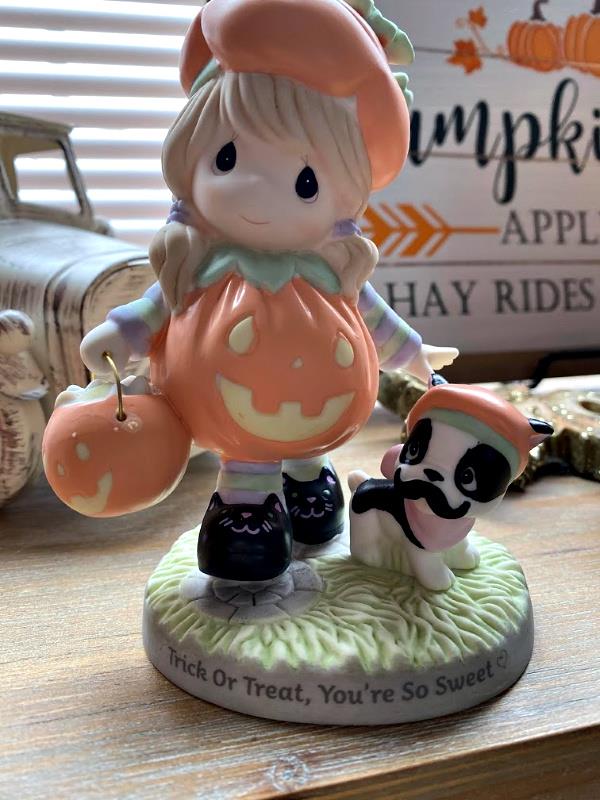 Not only is this piece great for the Fall season and Halloween, but it would also a great addition to any collection and a nice sugar-free treat for friends who are young-at-heart. As for details, this beautiful piece is sculpted of fine bisque porcelain and expertly hand-painted. Having a wonderful keepsake like this one would be absolutely perfect for anyone. Trust me, Precious Moments will be able to provide you with exactly what you need.