The Tanner clan will be "everywhere you look" when Warner Bros. Home Entertainment (WBHE) releases Fuller House: The Complete Second Season on DVD December 12, 2017. The second season of the heartwarming and hilarious family comedy Fuller Housereturns with 13 episodes on DVD, featuring guest appearances by original cast including John Stamos, Bob Saget and Dave Coulier. The laughter and good times continue, as the second generation of Tanner kids grow-up in this, family favorite series. Fuller House: The Complete Second Season, will retail for $24.98 SRPThe Tanners are back for a whole new season. Hard to believe how grown up they are, and Kimmy and DJ are moms with kids. Do you remember how young they . all were back in time. FULLER HOUSE: THE COMPLETE SECOND SEASON. everyone comes back for the Holiday Season, and poor DJ has finally decided who she wants.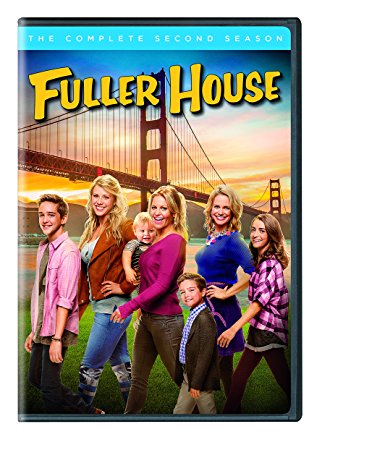 There's no better place to be than home. And this season will be more laughs and surprises. Kimmy's ex-has decided to move into the house too. What a great holiday this will be, with everyone together for the first time on Thanksgiving. Kimmys daughter decides, she's ready for her first kiss, and DJ is the one planning everything, and this will push her skills to the extreme.
Let's not forget Kimmy.she tries to get her childhood band Girl Talk back together again. Uncle Jesse and Becky consider making an addition to their family. A famous '90s boy band makes a guest appearance and much more! This season will have, Steve, engaged to someone else, and DJ thinking it should be her. even though her heart belongs to Matt.
There was never a dull moment, Uncle Jesse still looks the same and his boys are all grown up. DJ is a veterinarian and is currently windowed. She and Matt work side by side. She had three boys, that she is raising with the help of Stephanie and Kimmy. Through tears and laughs, these girls remind me of, Joey, Jessie, and their dad. Doing this as a team and getting through all the tough times.
The series has already been renewed for a third season on Netflix and earned a People's Choice Award in 2017 for "Favorite Premium Comedy Series."
"The original Full House made such an impact with audiences. It was a huge hit during its initial run and continued to build a devoted fan following while airing in syndication. Now Fuller House carries on the legacy of its predecessor, with new generations enthusiastically embracing the series and its cast," said Rosemary Markson, WBHE Senior Vice President, TV Marketing. She added, "We are delighted to release another season of this very entertaining family comedy on DVD."
The original Full House, which centered around three grown men raising three girls in San Francisco, premiered in 1987 on ABC and became an instant hit with viewers. The family friendly series became a pop culture phenomenon. It was praised by fans for its wholesome comedy, lovable characters and valuable life lessons. It aired for eight successful seasons and later aired in syndication. Fuller House premiered on Netflix in February 2016.