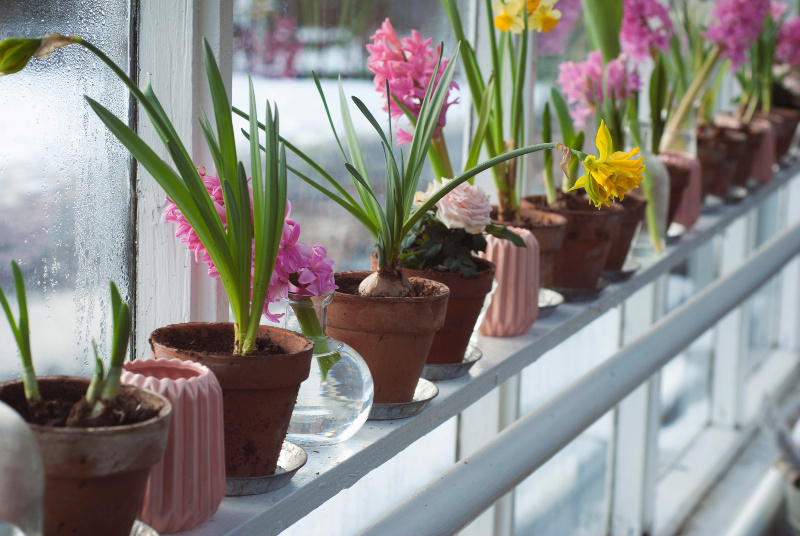 Spring is right around the corner. Amongst all of the amazing changes you can make in your home this year, it's time to create charming memories outside with easy to do masterpieces. Here are some amazing do it yourself spring garden craft ideas to explore.
The Topsy Turvy Flower Planter
This project is fun. It's also great for small gardens or homes that don't have a garden. With a few modifications, you can make this artsy project water-efficient too. To do this project, you need several pots or buckets. You can paint them first. A fun thing to do is to get different types of pots, and paint them all the same color. You can also get the same types of pots and paint them different colors. You can also use varying pot sizes. You need to use either rebar or a metal pole to secure the pots. If you're going to use buckets, you'll need to drill holes in them first. Anchor your pole or rebar in the ground, or use a large planter inside your home to ensure the pole will not fall over with the weight of the pots. Feed the rebar through the holes in the pots, and stack your pots on top of one another in alternating directions. After you place soil in the pots, the soil will help to keep the pots in place. To increase efficiency, drill small holes on the bottom of the pots so that water can drain into the lower pots.
Rock Markers
If you like the idea of marking your fruit and vegetable plants but have problems with markers falling over or flying away in the wind, you can use rocks in a clever way. If you have dark-colored river rocks, you can easily paint an assortment of fruit and vegetables on them with vibrant paint. However, you could use any rock that has a flat surface. Use dark gray or black paint on them first if they're naturally a light color. Be sure to write down the name of your plants on the rocks too. Place your rocks at the end of each row.
Pest Control
Pest control is never easy. This is especially true when you're trying to grow fruit and vegetables. However, there are some DIY ideas you can try. If you're having a problem with aphids, you can order ladybugs. Special sprays made from chili powder and dish soap can help prevent bugs from munching on your plants. Diatomaceous earth is wonderful in deterring insects, centipedes and other creepy crawlies, but it will also kill earthworms. However, some situations and infestations are too much to handle on your own. If you reach a point where you feel that your efforts aren't enough, don't hesitate to call a professional like pest control in Las Vegas in to take care of it for you.
Glow in the Dark Fun
Using glow in the dark paint, you can create a wide array of cute projects in your garden. Get ready to be excited. You can use any size and color of rock. The process is insanely simple. First, you can paint your rocks with a variety of colors, or you could skip this step and use clear glow in the dark paint. You can't see the paint during the day, and it glows at night. This project idea is great for stepping stones because it helps to make them easier to see and step on at night. You can use special stencils in the shapes of dragonflies or butterflies. You can use fish aquarium rocks in a planter, surrounding succulents, as a fun night light on your front porch. Using glow in the dark paint over a variety of rocks, you can sprinkle these rocks amongst the other rocks in your yard to mimic the look of stars in a dark sky. Hang small painted rocks on one side only from trees using string to create the look of twinkling fireflies as they twist about. You can also use glow in the dark paint on larger rocks and regular paint over the glow in the dark paint with numbers to show your address.
Don't stop thinking of things you can do with your spring garden. Plant vegetable and fruit plants or trees, and set out patio furniture. Be sure to enjoy your private, magical land.