Now that school has been out for almost a month (for most), are your kids complaining they're bored yet? A great creative way for kids to spend their time is crafting! Crafting can provide kids with hours of fun. And, you can do it inside and outside (such as at the park on a picnic table). Two great crafting books that many kids will love are "Vacation Crafting: 150+ Summer Camp Projects For Boys & Girls To Make" and "Foam Crafts For Kids: Over 100 Colorful Craft Foam Projects To Make With Your Kids."
A Book For Making Crafts On Vacation Or Anytime
"Vacation Crafting: 150+ Summer Camp Projects For Boys & Girls To Make" contains an amazing array of crafts—some of which I'd even love to do myself. This book is recommended for children ages 4 to 12 years of age. Some of the crafts will be more suitable for the older children due to the skill level required.
This book is organized according to supplies or craft type. For example, there is a section for seashells—all of the crafts in that section involve using seashells. The book has sections utilizing the following supplies or craft ideas: foam, seashells, string, hemp, friendship bracelets, plastic lace, rubber bands, pony beads, fusible beads, tie-dye, and duct tape.
For the duct tape section, this section contains general crafting tips, duct tape crafting suggestions (a charging caddy, chain jewelry, and more), and detailed directions on how to make a duct tape wallet, a duct tape wrist cuff, a duct tape sketchbook, and a duct tape luggage tag! And, with so many cool and decorative duct tapes available, you could make some really cool stuff!
This book contains 160 pages and tons of detailed directions and many colorful photos to make crafting easy and fun! "Vacation Crafting: 150+ Summer Camp Projects For Boys & Girls To Make" is available for pre-order for $16.99 on Amazon. The release date for this book is July 9, 2018. (Price subject to change.)
Wait Until You See What You Can Do With Foam
The second book is "Foam Crafts For Kids: Over 100 Colorful Craft Foam Projects to Make With Your Kids." This book really surprised me. Initially, I thought, "How much can you do with foam?" Well, it turns out you can do quite a bit! And, foam is relatively inexpensive at the craft store.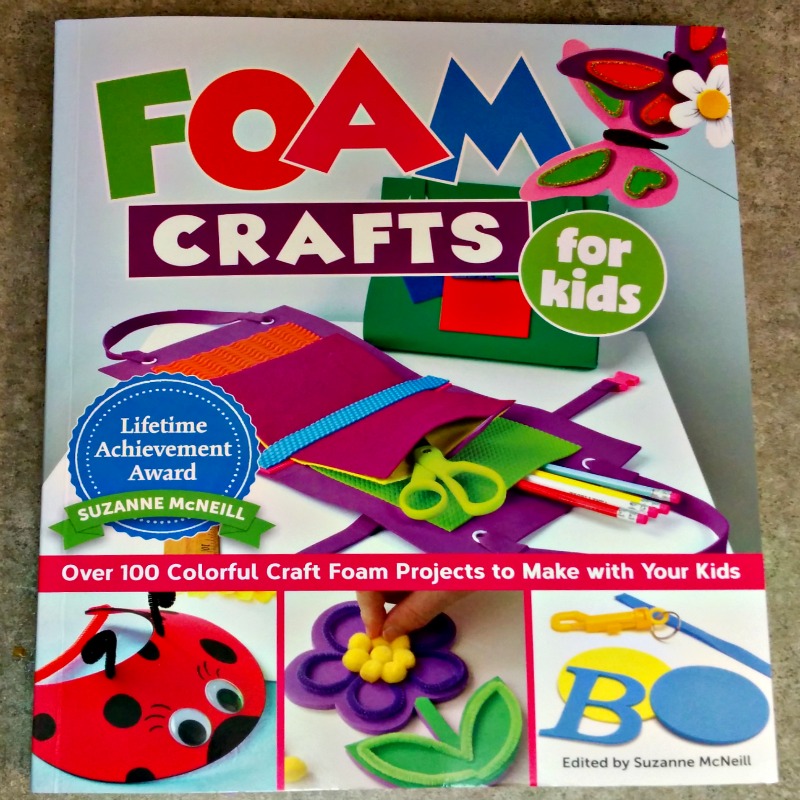 This book is suggested for kids of the ages of 4 to 10 years (the younger ones will probably need assistance). It has quite a few fun projects your little ones will really enjoy doing. For example, they can make pencil holders, gift boxes, and bags and accessories (my favorite). The little purses are super adorable!
This book also has several colorful pictures to guide you. It has clear directions and various templates.
This book (160 pages in length) is also available for pre-order for $17.99 on Amazon (price subject to change). It will be available July 9, 2018.
Both books were created (in part) by Suzanne McNeill. She is a past winner of the "Lifetime Achievement Award" from the Craft & Hobby Association. She is also the author of more than 250 craft/hobby books. Her creativity and experience definitely shine through in these books!
Connect with Suzanne McNeill & Fox Chapel Publishing:
Amazon | Website | Facebook