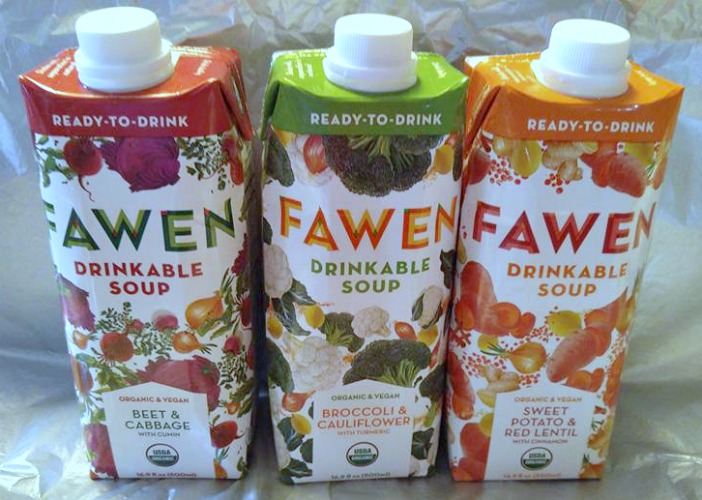 Fawen will help to infuse your life with an extra boost of hydration. While using organic coconut water, coconut milk and virgin coconut oil to work together with filtered water. That forms the perfect alkaline base for these drinkable soups. Which brings balance and vitality to your body and mind.
Loaded with 16 different vitamins, minerals and antioxidants. Superfoods that are carefully chosen for their taste and nutrients. Making you feel nourished, empowered and supercharged. The perfect meal for your busy day. Chill and they are ready to drink anywhere at anytime. Giving you the extra nutrients that you need to get through the day.
This is my husband's favorite. And I like that it is high in Vitamin C and K. While also a good source of potassium, fiber, folate and manganese. The cumin will give it a subtle and alluring smokiness and the beets give you a slight sweetness.
This is my favorite. I could eat broccoli and cauliflower with every meal. Now I can take this amazingly delicious soup with me. Naturally high in Vitamins C, K, manganese. While also providing potassium, fiber, vitamin B6 and folate. All of these mixed together will help keep me feeling younger and strong. Since I am getting older I need all the help I can get. And the turmeric and lemon give it a bright and cooling taste.
Not to be forgotten or counted out. Sweet Potato's are also another favorite of mine. This soup is naturally high in Vitamin A and a good source of fiber, potassium, Vitamin C and manganese. While giving you the illusion of drinking a milk shake because it is such a sweet taste. And the cinnamon mixed with it makes for a very rich yet delicious drink.
You can drink them chilled or at room temperature. Once you open a soup you can keep in the refrigerator for 1 – 2 days.