My big brother is a food lover. He has impressed me as of late by learning to cook his own meals instead of going out to eat all the time. If you too love a foodie, then check out this fantastic gift. I got one for my brother, and I know you'll want to gift one too!
Fantastic Gift for the Foodie You Love
What's one thing that you always have to have on the table or near the stove? Any guesses? If you guessed salt and pepper, than you're correct! (Sorry no prize other than knowing you were right. ;) ) But not just any salt or pepper will do. Many foodies enjoy very coarse salts or peppercorns. However, those need to be ground to get the most out of their flavors. And not just any grinder will do either! Enter Kyocera's Electric Salt & Pepper Mill.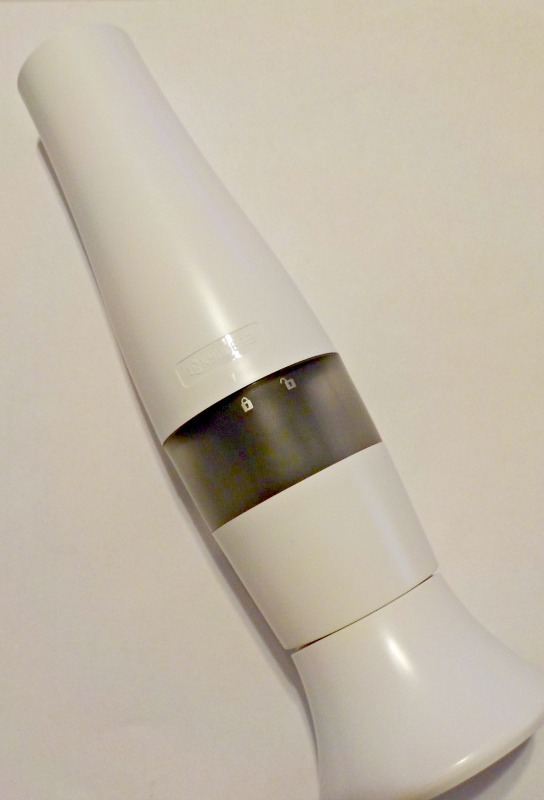 Push Button Operation Means No Work for You
Have you ever used a salt or pepper grinder? They're great, unless you have arthritis, or carpal tunnel. Then they can literally be a pain to use. But not this one. This Salt & Pepper Mill is operated by a simple push of a button! My brother and I both have carpal tunnel, so this is another reason the Kyocera mill stood out to me.
As the name suggests, the Kyocera Mill is electronic. It runs off four triple A batteries. Even though it's electronic, it's very quiet, so you don't have to worry that it will be annoying when in use. It's fast, effective and quiet! Oh and you can change the grind from fine to more coarse depending on your tastes.
Sleek and Nice
The Kyocera Electric Salt & Pepper Mill grinds both salt and pepper. There's a frosted window so you can see the contents. The machine itself is very sleek. It even comes with a stand to put it in when not in use. The stand doubles as a "catcher" for spare pieces of spices that may tumble out.
Rustproof
Because this mill is made with ceramic mechanisms it won't rust. That's huge because moisture in the air can won't affect your grinder. The mechanism is close to a diamond, so it's strong and will last for a super long time!
Grinds All the Things!
You can use this grinder with many different things. Salt, peppercorns, flax-seed, sesame, mustard, cumin seeds, and more.