This post was sponsored by Ling Ling, all opinions expressed in my post are my own.
Family Fun Night Feast
Family Fun Night is one of my favorite nights. We eat big, watch movies, or play games. However, with teens in the house, it is getting harder and harder to do this on a weekly basis, but I still plan each week. I can usually count on my kids to be there if I tell them we are doing TAKE OUT but that can get costly so I stock up on items I know I can cook fast and are flavorful.
I don't want to be spending all my time in the kitchen on Family Fun Night while everyone else is playing games. So I need food that we all will eat plus I don't need the kids complaining how gross my dinner is, it has happened many times. My husband didn't marry me for my cooking skills, let's just say that! My kids are so finicky; I thought they would grow out of it but that hasn't happened yet!
Why Ling Ling?
For our meal, I knew exactly what I was going to make…Ling Ling Fried Rice. My family loves Ling Ling Asian Cusine- check out why HERE! We know that Ling Ling delivers superior flavor and exceptional taste because they use Infusion Cooking Method. Each grain of rice is infused with Ling Ling signature sauces for incredible flavor in every bite. Fantastic taste that is for sure.
We always have at least one or two boxes of Ling Ling in the freezer for nights I need a quick meal or lunch on weekends. Each box has two pouches, so that is PLENTY for my family. Now the Bibimbap Beef is our favorite. I pan fry the Ling Ling Fried Rice because we like our rice a bit crunchy but microwaving works too! So if you are short on time then microwave. Ling Ling Fried Rice is pure and authentic Asian inspired recipes from Japan, China, Korea and Thailand. I actually like Ling Ling Fried Rice over our favorite Chinese restaurant.
Get these Ling Ling Fried Rice flavors in the freezer section of the grocery store.
Yakitori Chicken
Yakiniku Beef
Thai-Style Chicken
Chinese-Style Vegetable
Bibimbap Beef
Other Menu Items for our FEAST!
Also on the Family Game Night menu is Broccoli and Beef, General Tso Chicken, and Baked Cream Cheese Wontons. Sounds like a FEAST, huh! It also didn't take long at all. Being able to cook all the other components of the meal in pans and the wontons in the oven, this meal only took me a little over 30 minutes to cook.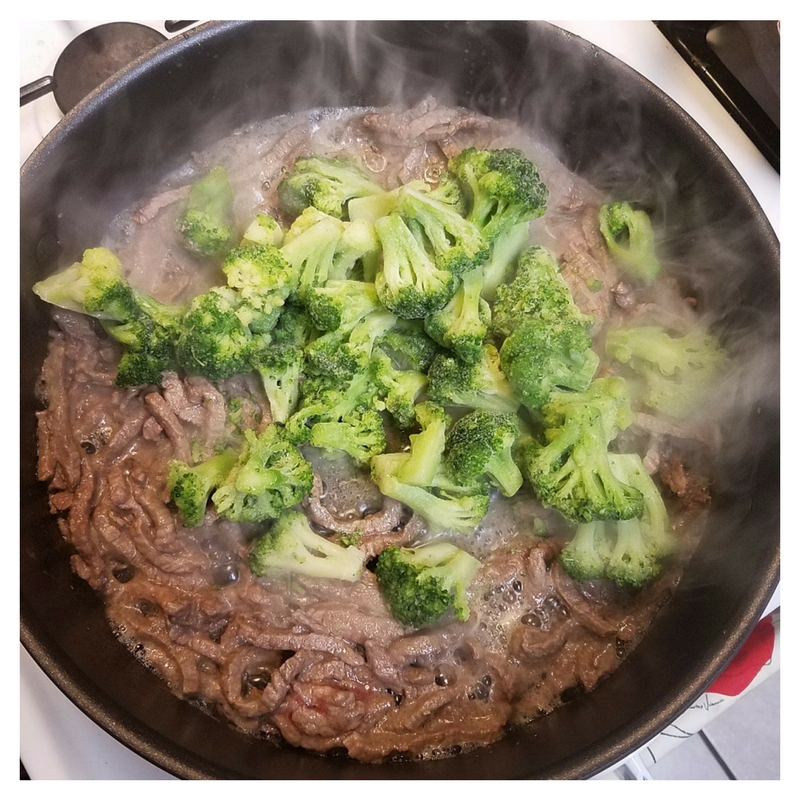 My daughter wanted wontons too, but I have never made them before, so this was all new to me and my cooking skills. Okay, I do have to admit that when I was shopping at our local supermarket I got everything for my feast but for the life of me, I couldn't find wonton wrappers. Guess where they were…where the vegan food is in the produce area. No wonder I didn't know where it was by the healthy food. I had to call a friend and ask so hopefully I can help someone in their search. I didn't want to FRY the wontons because I don't like frying food.
BAKED Cream Cheese Wontons
Baked Cream Cheese Wontons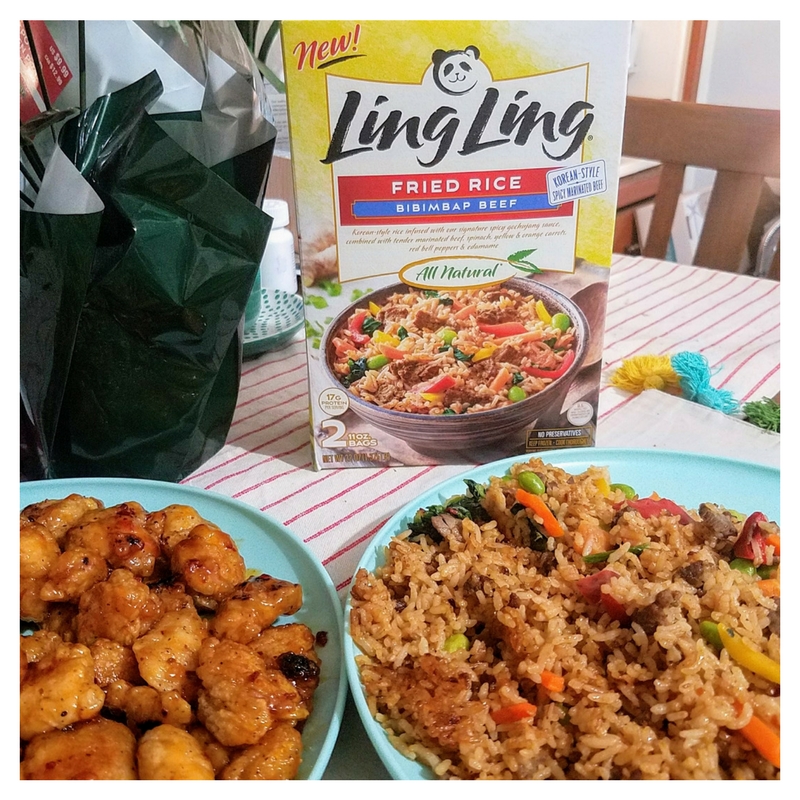 Super simple and easy recipe- perfect for Family Game Night
12 Wonton Wrappers
1/4 cup Cream Cheese (I used herbed flavored)
1 tsp Water (I put in smal bowl)
Cooking Spray
Preheat oven to 400 degrees
Spray a baking sheet with cooking spray.
Place wonton wrappers on prepared baking sheet.
Place 1 teaspoon cream cheese in the center of each wonton wrapper.
Lightly brush edges of wonton wrappers with water and fold each wrapper in half to form a triangle. Press edges to seal.
Fold the tips of each triangle up together so that they meet in the center and press together like an X
Spray wontons with cooking spray.
Bake until wontons are crispy and golden and the cream cheese is melted. It took about 6 minutes
You can add chives, crab, and other kinds of cheese, just decrease the amount of cream cheese accordingly.
COUPON:
$2 off a box of Ling Ling Fried Rice at any retailer where the products are sold- check HERE for store locator
Please Pin and SHARE!