The South Carolina Lowcountry has a tremendous amount of natural beauty that is begging to be explored. From pristine, undeveloped beaches to breathtaking estuaries and indigenous wildlife, the region is a nature lover's paradise.
Best of all, you don't need to step far outside of Charleston to experience the austere beauty of the Lowcountry. There are plenty of unique gems and understated spots within a 45-minute drive from downtown Charleston.
If you want an alternative to the more traditional attractions in Charleston, it's time to consider checking out some of the best-kept secrets in the Lowcountry:
Boneyard Beach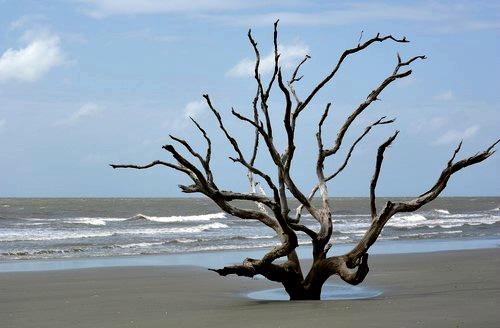 With its many barrier islands and pristine beaches, the Lowcountry has some of the best beach vacation spots in the country. But while you've probably heard of the more popular beaches such as Folly Beach and Isle of Palms, you may not know about Boneyard Beach.
Located on Bulls Island, Boneyard Beach is an undeveloped barrier island just north of Charleston. This remote, Lowcountry island is within the Cape Romain National Wildlife Refuge and is home to countless wildlife species.
The beach is named for its beautiful maritime forest, which consists of barren trees that have been eroded by high tides. With their leaves stripped and branches bleached by salt water, the trees look like skeletons — hence the name, Boneyard Beach.
A skeletal maritime forest may sound eerie, but Boneyard Beach could not be more stunning or serene. Photographers and nature enthusiasts come from all over the country to visit Bulls Island and take in its tranquil views as they walk along the island's shores.
Because Bulls Island can only be reached by ferry, you may want to consider making your visit a day trip. Don't forget to bring a packed lunch, water, and binoculars (for bird-watching opportunities), and get ready to relax as you take in the raw nature of this untouched barrier island.
Bulls Bay Historic Passage
Looking for a quiet place to unwind in the Lowcountry? Check out Bulls Bay Historic Passage.
Situated just off Highway 17 between Mount Pleasant and Georgetown, the bay area region is a secret Lowcountry treasure. From the forest to the sea, Bulls Bay offers ample recreational opportunities, an abundance of wildlife, and Lowcountry cuisine caught fresh from the bay.
Once the coastal land of the Sewee and Santi Native Americans, the fishing villages of Awendaw and McClellanville, both of which are in northeastern Charleston Country, often make visitors feel as though time has slowed down.
After a long day of kayaking, fishing, wildlife viewing, or guided nature tour, visitors can indulge in local eats. Bulls Bay Historic Passage is known for its shrimp, oysters, clams, crabs, and fish, which can be enjoyed in traditional Southern cuisine.
Stop by T.W. Graham's Restaurant in McClellanville to savor its famous Seafood Chowder and key lime pie, or visit Seewee Restaurant in Awendaw—voted one of the best roadside diners by the Southern Living magazine. You can also visit the multiple markets at Bulls Bay and purchase your own local seafood to cook yourself a deliciously fresh meal.
The rural area may not be for everyone, but Bulls Bay Historic Passage is a fantastic Lowcountry retreat for those who wish to get away from it all. If you crave a bit of peace and quiet, tasty seafood, and wildlife galore, a weekend camping trip at Bulls Bay may be exactly what you're looking for.
Caw Caw Interpretive Center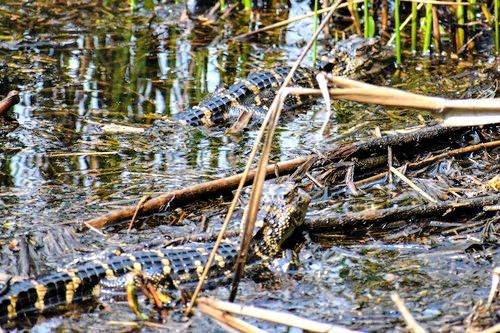 Visiting Charleston with the family? Don't miss the Caw Caw Interpretive Center, a 654-acre park which is rich in both history and natural, Lowcountry splendor.
Set on hundreds of acres of colonial-era rice fields, the park offers nearly seven miles of interpretative trails and boardwalks that meander through preserved marshland. As you walk along the well-maintained trails, look for educational exhibits that offer information about Caw Caw's unique history and its various ecosystems.
The trails are flat and well-kept, making it easy for families of all ages to casually explore the quiet park and take in the scenic views and abundant wildlife. Lizards, baby alligators, kite birds, deer, otters, and more can be spotted at Caw Caw.
You'll also find over 100 species of birds at Caw Caw. If you enjoy bird watching, consider taking one of park's guided bird walks, occurring at 8:30 a.m. every Wednesday and Saturday.
With an entry fee of only $2, the park is an affordable and informative way to experience the natural beauty of the Lowcountry. Don't forget to pack bug spray and water!
Conclusion
Charleston is best known for her architecture, history, and world-class cuisine, but if you're looking to escape the hustle and bustle of city life, then it's time to venture out and explore the Lowcountry's natural beauty.
Fantastic views, wildlife viewing opportunities, and quiet relaxation can be found throughout the Lowcountry. Include these hidden gems in your next Charleston vacation to make your trip truly unforgettable!