Full of amazing restaurants and packed with culinary talent, it's not surprising that Charleston is consistently named one of the best food cities in the nation. The city's cuisine has attracted visitors from across the world to sample the flavors of the Lowcountry.
Locals and tourists alike can't get enough of Charleston's legendary eats. From savory she-crab soup to a good ole-fashion Lowcountry boil, the Holy City's best traditions have been passed down through generations and now delight millions of foodies each year.
If you're hoping to sample the flavors of the Lowcountry, here are some iconic Charleston dishes that you don't want to miss.
Shrimp and Grits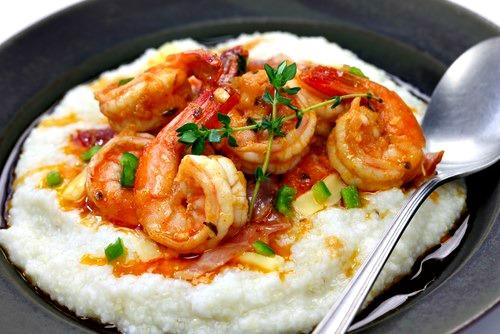 Breakfast, lunch, or dinner—shrimp and grits is a meal that can be enjoyed any time of the day. This homey, Southern classic is considered a specialty of the Lowcountry, and only in recent years has the dish become popular throughout the South.
Made with fresh, local shrimp from Charleston's shores and creamy corn grits, the original shrimp and grits recipe simply used butter, salt, and pepper. Still, Charleston is a city that likes to put a new twist on old favorites, and many of our award-winning restaurants boast some mean shrimp and grits.
Simplicity is key at Hominy Grill, where bacon, garlic, and scallions are all that's added to the tender shrimp and buttery, cheesy grits. For a fancier take on this Lowcountry classic, stop by Magnolia's in historic Charleston and savor their shrimp and grits dish, which includes lobster butter and scallops.
Lowcountry Boil
When you're cooking for a large gathering, nothing beats a Lowcountry Boil. Simply throw a few vegetables like corn and potatoes, sausage (usually andouille), fresh shellfish, and some spices into a large pot and boil it for a hearty, delicious meal.
Also called Frogmore Stew, Beaufort Boil, and Tidewater Boil, the exact origin of this regional staple is hotly debated. Regardless, we do know that you can find a mouthwatering Lowcountry Boil in the Holy City.
If you're staying on Folly Beach, head to Bowen's Island Restaurant (about five minutes away from Folly) for their Frogmore Stew and take in the beautiful tidal marshes while you dine.
Fried Whiting
Whiting is another name for the Southern Kingfish, which can be found in South Carolina's coastal waters during the spring. This flaky, white fish is often fried and has become a delicious soul food in the Lowcountry.
Few locals would argue that Nana's Seafood & Soul tops the list of best places for fried whiting. Nana's always served unbelievably fresh seafood, and the portions are large, especially considering the price tag.
Charleston Okra Soup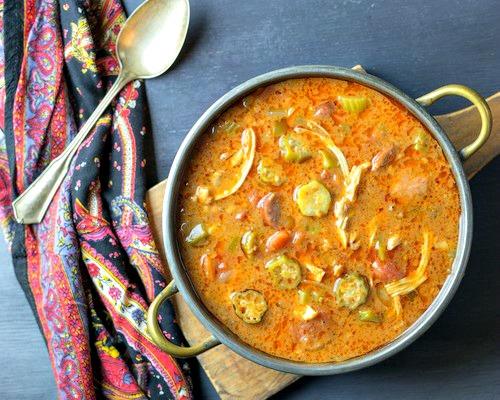 Charleston has changed significantly throughout the years, but one thing that has remained constant is the love for okra soup. This a tomato-based, meaty soup is full of flavor and often paired with pimiento cheese sandwiches.
You can find a delicious okra soup at Bertha's Restaurant, which was recognized last year by the James Beard Foundation. For those who want to try their hand at making this iconic Charleston dish, check out this recipe by none other than Matt and Ted Lee, James Beard award-winning Charleston chefs.
Hoppin' John
It's surprising that rice isn't in more Lowcountry dishes, considering how the region grows the best rice in the world. But perhaps one of the most popular rice dishes in the Holy City has to be Hoppin John.
This black-eyed-peas-and-rice dish first appeared in cookbooks as early as the 1840s and was thought to be brought over with African slaves. It can be eaten year-round, but it's commonly eaten on New Year's Day for good luck, although no one is quite sure when this tradition started or why.
As simple as it sounds, many Lowcountry natives enjoy switching the recipe up and adding meat to this classic dish. From bacon to ham hocks, adding a bit of meat to this rice-and-pea dish just makes it tastier and more filling.
She-Crab Soup
What kind of list would this be if it didn't have She-Crab Soup? Anyone who grew up in the Lowcountry has eaten this Charleston staple many times.
Savvy chefs know that the best crabs to seek out are the females (hence, "She-Crab") with orange-hued shells, indicating the presence of roe (crab eggs). Legend has it that this delicacy originated from William Deas, a butler to R. Goodwyn Rhett, who served as the mayor of Charleston in the early 1900's.
Mayor Rhett was hosting a dinner for President William Howard Taft and supposedly told Deas to make their usual crab soup dish a bit fancier. The butler's solution was to add orange-colored crabs to the pale dish to give it more color.
To sample this iconic Charleston dish, head to Fleet Landing downtown. Grab a spot on the patio for a perfectly relaxing view of the water.
Oyster Roast
Charleston locals love a good oyster roast. Not simply because of the tender meat inside the beloved bivalves, but also for the atmosphere and comradery at Charleston's oyster roasts.
Lowcountry oyster roasts are known for being inclusive, where locals and visitors mingle and share a delicious meal. The Lowcountry Oyster Festival is the world's largest oyster festival and a can't-miss event if you're in town!
If you're determined to shuck some oysters, be sure to visit during the oyster season in Charleston. The rule of thumb is that oyster season is during any month that contains the letter "r."
Final Words
Charleston's food scene has never been better. Fueled by a mixture of innovation and tradition, the city's Lowcountry cuisine has garnered national and worldwide acclaim.
When you taste these iconic Charleston dishes, you're not simply enjoying a delicious meal—you're also experiencing a key part of the city's rich culture and history.