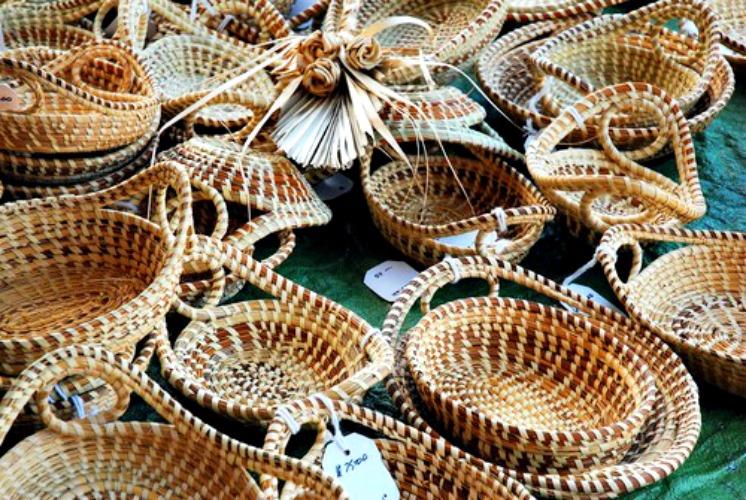 Head down to the Charleston City Market and you'll find delicious candy, handmade jewelry, and other interesting, Lowcountry-made wares. One treasure that is bound to grab your attention is the intricately coiled, sweetgrass baskets.
Made using sweetgrass and palmetto leaves, this centuries-old tradition originated in Africa and passed down through generations of the Gullah people. Today, the sweetgrass basket traditions have been well preserved in Gullah culture and have become one of Charleston's oldest and most prized souvenirs.
Ready to explore a tradition that is steeped in history? Let's get right to it.
History of Sweetgrass Baskets
The history of sweetgrass baskets in Charleston can be traced back to the transatlantic slave trade during the 17th century. Slaves brought over from Sierre Leone in West Africa brought their culture with them, including the art of coiled basketry.
Coiling baskets tight enough to hold water was considered a rite of passage in many West African tribes. Large baskets were traditionally made by men and used for agricultural purposes.
Lidded baskets known as Shuku Blai were usually made by women to keep around the house and store valuable possessions. These baskets strongly resemble the sweetgrass baskets made by the Gullah Geechee people, the direct descendants of the slaves who were brought to the Lowcountry.
The African art of basket was used in the fields by slaves to separate the grain from chaff, an agricultural method known as "winnowing".
After slavery was abolished, the art of sweetgrass basket weaving continued. Passed down from generation to generation, this long-held artform has become a special tradition that is unique to the Lowcountry.
The Making of Sweetgrass Baskets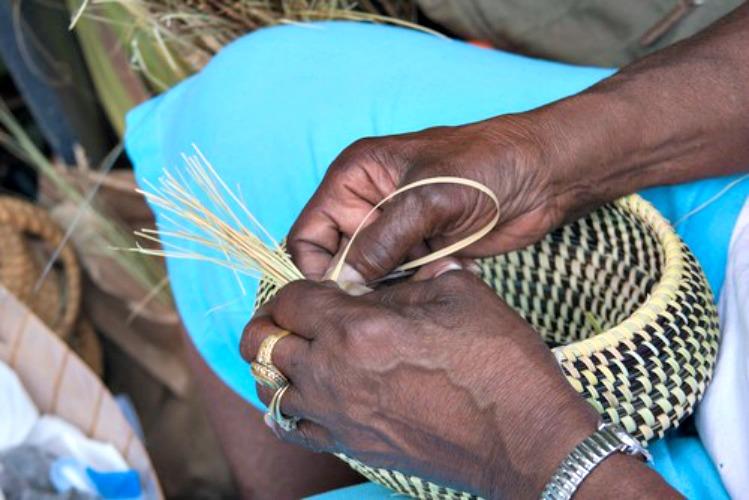 There are several techniques that are used in basketry, but what makes the sweetgrass basket unique is the coiling technique used to make them. This method of basketry starts at the center and involves the wrapping and sewing of materials to produce spiral coils.
The origin of coiled baskets is difficult to pin down, but it does have its roots in several places in Africa. Today, the same technique is used, although the materials have changed slightly.
Early sweetgrass baskets weren't made from sweetgrass. Rather, they were made from bulrush, a type of marsh grass that was tough, making sturdier baskets more suitable for plantation work.
It wasn't until the 1900s that the Gullah began using other materials to make coiled baskets. Sweetgrass, a fragrant grass with a sweet flavor that is typically found within the Lowcountry, became a common material used for coiled baskets.
Other materials used in early sweetgrass baskets include Palmetto fronds and pine needles, which are still used by Gullah artists today. The variety of indigenous materials give the baskets a look that is unique to the region.
Keeping the Gullah Tradition Alive
Sweetgrass baskets are a significant part of the Gullah Geechee culture and heritage. Gullah families pass down this beloved tradition to each generation, usually teaching the women of the family.
Today, you will find many sweetgrass baskets for sale in Charleston. Made with elaborate designs and different sizes, you'll have no trouble finding the perfect one to take home.
If you are planning a vacation to Charleston, we recommend buying a sweetgrass basket from the artist themselves. Local Gullah artisans can be found selling their wares at the Charleston City Market and the roadside stands along North Highway 17 in Mount Pleasant. In fact, there is a 7-mile stretch of the highway that is known as "Sweetgrass Basket Maker's Highway," a nod to this important tradition.
While you visit their stands, use it as an opportunity to speak with them about their craft. Hearing straight from the artisan is a great opportunity to learn more about the rich history and culture of the Gullah people.
Don't be shy to ask! Charleston is consistently named one of the most friendly cities in America.
Celebrating the Art of Sweetgrass Basket-Making
Charleston is a city that takes pride in its long-rooted traditions. To preserve the art of sweetgrass basket-making, there are numerous celebrations of this unique, Lowcountry basketry.
This summer, the 13th Annual Sweetgrass Cultural Arts Festival will once again showcase the finest sweetgrass baskets of the Lowcountry region and celebrate the rich heritage of the Gullah Geechee people. This is a family event that takes place in the charming town of Mount Pleasant.
A word of advice: if you choose to buy a sweetgrass basket, don't be surprised by the price. Small sweetgrass baskets can be expensive, due to the weeks of hard work it takes to handmake each one, along with the shortage of sweetgrass in the Lowcountry region.
That being said, you do get what you pay for. A quality sweetgrass basket is not just a piece of history in your hands, but also a strong basket that will hold up over time.
Final Thoughts
While many of the Lowcountry treasures at City Market are worth taking home, nothing beats the intricate work of a handmade, sweetgrass basket. One of the oldest African traditions in the nation, sweetgrass baskets hold an enormous amount of history and tradition inside the weaves of each one.