This post was sponsored by Dignity Health-GoHealth Urgent Care as part of an Influencer Activation for Influence Central and all opinions expressed in my post are my own.
What is URGENT CARE

Have you ever called the doctor and you are put on hold then the appointment you make is several days away? I understand it might not be an emergency, but I want to see someone who can help me now not five days later. Plus going to ER is not an option due to how costly it is plus service in ER is not very welcoming, more clinical than anything. That is when URGENT CARE comes in, and I didn't even know what Urgent Care was until I was invited to Dignity Health-GoHealth Urgent Care in the Castro, San Francisco.
Well, let me tell you the moment I walked in I was greeted with smiles and concern. Urgent Care centers are popping up all across the country, and that is a beautiful thing because it gives people an option. Dignity Health-GoHealth Urgent Care is for NON-EMERGENCY situations. Also, it is open to 8 pm weekdays and opens on the weekends until 4/5pm, which most doctor offices are closed. So this is screaming CONVENIENT!
When to GO to URGENT CARE:
Minor Fractures
Minor Headaches
Cough/Sore Throat
Ear/Sinus Pain
Sprains/Strains
Allergies
Rashes/Minor Burns
Cold/Flu Symptoms
Vaccinations
Cuts/Bumps
Lab Services
X-rays
Physicals -school, sports and yearly
minor issues
Did you know 90% of urgent care patients wait 30 minutes or LESS to see a provider? I was told that pretty much it is 15 minutes to be seen or less, wow I remember the LONG waits in my doctor's office and so happy to know if I go to the Urgent Care I won't have to wait that long at all! And the best part is 84% of urgent care patients are in and out within an hour. When I was there at 5pm…there was NO ONE, and of course no wait.
How does URGENT CARE WORK?
Walk-ins are very welcome but you can also save our spot ONLINE, and you can see wait times in real-time. The medical providers on staff are medical doctors, nurse practitioners, physician's assistant, and radiology technologists. Plus a very modern facility design with advanced technologies. Ohhh…everyone has customer service training/experience, so everyone who walks through a Dignity Health-GoHealth Urgent Care door you are treated as a person, not a medical number.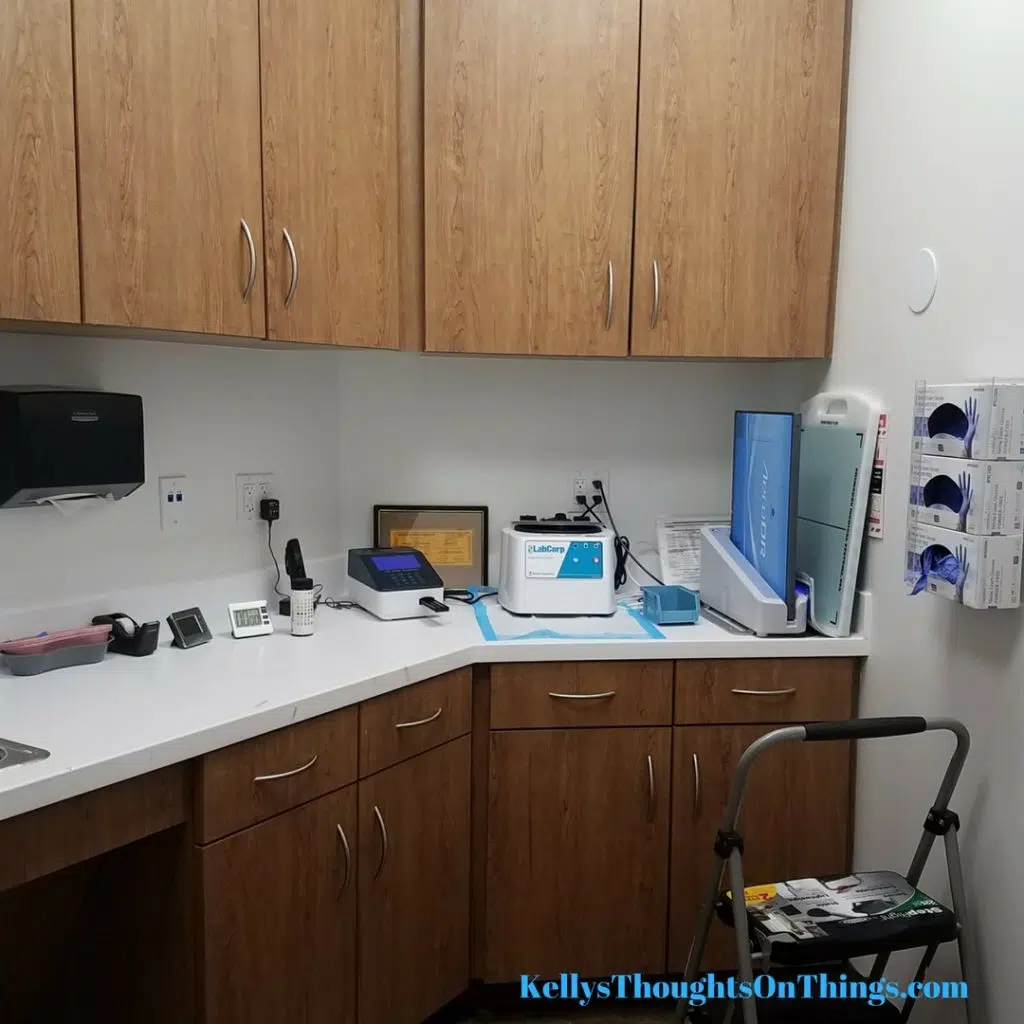 I haven't even told you the best part…Dignity Health-GoHealth Urgent Care is in several local communities. I love that it was right across from the bus stop and my favorite coffee shop was across the street. You don't have to go to the medical district but your community. There is that CONVENIENCE, again!
Save Money with Urgent Care
Now Dignity Health-GoHealth Urgent Care works with major insurance companies and hospitals in the area so if they are unable to provide the care you need then they will make sure they direct you to the right facility. The fantastic front desk told me that they would go the extra mile to help their patients get the best care! Plus it is way cheaper than the Emergency Room.
The more I learn about Dignity Health-GoHealth Urgent Care I'm so impressed and believe me we will be using in the future. No more ER visits unless it is life-threatening. If you don't have insurance, you pay a set fee (no cash so have a debit/credit card on hand), and there is also insurance set fees too! They have 7 locations in San Francisco and 3 in the Peninsula all within the community! They put you FIRST!
Dignity Health-GoHealth Urgent Care Website-Instagram-Facebook–Twitter
Recent Blog POST- Tis Season For Colds & the Flu