Weeknight 30 Minute Meal Recipe
Are you looking for an easy recipe to make for your family on weeknights? Well, look no further I have the perfect dish…Ground Beef Stroganoff. Comfort food at its BEST! Oh yeah plus quick and delicious. We are a busy family so I need recipes that my family will eat and that I can cook in less than 30 minutes.
Why Stroganoff
When I think of comfort food, noodles is what always pops into my head. My grandma made the best Beef Stroganoff, and so this dish also brings up pleasant memories. This Ground Beef Stroganoff will fill up your family, and they will ask for seconds! Well, mine does all the time.
I make this dish 2 times a month, and we rarely ever have leftovers, and if we do my husband will take it to work. I will serve a side salad and bread so in my head I feel like I'm giving my family a very balanced meal.
So let's get to it! This recipe should take you no more than 30 minutes and like I said the perfect recipe for a WEEKNIGHT dinner. No worries there is no can soup in this recipe. We are going to make it from scratch which is super easy. Plus you can change it up in so many ways like using ground Turkey or Chicken, which I use too. You can add mushrooms of course, but we are a no mushroom family, so we leave it out.
Are you ready for this easy and quick recipe!
Ground Beef Stroganoff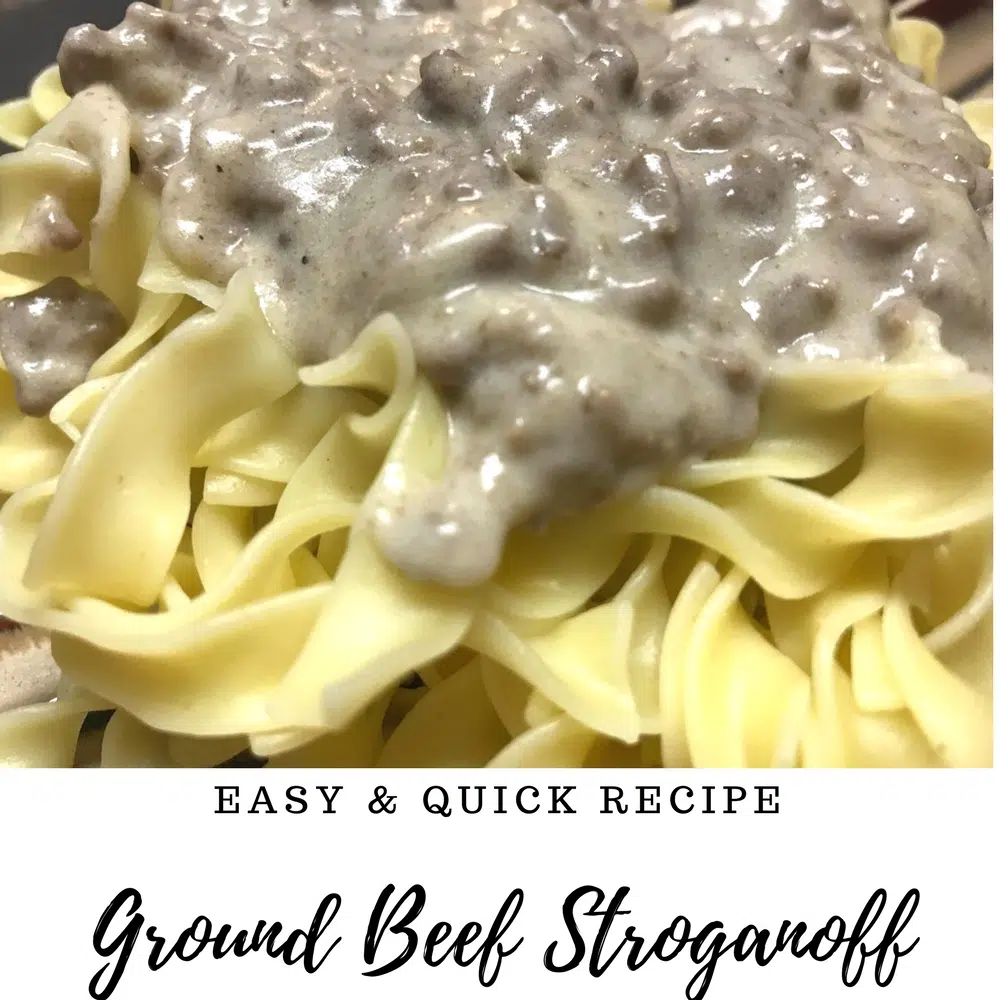 Easy, quick, delicious Weeknight Meal!
2 tbsp butter
1 cup chopped onions
2 cloves garlic (finely chopped)
1 lb lean ground beef (at least 80%)
1 1/2 cups beef flavored broth
1 tbsp Worcestershire sauce
3/4 tsp salt
1/4 tsp pepper
1/4 cup all-purpose flour
1 cup sour cream (use light if you want!)
6 cups No Yolks noodles
In 10-inch nonstick skillet, melt butter over medium heat. Cook the onions and garlic in butter 5 to 7 minutes, stirring occasionally, until tender. Remove from skillet to small bowl; set aside.

Increase heat to medium-high. In the same skillet, cook beef 5 to 7 minutes, stirring frequently, until no longer pink; drain. Stir in 1 cup of the beef broth, the Worcestershire sauce, salt, and pepper; heat to boiling. Beat flour and remaining 1/2 cup beef broth with a whisk until incorporated; stir into beef mixture.

Add onion & garlic mixture; return to boiling, and stir constantly about 1 minute or until mixture thickens. Remove from heat; stir in sour cream

Serve with No Yolk noodles

If adding Mushrooms: 1 package (8 oz) sliced baby portabella mushrooms, cook with the onions/garlic.