An easy gazpacho recipe to cool off in the summer. Freshness and tastiness… here we come!
Hi, everyone! My name is Lisa Favre and I am thrilled to be contributing to the KTOT blog. Normally, you can find me on my own blog, Fabulous Habits, where I develop recipes, talk fashion, and share my travel stories.
Every other month, I'll be giving you a sneak peek of my kitchen and some of the meals I prepare. Today, it is with great pleasure that I share with you my Easy Gazpacho Recipe.
I don't know why I used to be so intimidated by cooking. Baking has always come naturally to me but culinary art was something I wasn't always so confident in. I remember trying gazpacho in Spain, during my honeymoon. I thought: "I could never make something like this. I better enjoy it while I'm here!"
You know what? I was so wrong.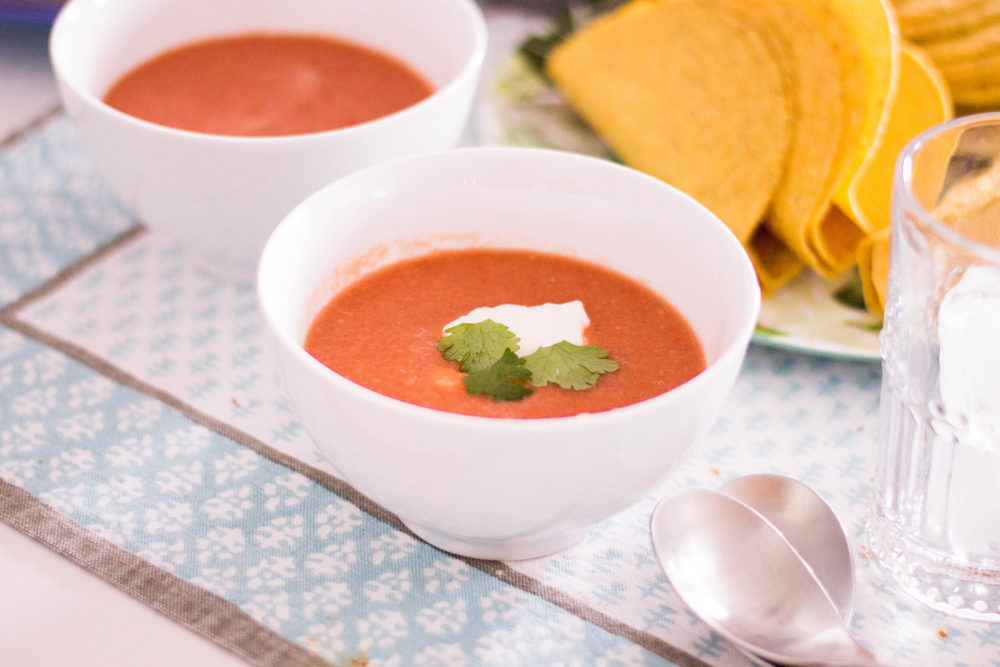 I think the fundamental key in cooking is adding that touch of love to each of your recipes. I want my family to remember me by many things… one of them being my meals. I may have been intimidated as a newlywed, but this week, I decided to go full force and make my own Easy Gazpacho Recipe.
Get your aprons on and let's get cookin'! That'll be an easy one, promise.
How to Make Lisa's Easy Gazpacho Recipe
The idea with my gazpacho recipe is to prepare all the ingredients (chopping and cutting), dumping it in the blender, and ta-da! All done! (P.S.: You may catch glimpses of taco shells in the photos because I made these as a starter for our… taco night! Yay!
Yield: 6
Lisa's Kitchen: Easy Gazpacho Recipe
An easy gazpacho recipe to cool off in the summer. Freshness and tastiness… here we come!
Ingredients
5 large tomatoes
water
1 cup ice cubes
1/2 cucumber (peeled and chopped)
1/2 red pepper (chopped)
2 green onions (chopped)
2 garlic cloves
1/2 cup pieces of crusty white bread (like a French baguette)
1 lime (juice of)
salt and pepper to taste
cilantro (for garnishing)
sour cream (for garnishing)
Instructions
Begin by boiling a pot full of water. While it boils, place your ice and more water into a separate bowl.
Cut an "x" into each one of your tomatoes and place in the boiling water for 3 minutes.
Remove tomatoes from boiling water and place in the ice water. Let sit for a minute and then place on a cutting board to peel off the tomatoes' skin
Place tomatoes, cucumber, red pepper, garlic, bread and lime in a blender and blend until completely smooth. Place in a large bowl and season with salt and pepper.
Cover the bowl with plastic wrap and let sit in the refrigerator for at least one hour.
Pour into individual bowls and serve with a garnish of cilantro and sour cream.
Nutrition Information:
Yield:
6
Serving Size:
1
Amount Per Serving:
Calories:

61
Total Fat:

1g
Saturated Fat:

0g
Trans Fat:

0g
Unsaturated Fat:

0g
Cholesterol:

1mg
Sodium:

94mg
Carbohydrates:

12g
Fiber:

3g
Sugar:

5g
Protein:

2g
Nutritional information is automatically calculated with ingredients and serving size and may not be accurate. Please always double check with your own nutritional apps as well.
I can't wait to share more of my recipes here on Kelly's Thoughts on Things. Stay tuned as I'll have more coming by.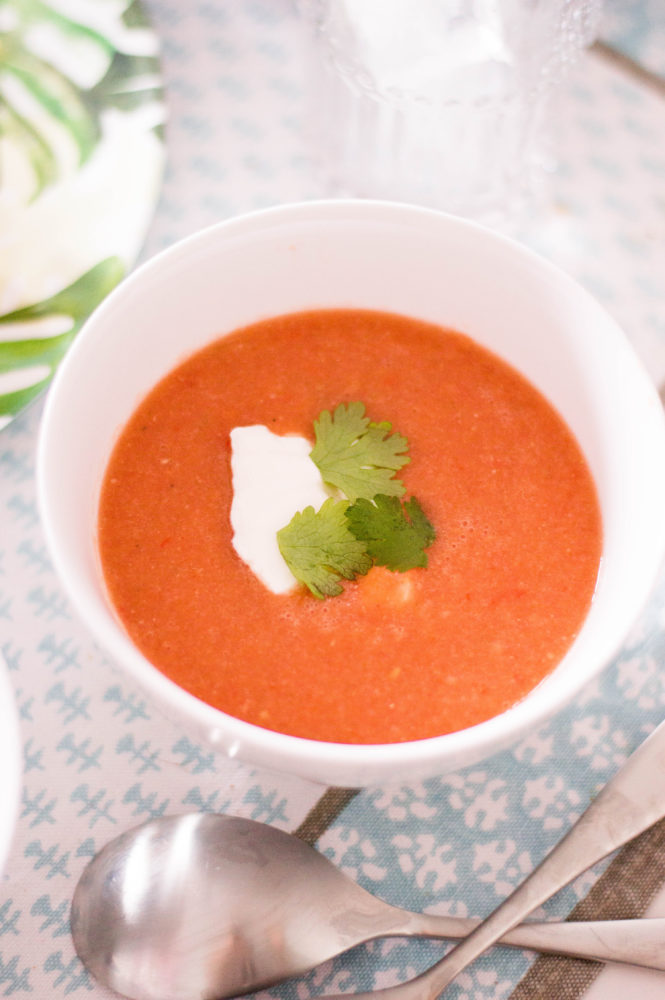 In the meantime, you can follow me on Instagram and Facebook to catch glimpses of my recipes and stories! In fact, signing-up for my mailing list will give you previews of all the things I incorporate in my day-to-day.
What kind of recipes would you like me to make on KTOT? Tell me in the comments below!