This post may contain affiliate links. This means if you click on the link and purchase the item, I will receive an affiliate commission at no extra cost to you. All opinions remain my own.
This is a sponsored post written by me on behalf of Luck's.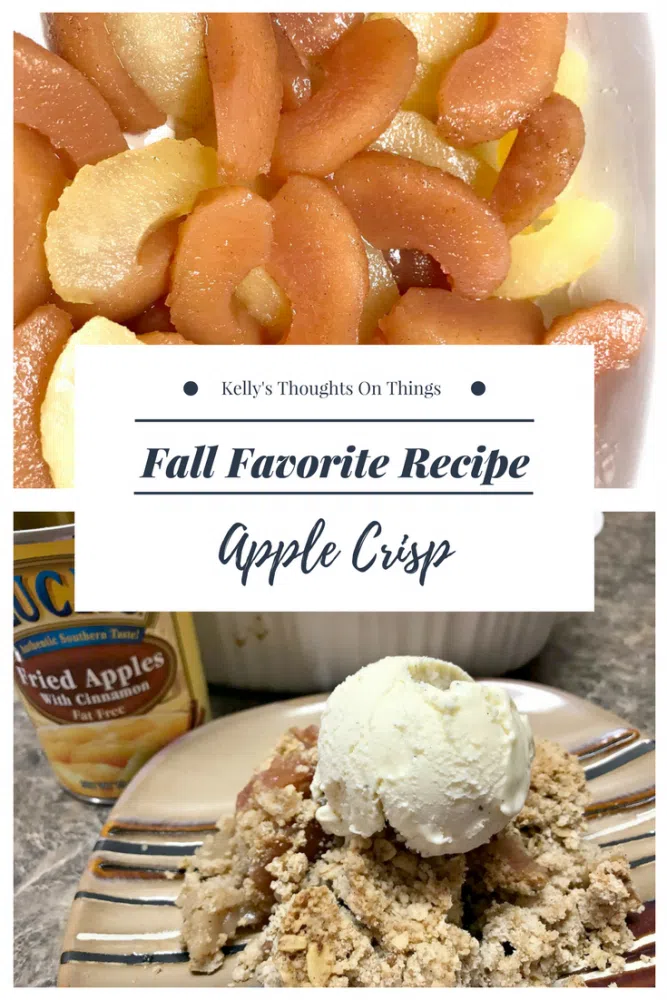 Fall Favorite: Apple Crisp
Baking for my family is something I love to do, and when FALL rolled around this year I got all excited! Plus Luck's sent me canned fruit to create a recipe for my readers. I couldn't wait to fill my kitchen with the scents of apples, spices, pumpkin, nuts and more! So this past weekend I pulled out my favorite recipe to make …APPLE CRISP!
Apple Crisp goes way back for me, my great grandma showed me how to make it, and it is her recipe I use every time I make it. Now I tweak the recipe a little bit, but it is worth it! I usually have all the ingredients, but I don't have the time to peel, core and cut apples into wedges, so I use Luck's Canned Apple.
Luck's Fruit
I know my great grandma wouldn't use canned fruit but I sure will and only because it is Luck's! Luck's has high standards, delivering premium quality fruit since 1947, so I know it's amazing tasting, Luck's has culinary roots in the South so bringing that signature southern taste for delicious dishes is not difficult.
Plus it is easy and convenient because using Luck's canned fruits saves me hours of work. Canned fruits have the added benefit of ease of prep without having to peel and slice with guaranteed great taste.
Now don't get me wrong I loved the time I spent with my great grandma peeling and coring apples but my kids they aren't going to help me as I did back in the day. I'm just honest; my children can barely put down their phones to eat the Apple Crisp let alone bake it with their mom. That is whole other issue.
Luck's Peaches
A little side note here…Sunday I got up, and I felt like making PANCAKES. Sunday pancakes used to a weekly thing until the kids decided sleep was far more important than eating. I was smart and didn't start cooking until I heard them moving around in their rooms.
I wanted to do something a bit different this time though, why not top the pancakes with peaches and powdered sugar. So I grabbed the Luck's Fried Peaches and oh my goodness it was the perfect topping. Canned fruits allow me to be creative when I cook plus saves me time.
Making the Apple Crisp
Topping:
1 1/4 cups flour

1/2 cup rolled oats

1/2 cup light brown sugar

1/2 teaspoon ground cinnamon

1/4 teaspoon salt

12 tablespoons butter (1 1/2 sticks), chilled and cut into small pieces
Fruit Filling:
3 cans Luck's fried apple and cinnamon apple mixes together
Directions:
Preheat the oven to 350 degrees F.

Pour the apple mixture into a buttered 2-quart baking dish and set aside. In a large mixing bowl, mix the flour, rolled oats, brown sugar, cinnamon, and salt. With a food processor, a pastry blender, or your fingers work the butter into the flour mixture just until it comes together and large clumps form.

Sprinkle the topping evenly over the fruit. Bake the apple crisp until the fruit is bubbling and the topping is golden brown and crisp about 45 minutes
Serve your apple crisp straight out of the oven with a scoop of ice cream on top.
So Fall is here, and it's time to get some baking done so if you want to save time but still have that authentic taste then make sure you use Luck's Fruits, here is a coupon too!
Check out More Recipes with Luck's- HERE
What is your favorite fall recipe? Comment below and let us know if you ever have tried Luck's canned fruit or beans? My next dish to make is Chili, another fall favorite!
This is a sponsored post written by me on behalf of Luck's.