Think you can't make brownies in an air fryer? Think again! These spooky Halloween Ghost Peeps Brownies are simple to make and so delicious. Plus, they're perfect for a party or just a fun weekend treat.
Thanks to the air fryer, these brownies come out perfectly every time, no need to worry about burning them!
So grab your ingredients and get started on this easy recipe today. You'll be glad you did!
Just about everyone enjoys a nice batch of brownies, but when you add the adorable Ghost Peeps, chocolate frosting, and sprinkles, you've created a new Halloween holiday favorite!
These Halloween Ghost Peeps Brownies are not only cute and festive, but they're also delicious.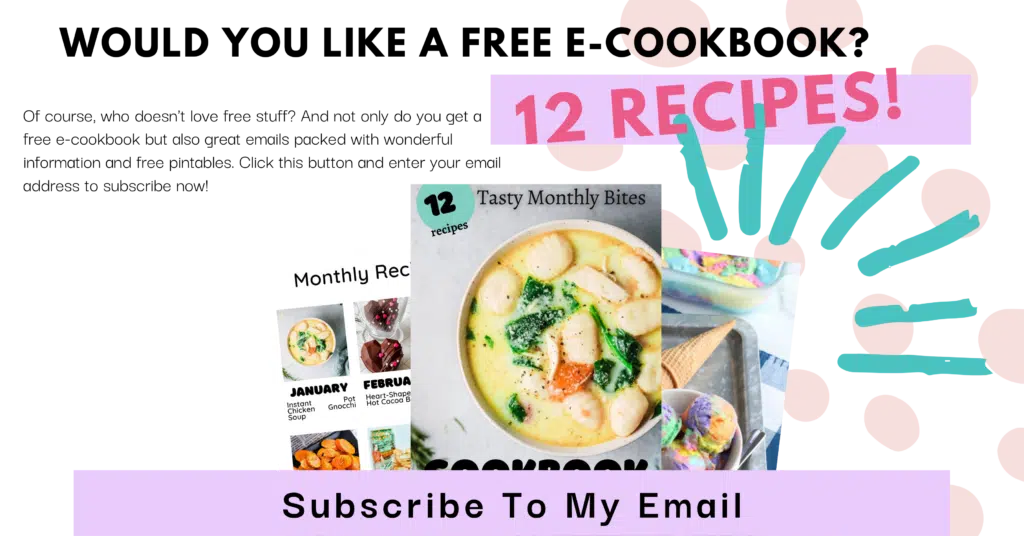 Check out this Kitchen Toolbox! It has cheat sheets that will help you cook easier and faster.
Why You'll Love These Ghost Peeps Brownies
Make this Ghost Peeps Brownies recipe fast with your air fryer.
These Ghost Peeps brownies are a kid-friendly recipe to make with your children.
Our favorite Halloween treats are easy to transport to your Halloween party location.
These brownies are a spooktacular dish to make for any Halloween party.
These brownies are easy to make in the air fryer ahead of time.
This Ghost Peeps Brownies are simple to cook in an air fryer. This Halloween dish is sure to be a hit at your next party or Halloween get-together.
Keep this recipe in your favorites for when you need a spooktacular Halloween to treat!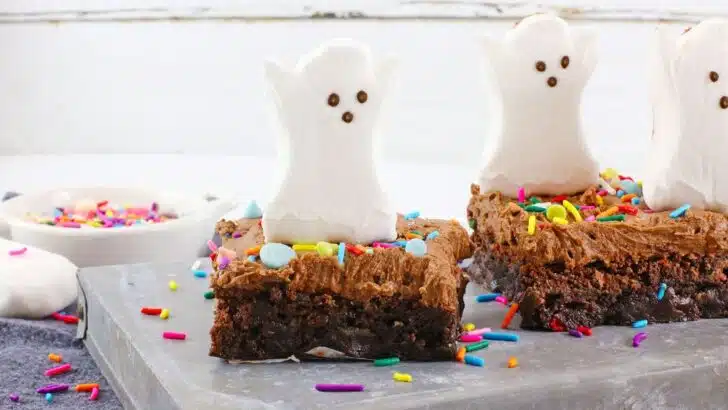 You'll find the specific ingredient amounts and detailed instructions in the printable recipe at the bottom of this post.
Disclosure: This blog post contains affiliate links for products or services we think you'll like. This means if you purchase from one of these links, Kelly's Thoughts On Things may make a small commission at no additional cost to you. We only recommend items we use and love.
Equipment You Need to Make Air Fryer Ghost Peeps Brownies
A whisk
Plastic knife for cutting
Print out this free Halloween recipe at the bottom of the post with the full ingredients and directions.
Ingredients For Air Fryer Ghost Peeps Brownies
box of Brownie mix
egg
cup Oil
Water
Chocolate Frosting
Ghost Peeps
Confetti Sprinkles
This recipe makes between 10 and 12 two-inch square brownies.
How To Make Air Fryer Ghost Peeps Brownies
Step 1: Line the bottom of your baking pan with parchment paper, then set the pan aside.
Step 2: In your mixing bowl, add the box of brownie mix, an egg, oil, and water.
Add one-half of the cup of sprinkles into the brownie batter.
Step 3: Mix the brownie batter thoroughly with a whisk until there are no lumps.
Step 4: Pour the brownie batter into your baking pan that is lined with parchment paper.
Step 5: Smooth the batter with a spatula until the batter is evenly spread.
Step 6: Place the pan in the Air Fryer, and set it to "BAKE."
Step 7: Bake the brownies at 350° for 20 minutes.
Step 8: When the brownies are done baking, remove the pan from the air fryer and put it in the refrigerator for about twenty minutes to cool.
How to Decorate Air Fryer Ghost Peeps Brownies
Step 1: When the brownies have cooled, remove the pan from the refrigerator.
Step 2: Using a silicone spatula, frost the brownies with the chocolate frosting.
Step 3: Cut the brownies into two-inch squares using a plastic knife.
Step 4: Put the Ghost Peeps on the brownie squares, followed by the sprinkles. You have the option of laying the ghost peeps flat or standing them up.
Step 5: Dish up the brownies onto plates, then dig right in!
Air Fryer Ghost Peeps Brownies FAQ
How Long Does It Take to Bake Brownies in an Air Fryer?
It takes between 15 and 20 minutes to bake brownies in an air fryer. The best way to test if your brownies are done is with the toothpick test. Insert a toothpick into the brownie. If the toothpick comes out with hardly any crumbs, the brownies are done.
How Long in Advance Can I Make Air Fryer Ghost Peeps Brownies?
These ghost peep brownies can be made up to three days in advance. Put the brownies in an airtight container and refrigerate them to keep them soft and fresh.
Do I Have To Use Parchment Paper To Cook My Air Fryer Brownies?
Parchment paper is required because otherwise, the brownies will stick to the pan. You shouldn't substitute foil or wax paper. Foil doesn't allow the brownies to cool properly, and wax paper is flammable.
What to Serve with Your Air Fryer Peeps Brownies
Popular Additions and Substitutions for Air Fryer Ghost Peeps Brownies
Use Halloween-themed sprinkles
Use different kinds of Halloween Peeps
Drizzle with chocolate sauce
Use a gluten-free boxed brownie mix
Why Should I Cut Brownies With a Plastic Knife?
Using a plastic knife to cut brownies helps the brownies not to tear when you slice them.
How to Reheat and Store
Best Way to Store Air Fryer Ghost Peeps Brownies
Store brownies at room temperature by wrapping them tightly in plastic wrap or foil or by placing them in an airtight container, such as a lidded tray or Tupperware container. This will prevent your brownies from going stale and keep possible contaminants out.
Can You Store Brownies in the Freezer?
Brownies can be frozen for three months and returned to their original fresh-from-the-oven state without an issue
How To Reheat Brownies
Preheat your oven to 350°F. In the meantime, line your baking tray with some parchment paper to prevent sticking. Once your oven has reached an inside temperature of 350°F, place your tray of brownies in the oven and heat for 10 to 15 minutes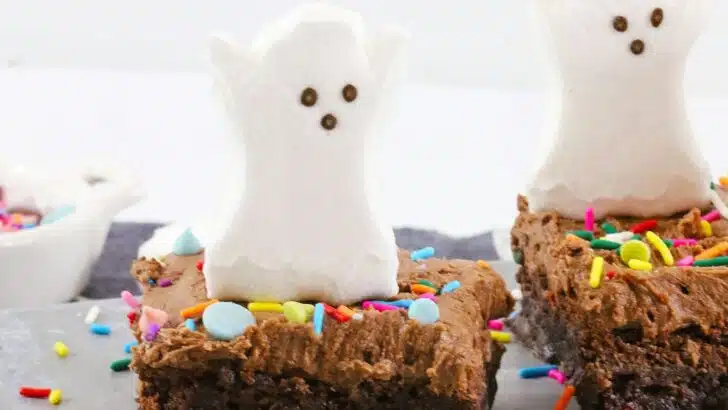 Other Halloween Recipes I Think You'll Love:
Can't get enough of a good brownie recipe? Neither can I! Take a look at my other ones:
So there you have it, our easy recipe for spooky Halloween Ghost Peeps Brownies. We hope you enjoy them as much as we do! If you're looking for more fun and festive air fryer recipes, be sure to check out our other posts. And if you have any questions or comments, please let us know in the comments section below. Happy cooking!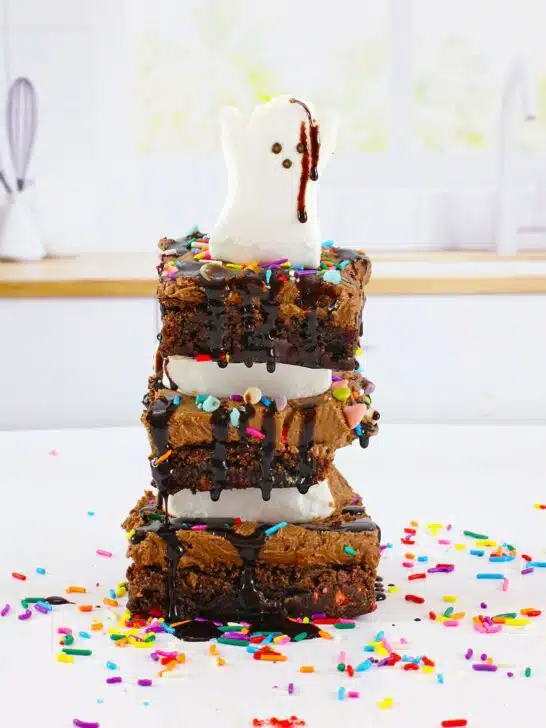 Air Fryer Ghost Peeps Brownies Recipe
Yield: 10 Brownies
Air Fryer Ghost Peeps Brownies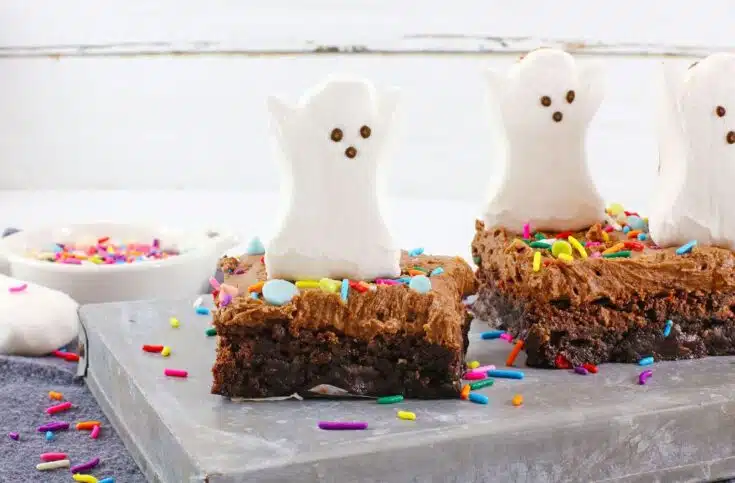 Just about everyone loves a good pan of Brownies, but when you add these adorable Ghost Peeps, colorful Sprinkles, Chocolate Frosting, and a big drizzle of Chocolate Sauce, you get a new favorite! These are not only cute, and festive, and they're really delicious. They're so easy to make, and they'll make your Halloween party, or get-together a big hit. Make sure you keep this one in your favorites!
Additional Time
20 minutes
Ingredients
1 box of Brownie mix
1 Egg
1/3 cup Oil
3 Tablespoons of Water
1 can of Chocolate Frosting
3 packages of Ghost Peeps
1 cup of Confetti Sprinkles
Chocolate Sauce - to drizzle before serving - optional
Instructions
Line the bottom of an 8 X 8-inch pan with Parchment paper, and set aside.
In a large bowl, add the Brownie mix, Egg, Oil, Water, and Sprinkles.
Mix well, until the batter is smooth.
Pour the Brownie batter into the pan, and smooth evenly.
Place the pan in the Air fryer, and set the air fryer to the 'BAKE' setting, for 20 minutes, at 350 degrees.
When the Brownies are done, remove the pan from the air fryer, and let it cool for 20 minutes in the refrigerator.
Remove the pan from the refrigerator, and frost it with the Chocolate Frosting.
Place the Ghost Peeps on top of the Frosting, and sprinkle the Sprinkle mix over them.
When ready to serve, you can leave the Ghost Peeps laying on the Brownies, or you can stand them up.
Cut in squares, and plate Brownies.
If desired, drizzle Chocolate Sauce over the top. Serve, and Enjoy!
Nutrition Information:
Yield:
10
Serving Size:
1
Amount Per Serving:
Calories:

198
Total Fat:

14g
Saturated Fat:

1g
Trans Fat:

0g
Unsaturated Fat:

12g
Cholesterol:

19mg
Sodium:

23mg
Carbohydrates:

19g
Fiber:

0g
Sugar:

13g
Protein:

1g
Nutritional information is automatically calculated with ingredients and serving size and may not be accurate. Please always double check with your own nutritional apps as well.
WHAT'S NEXT?
If you get a chance to try it, let us know! Leave us a comment below, or share it with a picture on Instagram or Facebook! Don't forget to tag us @kelly_reci_ and use the hashtag #Kellysthoughtsonthings so we can see what amazing meals you are cooking up!