Taking care of your feet isn't always a priority, am I right? You put your feet in your shoes in the morning and probably don't think much of them the rest of the day. However, if your feet cause you pain – you probably think of your feet a little more often. If you need to take care of your feet better, here are some DIY care tips for those feet of yours.
Clip your toenails
It can be a pain to clip your toenails, but they are an important part of feet care. Take the time to trim them down at least once a month. If your toenails get too long, it can start to affect your feet.
Wear socks with your shoes
I see so many people not wearing socks with their shoes. However, you can take good care of your feet by simply putting socks on with your shoes. While your feet have tough skin on them, they are still fragile and should be treated like it.
Wash your feet regularly
Because your feet are so busy doing the dirty work of walking you around, you probably don't think of washing them carefully. When you are trying to take better care of your feet, you need to wash between your toes. Not only should you get behind every crevice, but you should also wash your feet on a daily.
Head to your local Walmart
When you head to your local Walmart, you get to test out something unique that can help you care for your feet better. Dr. Scholl's Custom Orthotic Inserts and to the Custom Fit Kiosk system are waiting for you at a Walmart near you. You can find details about the products and the kiosks on their website.
Dr. Scholl's Custom Orthotic Inserts can help change the way you feel about your feet forever. These Dr. Scholl's Custom Orthotic Inserts are proven to help reduce pain in three areas – feet, knees, and lower back. No doubt being on your feet can cause pain, which is why Dr. Scholl's has stepped up to help. Each insole has three layers to help your feet from being damaged by everyday wear and tear.
It's easy to choose which Custom Fit® Orthotics are right for you! Choose which shoe you want inserts for. There is no trimming required, you just place them in the shoe and they will lock into place. The Custom Fit Kiosk system at your local Walmart is going to help you choose Dr. Scholl's Custom Orthotic Inserts that are perfect for you!
Save money
Who doesn't like saving money? Check out the $10 off Dr. Scholl's coupon and head to your local Walmart to shop. If you get Valpak envelopes, you can also get an additional Dr. Scholl's coupon.
Don't forget to enter the $500 Walmart gift card giveaway.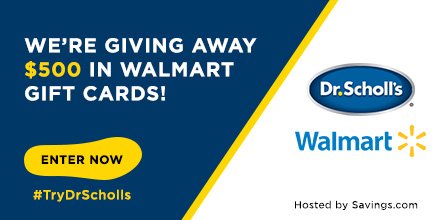 I received this product to facilitate my post. All opinions are my own!