Halloween is just around the corner and dressing up for the holiday can be very fun — for humans that is. For pets, getting dressed up may be hard for them to tolerate, but of course they'll go through with it if it makes us happy (or for the extra attention ?). Enduring a costume shows us how far our pets will go to be loved, so let's make sure as owners that their get-ups are at least safe and comfortable. Pet Krewe, a company run by animal lovers is the premier pet costume retailer for your furry buddies. As experienced pet lovers, they know a thing or two about how pets would like to be treated and what types of costumes your fur babies will put up with.
Pet Krewe personally inspects every pet outfit they carry and stock only the best costumes that they would give their own four-legged friends. This company represents the best mix of fun, quality and value which, so far is unmatched. With new costumes arriving on a monthly basis, there's no limit to the fun you can have with your furry friends. All of their costumes reflect this creativity and fun driving their company.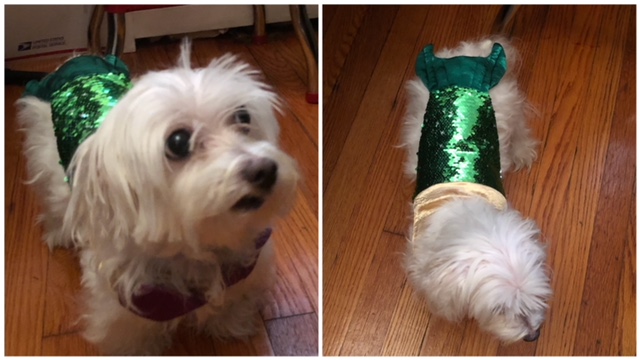 There are many cute costumes to choose from. We wanted to try the Mermaid costume for our Maltese, Penelope. We are very happy with the design, quality and comfort of it. The costume is very easy to put on and our dog wasn't in a hurry to try and remove it. I love how the costume is so safe – it doesn't obstruct breathing or vision, it's simple to put on and take off and it's difficult to remove by the pet. Looks like we have a winner!
Pet Krewe Mermaid – Merman Costume
Take your four-legged friend under-the-sea with this one of a kind mermaid costume. With the seashell cups being removable, you can have a mermaid OR a merman in your own home. The tail is an exclusive Pet Krewe design. The two-toned sequins allow you to change the pattern of the tail from luminescent green to sea foam blue. This costume can fit a Chihuahua all the way to a Bernese Mountain Dog. Priced at $15.95 and sizes from S- L/XL.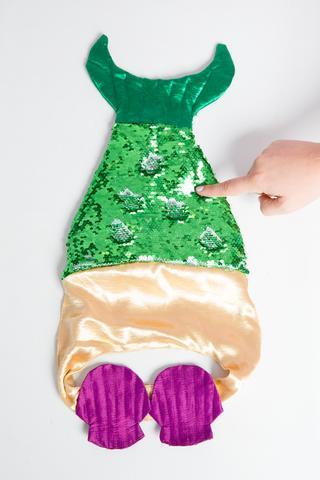 Supporting All of Our Furry Friends
10% of Pet Krewe profits are donated to local New Orleans animal shelters. Also, they utilize their platform to showcase wonderful shelter animals in need of a loving home.
CONNECT WITH PET KREWE: Site | Facebook | Twitter | Instagram