Cell-U-Logic is an all natural and plant-based skin care line that offers an innovative body care line. While featuring technology of enhanced cellular science. Their products are formulated with Liposome delivery system to allow for it to soak in even deeper. Because it helps to tone, strengthen and firm your skin.
Because their products contain offer such an array of active anti-aging, herbal and nutrient-rich ingredients that offer toning, sculpting, and smoothing. While lending a new youthful vitality to your skin. And they are eco-friendly, sustainable, and chemical-free made with the finest organic ingredients. Good for you and your skin and the planet!
This is a detoxifying gel that will help firm and contour targeted areas. While helping to restore your skin's elasticity and smooth and refine any dimpled areas, resulting in a firmer looking skin. Encouraging circulation and supplying nutrients that are essential to optimal skin health. The key ingredients are Green Coffee, Aloe, Guarana, Green Tea & Rosemary. I really like that fact that it is non-greasy and absorbs quickly with a light menthol smell.
And this super-duper cream will renew your skin's texture. While boosting collagen production and reverses free-radical damage. The key ingredients are Vitamin C, Lactic Acid, Omega Fatty Acids & Green Coffee. A light cream with a non-greasy feel with a fresh citrus scent. While firming and hydrating your skin to look younger. Replenish moisture and improving your skin's elasticity. While refining and toning with a soothing citrus scent.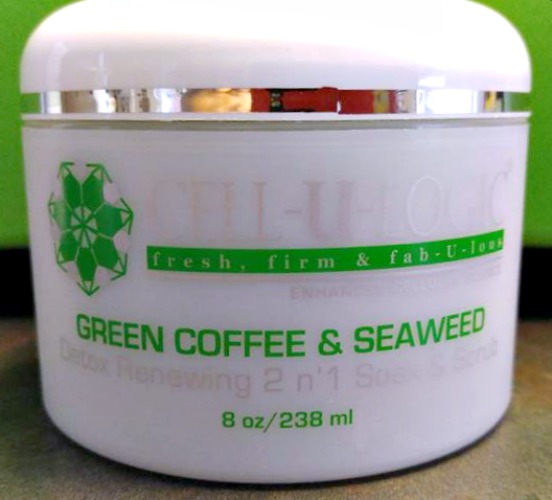 This is my favorite product that they have. Because it helps to remove my dead skin cells and helps to support cell turnover. Working with your skin to help get rid of those nasty toxins. It is a light scrub with gentle exfoliating and detoxifying oils. With a fresh neutral scent. Key ingredients are Green Coffee, Seaweed, Olive Oil, Peppermint, Sweet Almond & Rosemary.
Head over here to purchase yours:
Amazon
Follow Cell-U-Logic for brand news and updates on their social media sites:
Website
Youtube
Facebook