If you're looking for some stylish American themed items for this Fourth of July, then read on because this post is for you.
Celebrate the Stars and Stripes in Style
Independence Day will be here before we know it. If you're looking for some items to add some flair and keep in theme with the holiday, then I have some awesome products to tell you about from Jos. A. Bank. Whether you're dressing up, down, or somewhere in between, they have some awesome Flag themes add ons.
Captivating Cufflinks
These gorgeous flag cufflinks are so nice! The white stripes in the American Flag are made of Genuine Mother of Pearl. The way they catch the light is captivating. The red and blue are enamel so they'll definitely last for years to come. They feature a hinged back, a half-inch stem, and include logo etching on the back.
American Flag Tie Bar
If you're looking for another piece to compliment your cufflinks, then check out Jos. A. Bank's America Flag Tie Bar. Hold your tie in place, and keep it attached to your shirt with some American flair. This classic tie bar is made from genuine mother of pearl, enamel and silver tone metal. It will go perfectly with your cufflinks.
Pin it to Win it
Last but not least, add the American Flag pin to your lapel to tie it all together. Like the others it features red and blue enamel, silver tone metal, and genuine mother of pearl stripes. It's not just for suits either. My husband loves anything patriotic, and said this pin would look great on a baseball cap too.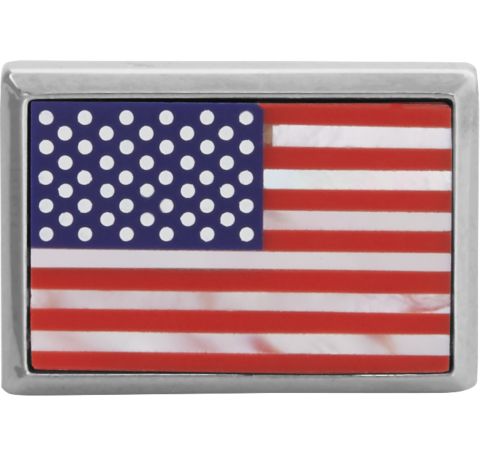 Where to buy
So whether you're looking to dress up, or down, Jos. A. Bank has some fantastic American themed add ons. (They also have a huge selection of shirts, ties, pants, suits, and even have tuxedo rentals for that special occasion.) For all of your dressing needs, head to Jos. A. Bank. Click here for their website. To find a store near you, click here. Be sure to follow them on Facebook, Twitter, and Instagram.