We're in the depths of fall, and winter is on its way. If you're keen to get your home prepped and ready for the holidays, check out these interior updates. At this time of year, you may not have a ton of money to throw at a mini makeover. This is where these budget-friendly tips come in handy.
Color changes
One of the best and most affordable ways of updating your home for a new season is a color change. A coat of paint can transform your room, and create a whole new vibe. Swap crisp white walls in your living room for richer shades. Or go for a statement wall with printed or patterned paper. In the fall and winter months, you can be bolder with color. Opt for autumnal shades like burgundy or gold for living rooms and bedrooms. Gray is a popular option for modern kitchens while bottle green and claret work well in traditional kitchens. Before you paint any walls, make sure you prepare in advance. Wipe down and sand the walls, and apply a coat of primer. If you're covering a colored wall, you may need several coats.
Image credit https://www.flickr.com/photos/tabor-roeder/6123254861
Soft furnishings
Nothing injects comfort and coziness into your home like soft furnishings. The good news is that you don't have to spend a fortune to achieve an amazing new look. There are lots of budget options out there, especially if you shop online. You can pick up bargains on auction sites, or buy designer copies at high street prices. Browse the Internet for ideas, and check for discounts before you buy. You can often find offers like Pepperfry coupons online. Adopt a relaxed approach when dressing your home. Layer and drape blankets and throws on the bed. Scatter cushions on your sofas. Add some floor cushions to larger rooms and keep your toes warm with high-pile rugs. If everything looks a little informal, your house will look much more homely. You'll also save yourself time lining up throws and straightening cushions.
Image taken from https://www.pexels.com/photo/close-of-magazines-mug-and-phone-on-a-couch-6666/
Candles
Candles are a welcome addition to any home in the winter. You can buy holders to suit all styles, and candles of all colors, shapes and sizes. Pillar candles and church candles work brilliantly with open fires in traditional homes. Scented candles are an excellent option for Christmas time. If you have a modern home, go for chic glass or metallic holders. Lighting candles creates a romantic, cozy ambiance in seconds. It can also save you money on your energy bills. If you're looking for other lighting ideas, try fairy lights. If you don't want to hang strings of lights up, add them to oversized glass vases for a contemporary look. If you've got a retro home, place your lights in old milk bottles or Kilner jars.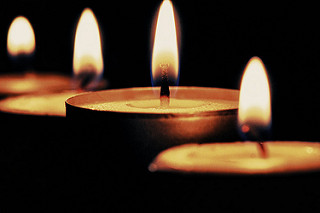 Image via https://www.flickr.com/photos/tschiae/8213244223
Updating your home for every season is a pricey business. Thankfully, there are ways to stay on trend without breaking the bank. Focus on color, add some soft furnishings and pay attention to detail. You can create a cozy winter wonderland in no time.