Update your beauty routine with these anti-aging, exfoliating and sun protection essentials. Help protect your skin from those cold and windy days this season. These beauty must-haves from Skin Actives Scientific make for a great self-care treat or holiday gifts/stocking stuffers for your beauty loving friends and loved ones.
This comprehensive, affordable range of products is for everyone. Skin Actives Scientific focuses on delivering efficacy you will see and feel. The US manufactured brand provides all the right information and most effective products for every skin concern, making the consumer an expert of their own skin health. Their products are also never tested on animals (ever!) and are healthy, ethically produced and accessible to all.
Skin Actives Scientific for Everyone This Holiday Season
Founded by Dr. Hannah Sivak in 2006, Skin Actives Scientific values sourcing the most effective ingredients available, driven by scientific research and real-world testing. They are constantly reviewing scientific and industry literature to stay at the very front of effective ingredients and innovative formulation. Their formulators use techniques to manufacture specialty proteins and push the cutting edge of skin care technology based on decades of research.
Check out some Skin Actives Scientific products I received and really enjoy adding into my existing beauty regimen. Connect with the brand below to purchase for the holidays. Take their Skin Actives Skin Quiz on their website which is designed to help you find the right products for your skin quickly.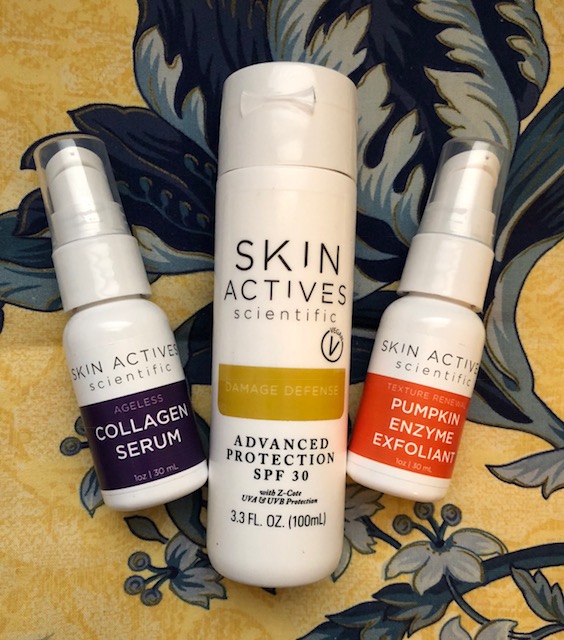 Skin Actives Scientific Pumpkin Enzyme Exfoliant – $12.50
Skin Concern: Uneven Texture
Formerly called the Pumpkin Enzyme Peel, this exceptionally gentle exfoliation product provides soothing moisture while removing dead skin cells. The pumpkin bioferment leaves even sensitive skin feeling smooth and soft.
How it works: Exfoliates skin to improve texture. Removes dead skin cells for smooth skin. Moisturizes dry, sensitive skin.
Skin Actives Scientific Sunscreen SPF 30 Advanced Protection – $15.00
Skin Concern: UV Protection
SPF 30 Advanced Protection Sunscreen is a top of the line sunscreen designed for everyday use and is light enough for all skin types. The chemical and physical protection provided by this product gives full spectrum UVA and UVB protection along with essential vitamins and antioxidants.
How it works: SPF 30 physical and chemical sun protection. Provides antioxidants and vitamins.
Skin Actives Scientific Collagen Serum – $18.50
Skin Concern: Age-Defying
Their top performing age prevention product! Collagen Serum helps reduce the appearance of fine lines, wrinkles and improves overall tone and texture.
How it works: Helps reduce the appearance of fine lines and wrinkles. A good source of nutrients and antioxidants to support overall skin health. Helps improve skin tone and texture.
CONNECT WITH SKIN ACTIVES SCIENTIFIC: Site | Facebook | Instagram | Twitter