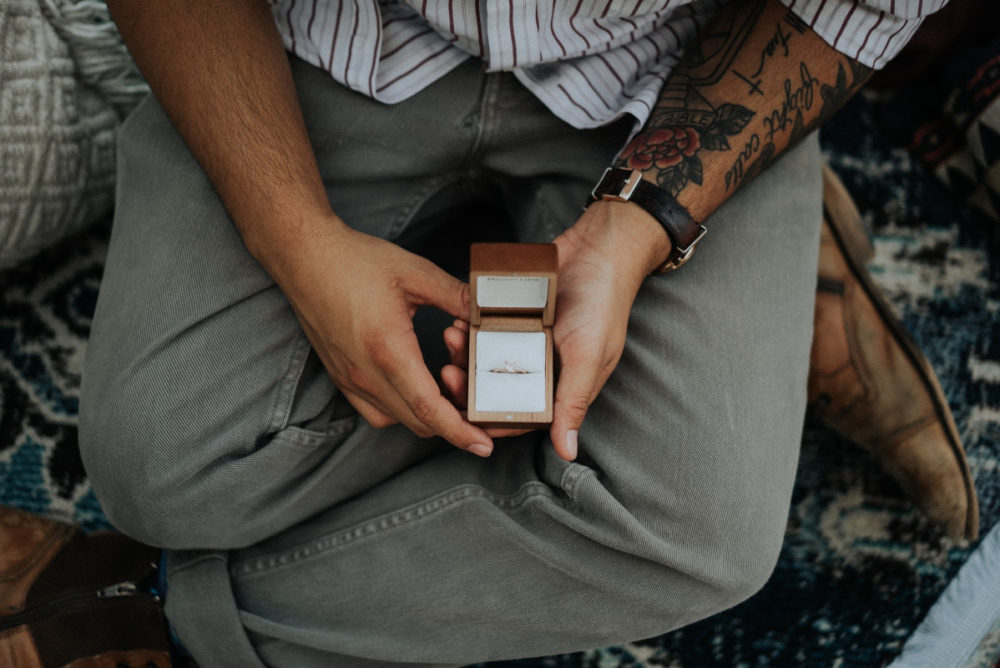 If you've been in a relationship with your partner for a while, you may get a feeling that you're both ready to get married, but are you?
That's a big question and one that can't be answered concisely. However, there are several areas of consideration that can help you determine whether you (and your relationship) are ready for the next step.
The Engagement Factor
There are several ideas that could prompt you to think about marriage, but one of the most common is the possibility of engagement. If you've had your eye on a vintage engagement ring, you might start thinking more seriously about being proposed to. If you're the one doing the proposing, you might start feeling anxious about when the "right time" is to ask the question.
The bottom line here is there's never a "right" or "wrong" time to get engaged, nor will there ever be the "perfect" time. Instead, you'll have to consider the dimensions of marriage, and possibly address them with your partner, to see if you both are ready.
Traditional vs. Modern Marriage
You and your partner need to be on the same page about what marriage means, which oftentimes means making a compromise, and always means learning more about your partner's philosophies and values. Traditional marriages in the United States tend to follow Christian values, viewing marriage as a lifelong commitment to another person and a spiritual union. You or your partner may not be as into the "lifelong" aspect, but may still be committed to the relationship. You may also hold no spiritual beliefs, but still see marriage as something important.
Before you even think about marrying your partner, you need to know where they stand. Find out how they see marriage and how they think about it, and whether your beliefs are compatible.
The Question of Time
Most people will tell you it doesn't matter how long you date; you could be ready for marriage after just a few weeks, or might not be ready for marriage for many years. However, there is some empirical data to guide this dimension of consideration; according to a study of 3,000 people, dating someone for at least 3 years before marriage dramatically decreases the likelihood of divorce. Of course, this number should be considered in context; 3 years of dating as 22-year-old are much different than 3 years of dating as a 45-year-old, and you might have a long history with this person as a friend or coworker as well.
What's important here isn't necessarily the length of time you've spent dating, but rather, how many issues and challenges have you faced together, and how well do you really know this person? If you've spent lots of time living together, and you've had to go through some weird phases together, you can probably count yourself ready for marriage.
Communication
Good communication skills are the hallmark of a healthy relationship, and one capable of long-term success. Every couple, no matter how perfect they seem for each other, will eventually face disagreements and argue with each other. It's not a question of avoiding those conflicts, but instead, one of navigating them; are you and your partner able to discuss important things in a civil and clear manner?
Attached to this, what are you willing to do to resolve a disagreement? What about your partner? Good relationships are built on a foundation of respect and compromise. You both need to listen to each other when something has gone wrong in the relationship. You both need to be willing to apologize. You both need to be willing to compromise. If these fundamentals aren't in place, the relationship won't survive marriage.
Your Personal Motivation
Also spend some time thinking about your personal motivation for getting married, because this needs to be coming from a healthy place. Many people want to get married out of fear, lack of self-esteem, or a feeling of urgency; for example, they might be unhappy in their lives, and feel like getting married would make them happier. They might feel like their partner is the only person who will ever love them, and want to "lock them in" as soon as possible for fear of losing the relationship. These are bad reasons to get married, and will likely result in problems during the marriage. If you're truly ready for marriage, you'll be independent, happy, madly in love with your partner, and only seeking marriage because it could make a good thing greater—not "fix" a bad thing.
It's hard to tell whether you're truly ready for marriage, and the variables will be different for everybody. However, before you even think about engagement, it's in your (and your partner's) best interest to do some introspecting and evaluate how you really feel.