This post is sponsored by One2One Network. As always, all opinions are my own.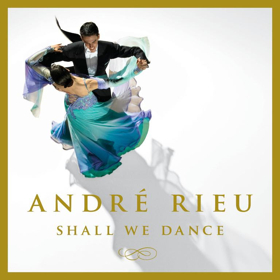 Listening to music while I work is a must! However, lately, I've been finding my music choice to be quite distracting. I grew up on Hip Hop, so I always have my station on 90's Hip Hop. I sing along most of the time…guess what that is not cool when I'm supposed to be WRITING!
Trying to write while listening to lyrics is like having a conversation with someone that won't allow you to talk because they are talking over you! I never finish my to-do list that is for sure because I'm always so distracted. I need to change up my music, and I did some research on what type of music would help with my productivity.
Classical music is supposed to boost productivity and create a calming effect. Well, that sounds exactly what I need so I chose André Rieu's "Shall We Dance" CD and WOW what a difference it made in my day. I was more focused while listening to the CD even though it took my thoughts to Venice, a ballroom, and the theater.
My favorite tracks on the CD are:
Carnival Of Venice

: I really felt like I was strolling through the streets of Venice. So beautiful to listen to and dream.

Love Theme – From Romeo And Juliet:

This brought back so many memories of High School when we did a production of Romeo and Juliet, but now I appreciate the music in a whole different way. I can feel the fight for love and then the sadness.

Medley Strauss & Co:

Well this made me think of a huge ballroom and big dresses and the party that was happening while listening.
André Rieu is an international superstar, violinist, and composer who has been dubbed The King of the Waltz. Ovation TV has a 10-part series on Andre Rieu called "Welcome To My World." The documentary will give an intimate look at the behind the scenes details that bring together Mr. Rieu's legendary show
I will say that I enjoyed listening to André Rieu "Shall We Dance" CD while I was working and YES I did get more done than my typical day. Hmmmm something to think about it!
The "Shall We Dance" Album:
You can buy this beautiful album everywhere now which includes a CD and DVD from Decca Gold. Here is a list of songs and Target has an exclusive version with two bonus tracks – "Music of the Night" (from Phantom of the Opera) and "Lara's Theme" (from Dr. Zhivago)
"Shall We Dance" Tracklisting:
Second Waltz

The Blue Danube

And The Waltz Goes On

Godfather ( Main Theme)

Strauss & Co Medley

Love In Venice

Radetzky March

A Time For Us ( Romeo & Juliet)

Zorba's Dance

Edelweiss

Carnival Of Venice

Bolero

My Heart Will Go On

Time To Say Goodbye

Music Of The Night ( From Phantom Of The Opera) (Target Exclusive)

Lara's Theme ( From Dr. Zhivago) (Target Exclusive)
Check out this video showcasing his exciting live concerts:
Look exciting? If you're in one of these markets, you can Buy Tickets Here.
UPCOMING: US Tour Dates:
10/19 – Phoenix, AZ




10/20 – Las Vegas, NV




10/21 – San Diego, CA




10/22 – Los Angeles, CA




10/24 – San Jose, CA




10/25 – Sacramento, CA




10/26 – Fresno, CA




10/28 – Tacoma, WA




10/29 – Portland, OR




11/1 – Tampa, FL




11/2 – Orlando, FL

11/3 – Sunrise, FL