Have you ever wanted to support a cause, but just did not know how? Well Meredith from Celiac Cutie makes it easy to support Celiac Disease with her brand of t-shirts – Celiac Cutie. Meredith was diagnosed with Celiac Disease on January 29th of 2016. Celiac Cutie was created to bring about fun, laughter and empowerment to those affected by an autoimmune disease, as well as other challenges.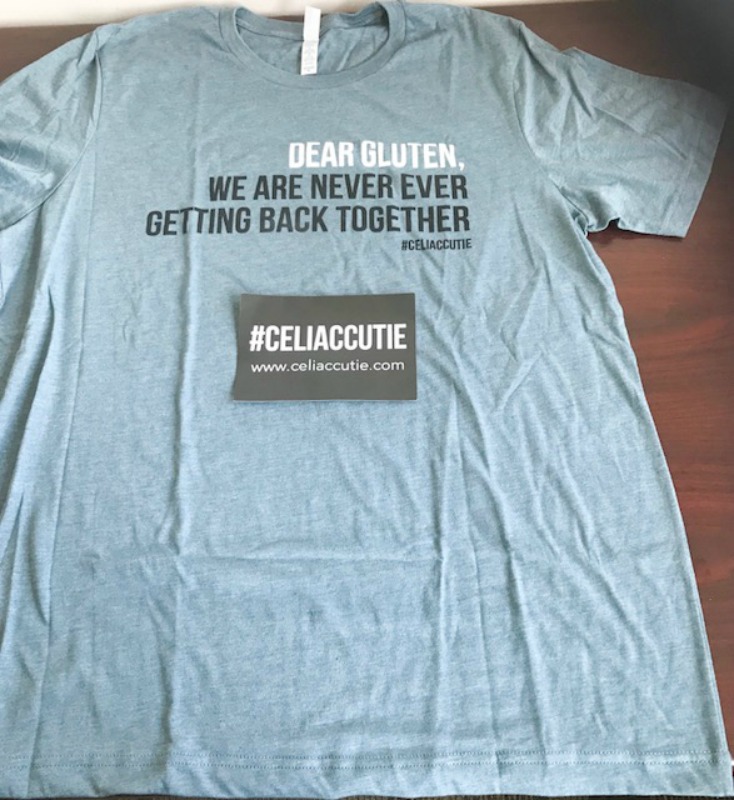 Celiac Cutie
Celiac Cutie celebrates the journey we are all on together. We know the downsides to an auto-immune disease – we live it every day. What if we could create a community where we celebrate and share our message with a little humor and some fun products that we enjoy? What if those products were cute enough to start discussions and help us raise awareness (without the typical conversation starter – "Is this gluten free?").
Celiac Cutie t-shirts are clever and funny. The sizes available are small through extra-large.
Quick Facts
The Celiac Disease Center at Columbia University Medical Center is one of a few centers in the United States that provides comprehensive medical care, including nutrition, for adult and pediatric patients with celiac disease and is diagnosing and treating thousands of patients annually from around the world.
Celiac Disease is not curable, which means those affected by this disease will have to avoid eating gluten their entire lives.
Here are some quick facts about Celiac Disease:
About 1 in 100 people — about 1 percent — have celiac disease
It is estimated that 83% of Americans who have celiac disease are undiagnosed or misdiagnosed with other conditions
A 100%

gluten

-free diet is the only existing treatment for celiac disease today.
This is why we should all work to give back to those affected by this autoimmune disease.
A portion of all t-shirt sales from Celiac Cutie goes back to the Celiac Disease Center at Columbia University. This where Meredith personally found help after her diagnosis.
So now that you know what Celiac Cutie is all about, will you be a Celiac Cutie supporter? Help support the Celiac Disease by spreading awareness with the purchase of a Celiac Cutie t-shirt.
Connect with Celiac Cutie: Site | Facebook | Instagram