There is something so spectacular about visiting historical monuments, standing beneath them, attempting to imagine what it may have been like to be alive during the time that they were built. Europe's rife history means that there is an almost endless list of architecturally brilliant historical locations on offer. These historical buildings can best be described as works of art, with beautiful sculptures, colorful windows, and steeples that reach high up into the sky.
If you are a lover of fantastic architecture and plan to visit Europe anytime soon, here are some of the best architectural feats that should definitely make it onto your must-see bucket list.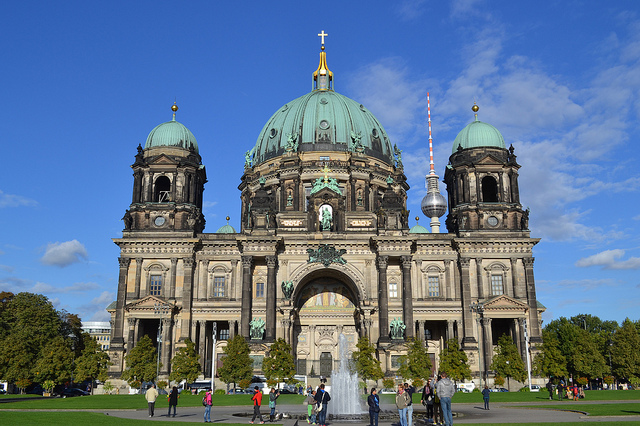 image credit
The Berlin Cathedral, Germany
Constructed in 1465, demolished in 1894 and then rebuilt as the stunning cathedral we have today, this building truly takes the idea of beauty to a new level. Thanks to the informative audio-guided tour around the entire structure, this is a great place to learn about the complex history of Berlin.
The cathedral is situated on the aptly named Museum Island of the Mitte District. With five great museums in walking distance of the cathedral and a transport hub nearby, this is absolutely a must-see location for all history lovers.
image credit
Arc de Triomphe de l'Étoile, France
Known in English as the Arch of Triumph of the Stars, this immense arch is one of the most famous monuments in Paris. It is situated in the center of the Place Charles de Gaulle, the meeting point of twelve straight avenues, which gives it the historical name of "Square of the Star". If the 284 stairs up to the top frighten you, you'll be glad to know there's a lift that can take you straight up to the arch's "attic".
If you are searching for accommodation that provides you with a taste of the local culture, why not consider a classic Housetrip Paris option. This allows you to steer clear of hotels, with their boring rooms, and instead rent out a Parisian home. Not only is this kinder to your bank account, but it will also sprinkle the perfect amount of local spice to your holiday.
The Colosseum, Italy
It would be impossible to mention amazing architecture around Europe without mentioning the world famous Colosseum. Known as the greatest architectural and engineering feat of the Roman Empire and holding the title for the largest amphitheater in the world, this amazing structure should definitely be on your bucket list.
One could spend many hours strolling around this site, admiring the sheer detail that went into creating it. If you are interested in architecture you should definitely consider checking out Newtecnic who is one of the best architects around.