One of the many great things about the season of summer is that the weather tends to be beautiful. During this time there are going to be plenty of days to enjoy the outdoors. You may spend time with the family at the lake, or you may even spend time with your friends too. Although, if there is one thing I know for sure the summer season is the best time to plan the perfect get together.
Since the sun will be out, why not plan a cookout for your family and friends to enjoy. Seeing people come together is a great way to create memories. Everyone comes over to enjoy music, the company of others, and best of all lots and lots of food. Now before you fire of the grill, cleaning it may become a factor. I know of a great product that can get the job done for sure. So go ahead and check out all the information I have for you below.
Safe & Easy Is The Way To Go
Believe it or not, cleaning your grill isn't the easiest or safest of cookout tasks. Not only is it sometimes difficult, but it can be dangerous too. So in cases like these, you are going to want something that is both dependable and safe. You should consider getting the GrillStone® Cleaning Block.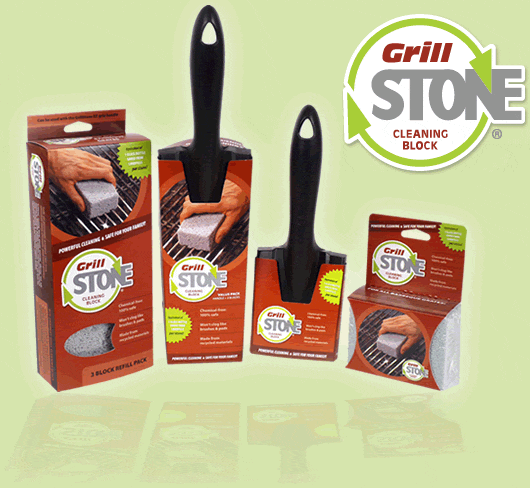 The GrillStone® Cleaning Block is true to the solution to all your grill cleaning problems. This is the product that is the all-natural, safer and more effective alternative to wire grill brushes! These blocks are environmentally friendly grill cleaning blocks that provide powerful, effective, and safe cleaning. Now, these are just for cleaning just your average grills. They are also good for cleaning BBQ grills, griddles, smokers, and other cooking surfaces.
As for its design, GrillStone® Cleaning Block is made up of recycled materials! They even have the ability to clean porcelain enamel, cast iron, stainless steel, and steel! Having this can save you so much stress, time, and effort. Some other key details include:
Non-toxic, chemical free cleaning
Works great on hot and cold surfaces
Conforms to shape of the surface to clean between grill grates
Won't clog like grill brushes or pads
Grabbing this is just what you need to do before your next cookout. So check out the information above.