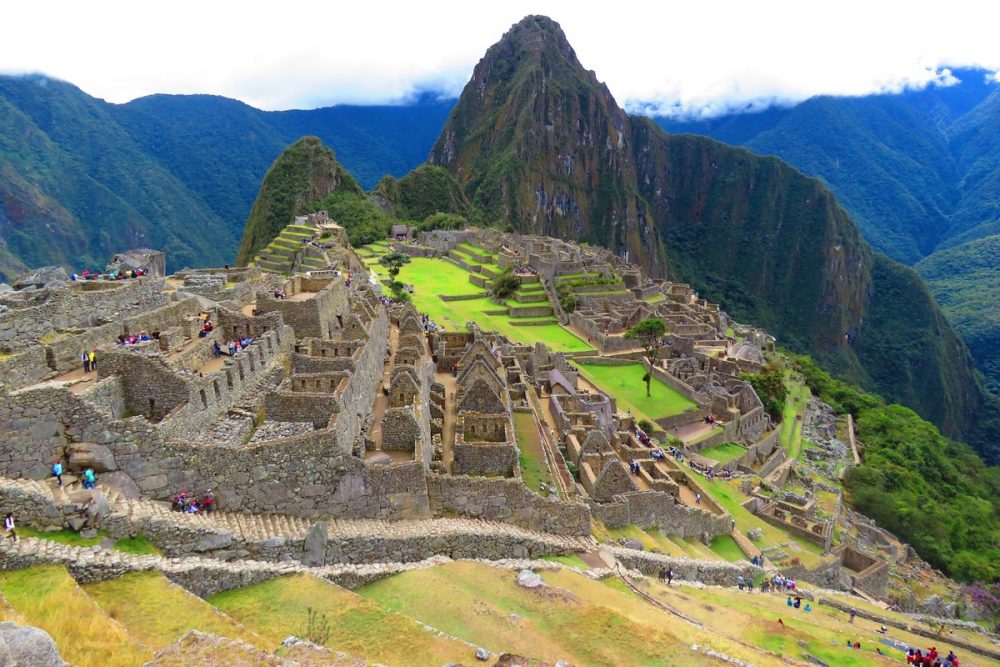 Peru, as the third-largest country in the South American continent, is located on the Pacific Coast. Its location and landscape have placed it at an advantage to have beautiful Islands, deserts, lakes, mountains, valleys, forests, ancient narrow paths, to mention but a few. Peru is a place to be because of natural wonders it possesses, the wildlife, tourist attractions, awesome adventurous hikes, incredible cultural heritage that makes it fascinating and captivating. Ten significant phenomena Peru is recognized for will be discussed below.
INCA TRAIL TO MACHU PICCHU
This is a long-distance trek through the ancient paths of the lost Incan empire. The vast empire covers about 2,000 miles from North to South around the Andean Mountains which was accumulated as a result of the ability of Incan people to make long treks, their incredible carving/craft talents, understanding their mountains and their spirit of unity that caused them to keep it a secret from foreign exploiters until the 19th century when the Spanish tourists discovered the place. The leaders of this beautiful empire empowered a small group of talented craft builders to construct this awesome tourist attraction of our time that is still a mystery to many scientists.
This very popular Machu Picchu treks which is a 3-night and 4-day will leave you flabbergasted if only you can plan your holiday to go on this Inca trail today. You can go on this adventure any day of your choice, all you need to do is to get a permit which is always available. Peru gives 500 permits each day to anyone ready to go on this trek to see the unique ancient civilization of the Incas that lasted for about a century. Be there!
WANDERING THROUGH AMAZON RAINFOREST
Aside from the adventure to Machu Picchu which is a wonder to the world and most especially the scientists, there are beautiful other places in Peru, and one can have extreme fun and adventure like this Amazon rainforest. The warmth from the combination of sunshine and trees, the scent from the vegetation and the unique sounds from the forest are what makes it special.
There are a variety of things to look out for while cruising the Amazon rainforest; the amazing animals, hunting for piranha (peculiar Peruvian fish), the sumptuous Peruvian foods, the exceptional Peruvian birds and then meeting the Riberenos (the river people) who will share their history and culture to you with the help of your guide.
LAKE TITICACA
Discover South America's largest lake with the name that depicts a puma hunting a rabbit. The Incans believe that the lake is "the birthplace of the Sun," there are more than 500 aquatic species and many water birds. It is also essential to know that about twenty-five rivers flowing into Lake Titicaca.
WILDLIFE
Peru is capitalized with special biodiversity because of landscape, the coast, Andes and the Amazon River. Its reserve has about ten species of monkeys, hundreds of bird species, different categories of mammals and beautiful butterflies in their hundreds. A vacation to Peru will allow one to see big cats like llamas, alpacas, then various bears as well as dolphins, sharks and whales that roam the coast.
WEATHER
Peru experiences the rainy season between January to March and then the warm temperature in April and May. As for June to August, they are usually the time of tourist visits. For the rest of the year, the Amazon area blows hot during the day and drops at night to a very relaxed atmosphere.
PERUVIAN CULTURE
The Peruvians are a beautiful blend of two native cultures of Quechua and Aymara, both speaking theIR native language. They have succeeded in preserving their cultural heritage, not minding the effects of civilization that has crept in over the years. Peru's artistic works and handcrafts are always outstanding like the White cathedrals and their weaves. Peru's music is spectacular, and their dressing is gorgeous, but one can only have a taste or feel of them by planning a Peruvian tour.
PERUVIAN CUISINE
Peru is most probably famous for its traditional staples that have been blended with Spanish and Asian recipe to produce more complex intercontinental dishes that is attracting so many from far and wide. Incredible fish dishes mixed with milk or chili pepper to give it a Peruvian touch. Tasty soups or stews served with potatoes-based meals, seasoned roasted meats and a variety of other native meals can better be described by taking advantage of a public holiday to be present in any of the famous Peruvian restaurants.
MARRIAGE AND FAMILY LIFESTYLE
Peruvians are allowed to marry anyone of their choice with two crucial factors to consider before taking their decision, which is money and class. Many couples cohabit when they don't have enough resources to carry out the legal and religious rites while some live with their spouses' families.
THE PISCO SOUR
A grape brandy with a combination of lime juice, egg whites and syrups makes up the pisco sour which has been inverted since 1920 but has become so famous over the years earning national recognition. It is an alcoholic cocktail drink.
BEACHES
Peru is famous for its exotic beaches which have become home for surfers. The top surfing areas are located in Peru's capital, Lima, but for a perfect time during the hot weather, you can visit famous beaches like Punta Sal, etc.
In conclusion, amidst the very many fascinating places on earth, Peru has become one that has stood tall.