Spending your hard-earned money on reserving a karaoke room is a big no when you can already achieve the same fun in the comfort of your home. The best solution for this is purchasing a karaoke machine yourself. You do not need to worry anymore because here is the complete list of 7 best home karaoke systems. You can choose any one of these as per your own requirements and preferences.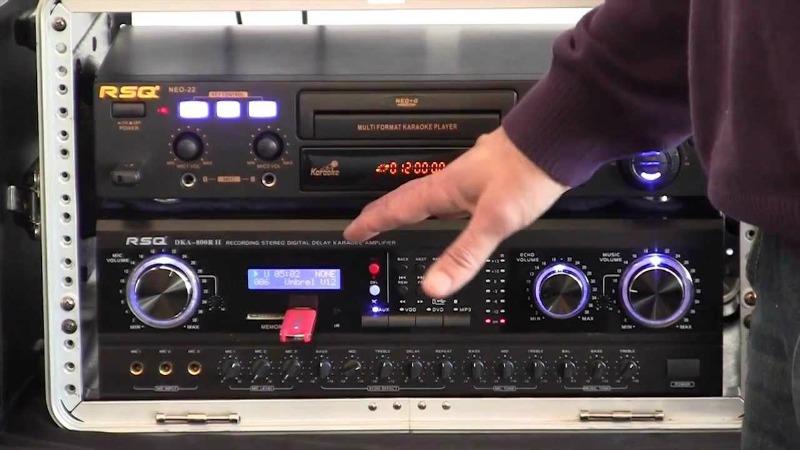 Singtrix Party Bundle Premium Edition Home Karaoke System
If Karaoke is in your bones, then you would definitely love this amazing Party Bundle Premium Edition Karaoke System to bits and pieces. This device has also been popularly endorsed by a lot of celebrities and on television shows, like The View, Ellen, Shark Tank, and many more. It has a portable design, which includes 2.1 stereo 40-watt speakers that have an inbuilt subwoofer for delivering its booming sound.
Apart from these amazing features, this karaoke system has some interesting effects, like powerful harmonies, pitch-correction, and voice cancellation, for decreasing the vocals on any standard music, delay, reverb, and more.
This home karaoke system is compatible with your keyboard, guitar, computer, tablet, laptop, and even your smartphone. You can choose to play songs from your device's song library or can even synchronize it with a karaoke application.
Ion Audio Tailgater (iPA77)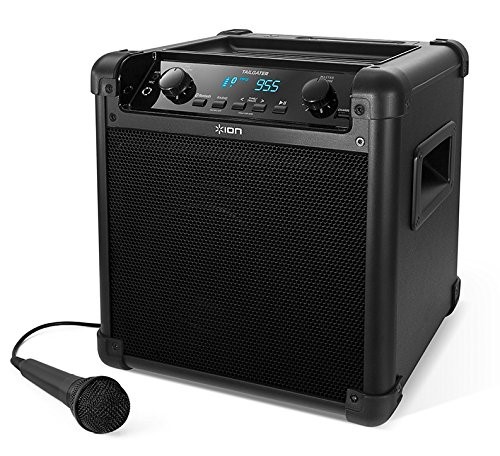 The Audio Tailgater is an amazing karaoke home system that includes an inbuilt rechargeable battery in its package. This battery provides as long as 50 hours of continuous use. You can connect this karaoke system using Bluetooth from a distance of maximum 100 feet and still it will be able to stream songs.
If you buy this home karaoke system you can be sure about getting a device that is power-packed with 50 power watts. Moreover, it has a superior-quality woofer that emits a booming and clear sound. This device contains an inbuilt microphone input, auxiliary, AM/FM radio, and a USB power bank as well that helps you charge any mobile device.
Singing Machine SML-385 Top Loading CDG Karaoke System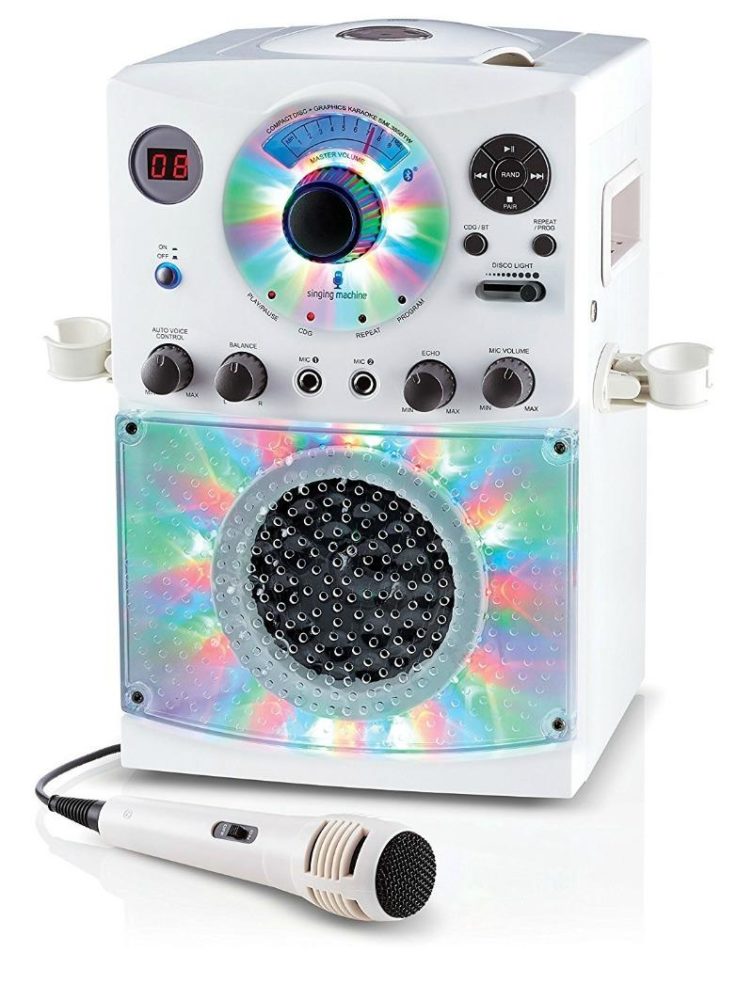 This home karaoke system includes 2 microphone jacks that have different volume dials, which let you sing a duet with your friend. It also includes an equalizer in its sound system so that you can easily adjust its sound levels for echo control and balance.
This karaoke package also includes an instruction manual, which makes learning easier for a beginner. This manual includes a description that helps in utilizing and optimizing this device for using at home.
Unlike other karaoke devices, this system includes an AVC or Auto Voice Control feature, which helps singers in separating their individual music and vocal tracks through this device's balance control. This feature makes it simpler for perfecting the songs that a singer practices on this device.
Singing Machine STVG785W
This interesting karaoke system has its own display screen, speaker output, and crazy LED disco lights. With this device at your home, you don't need any other hardware piece to rely on. This karaoke device is 9.7 pounds in weight. This system is compatible with both CD+G/CD tracks with its inbuilt CD player.
The karaoke device also supports the MP3+G music with the aid of its USB port. It also has an auxiliary input for connecting it with the user's audio devices. Apart from these, this karaoke package includes 2 microphone jacks with voice and echo control features.
Akai KS213 Portable CD+G Karaoke System and Tablet Cradle
If you are an avid user of tablets and iPads and would like to sing, then this Portable Karaoke System and Tablet Cradle is a perfect fit for you. This home Karaoke system comes with the top loading player for CD+G. This also includes a tablet/iPad cradle. The unique cradle connects the device to the auxiliary input and serves as the placeholder for it.
This Karaoke device also includes inbuilt speakers in its package and operates on 6 C batteries. Like any other Karaoke system given above, it also includes 2 microphone jacks, auto control voice feature, LED lighting feature, and AV output for connecting to the television.
Dime & Nickle Kids Karaoke Machine with 2 Microphones
This Karaoke machine by Dime & Nickle is specifically designed for kids. It comes with a stand that can be adjusted as per the height of the kid and 2 microphones with flashing crazy stage lights. It also has pedals that help create an enjoyable musical atmosphere.
This interesting karaoke machine is 2.5 pounds in weight and is recommended for kids of age 3 years and plus. The maximum length of the stand after the extension is 40 inches. This karaoke machine is quite easy to handle and move around since it comes with a handle for transporting. It streams good-quality music through the auxiliary cable that accompanies it.
Some of its pre-installed sounds can be easily accessed through the pedals provided at its bottom. When the right side of the pedal is pressed, it automatically plays a few lullaby tunes. The left pedal gives the applause effect of sound. This kid's karaoke system automatically lights up showing colorful LED lights when someone uses it.
Electrohome Portable Karaoke System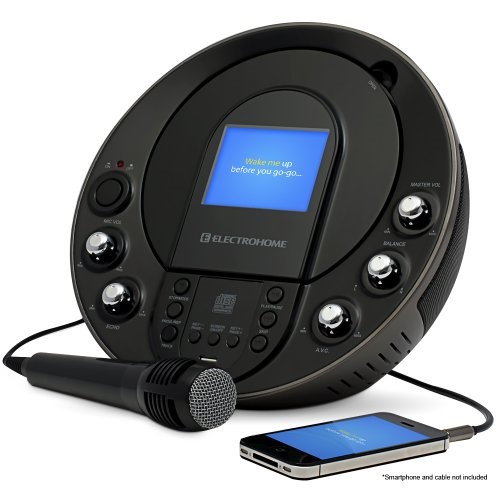 Electrohome offers a karaoke device that functions well with all types of audio inputs. This portable karaoke device includes the CD+G/CD input and a single USB port for direct playing using the flash drive. The auxiliary port enables the user to play music directly using a PC, tablet, or a phone device.
The best part about purchasing the Electrohome Karaoke system is that you can easily port it anywhere and it's quite small in size. This karaoke device includes 2 speakers, which produce extremely amplified sounds. It has a 3 and a half inches display screen but if you feel its small for you, then you can even connect this device with a television.
So, these were the 7 best karaoke systems for your home. Taking into consideration their features, usage, and utilities served, you can choose the one karaoke system that best suits your requirements. Make sure you compare their features with your own singing needs before selecting the one that you would buy.