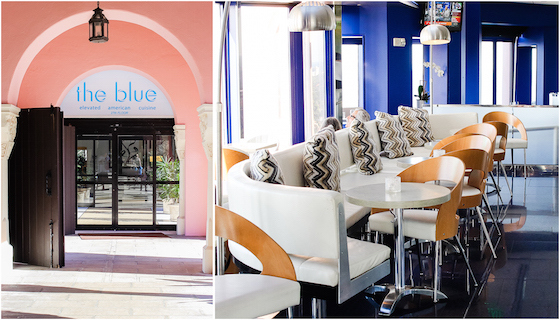 At the top of the Boca Raton Resort & Club tower, on the 27th floor, resides The Blue, a New American restaurant serving up local, seasonal seafood, sophisticated cocktails, and breathtaking sunset views of the Intracoastal Waterway, Atlantic Ocean, and Palm Beach County.
Everything has a modern and clean feel about it. Every window gives you the most beautiful, breath-taking views. The Blue is a fine-dining restaurant at Boca Raton Resort & Club, serving New American food and drink – sophisticated and contemporary with some unexpected flavors and modern takes on classic dishes. Exclusive Dining.

Another great place to eat in the Boca Raton Resort and Spa, the 27 th floor gives you the prettiest views. We had gone up for a cocktail and they served us some of the best appetizers, and a drink called 27th floor. Only the freshest and most succulent ingredients are used while placing emphasis on sustainable and organic foods from local farmers and waters, complementing offerings like the Maine lobster, which arrives daily, fresh from its source.
Some favorites on the menu include the Deviled Eggs starter, that include pickled beet and fennel eggs (yes, they are bright purple and delicious!), the Lobster Toast, and of course the Chef's Seafood Tower Claw Bar. All of that tasted so good. The whole time your there you are very relaxed, and enjoying the views and people around you. Just sit back and relax and enjoy the surroundings, don't be afraid to bring the kids, they will love looking out the windows at all the beautiful boats.