When it comes to communicating with children, I'm definitely not an expert. However, from my own experience, I have noticed that sometimes how I word things can make all the difference in whether the child I'm talking to is going to actively (and maybe enthusiastically) respond or just grunt and mumble a yea or nay and walk away. This can be especially true in dealing with teenagers. And, sometimes with children it's difficult to tell what is bothering them. Some of them are great at concealing their feelings and pain. That's why a book like The Parenting Project can be a helpful tool for parents today.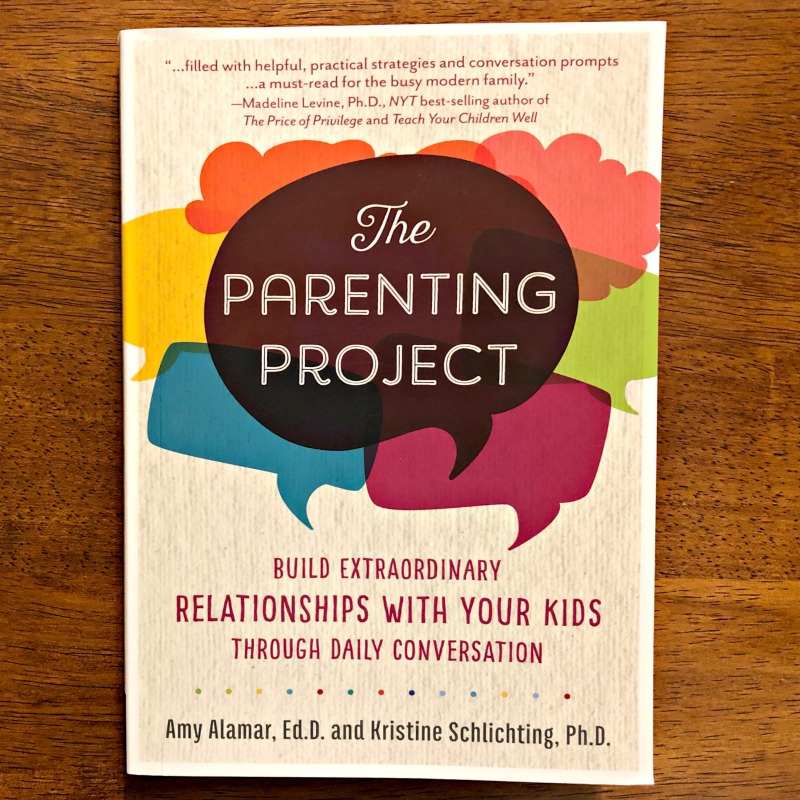 Communication Is The Focus
The authors of The Parenting Project: Build Extraordinary Relationships With Your Kids Through Daily Conversation are Amy Alamar, Ed.D., and Kristine Schlichting, Ph.D.. In their new book, they "translate research into practice to help parents create a connection with their children through the habit of talking with one another day in and day out" (taken from back cover of book).
Basically, throughout the book, the authors provide the reader with prompts and various ideas to foster a flowing, productive conversation with their children, which can be so challenging in this day and age.
Part 2 of the book addresses the following areas:
"Heart-based Conversations,"
"Uncomfortable Conversations,"
"Dangerous Conversations,"
"Character Conversations," and
"Brave Conversations."
Within the above types of conversations, the book addresses tons of areas affecting children, including friendships, intimate relationships, divorce, separation, gender and gender identity, sexuality, alcohol and drugs, suicide, identity, integrity, bullying, emotional health, taking risks, and much more.
The book is easy to read (it doesn't go over the reader's head). I really like that the book brings a focus to the importance of communication between parents and their children. And, nowadays, it seems children face a different level and different types of challenges compared to when I was a child. So, communication can be very important in helping maintain a child-parent relationship. And, this book reminds the reader of that.
About The Authors Of The Parenting Project
Dr. Amy Alamar is "an author, educator, and consultant with a focus on translating educational theories and research into parenting practices" (back cover). You can go to her website to learn more about her: www.amyalamar.com.
Dr. Kristine Schlichting is "an innovator, expert problem solver, and change agent fitting together principles of psychology, coaching, and wellness" (back cover). You can learn more about Dr. Schlichting on her website: www.hopewellhealthsolutions.com.
The book is available on the Quarto Knows website. It comes in softback and retails for $22.99 (price subject to change).
Connect with Quarto Knows:
Website | Facebook | Twitter | Pinterest | YouTube