The morning after a late night, like New Year's Eve you might need a little help looking refreshed and ready to take on a new year. Masks are so popular now and so we want to let our readers know about a few they need to pick up. Have a relaxing spa day in by giving your skin the hydration it needs after your New Year's Eve celebrations.
Erborian BB Shot Mask ($8, Sephora.com)
Bring your skin to life with this instant beauty-boosting sheet mask that acts as a true concentrate for a flawless complexion. Delivering results comparable to those of serum, it immediately helps to plump skin with moisture, smooth and refine skin's texture and illuminate the complexion, leaving you and your skin ready to take on the new year.
Erborian Ginseng Shot Mask ($7.50, Erborian.com)
Start 2019 off right by enriching your skin with this refreshing Ginseng Shot Mask. This mask helps to reduce the appearance of wrinkles, enhance the complexion's radiance, smooth the skin and leaves the skin with a firmer and fresher feel.
Erborian Bamboo Waterlock Mask ($43, Sephora.com)
Refresh your skin after a long night of celebrations with this hydrating mask. It utilizes a complex of Bamboo Sap and Fibers to help moisturize and plump the skin with water, leaving your skin feeling hydrated and refreshed. This mask can be used in two ways – either as a daily mask or as a moisturizing leave-on treatment.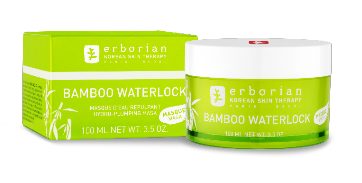 MegRhythm Gentle Steam Eye Mask ($10.99, Amazon.com)
Decompress and de-stress with this innovative, 10 minute, self-heating mask. It helps to heighten relaxation, hydrate surrounding skin and relieve tired eyes with the warm and soothing sensation of steam heat.
Available in three scents: Lavender, Citrus and Unscented
Please take into consideration the above products to help you get through the day after New Years or any time you need a little pampering.