There are a lot of people out there who enjoy watching movies during the spread of the holiday season. Although it isn't just Christmas movies, just movies in general can bring the family together. Just sitting down and in front of the big screen with friends and family is the perfect pastime for Christmas. Therefore, you are going to need some movie options to feed that entertainment factor. Below you will find a few entertainment options that could even make great gifts.
Rock And Roll Hall Of Fame In Concert
Each year, the Rock and Roll Hall of Fame honors rock music's pioneering figures during a prestigious, black-tie ceremony. As the Hall of Fame enters its third decade, it's these extraordinary induction ceremonies – featuring the biggest names in classic rock from the '60s, '70s, and '80s – that have become nearly as epic as the artists they celebrate. This holiday season, Time Life and the Rock and Roll Hall of Fame gives music lovers front row seats to the unforgettable ceremonies from 2010-2017 with the 11-disc collector's set ROCK AND ROLL HALL OF FAME: IN CONCERT.
This ultimate DVD set features nearly 30 hours of mind-blowing performances and collaborative jam sessions that have made Rock Hall concerts legendary! It covers eight memorable induction ceremonies and 160 live performances from such rock giants as Alice Cooper, Billy Joel, Bruce Springsteen & The E Street Band, Cheap Trick, and many more.
A Cinderella Story: Christmas Wish
Break out the mistletoe and holly and get ready to sing and dance as Warner Bros. Home Entertainment has released A Cinderella Story: Christmas Wish! This is the fifth installment in the A Cinderella Story movie series.
Brimming with overtones from the classic fairytale, this contemporary musical follows Katherine "Kat" Decker dreaming of becoming a famous singer-songwriter. Her reality, however, is suffocated by her conniving and cruel stepfamily and a demoralizing job working as a singing elf at billionaire Terrence Wintergarden's Santa Land. When she starts to fall for Nick, the handsome new Santa at the tree lot, things begin to look up. Unfortunately, when her stepmother and stepsisters realize Kat has been invited to the prestigious Wintergarden Christmas Gala, they'll stop at nothing to procure their own invitation and keep Kat from attending. With the help of her attentive dog, a true friend, and a little bit of holiday magic, Kat may just make it to the gala, discover the true identity of Nick, and experience the true meaning of Christmas.
Scarface (1932 & 1983) Gift Set
Bring home the ultimate Scarface experience loaded with bonus features including new 35th Anniversary Reunion with Al Pacino and Michelle Pfeiffer! For the Scarface fans of the family, you may want to consider grabbing the Scarface (1932 & 1983) Gift Set.
Synopsis: In the spring of 1980, the port at Mariel Harbor was opened, and thousands set sail for the United States. They came in search of the American Dream. One of them found it on the sun-washed avenues of Miami…wealth, power and passion beyond his wildest dreams. He was Tony Montana. The world will remember him by another name… Scarface. Starring Al Pacino as Tony Montana along with Michelle Pfeiffer, Steven Bauer, Mary Elizabeth Mastrantonio, and Robert Loggia, Scarface has become a cultural phenomenon brilliantly directed by Brian De Palma and written by Oliver Stone.
VeggieTales: The Best Christmas Gift
The #1 faith-based children's brand returns with the release of VeggieTales: The Best Christmas Gift. This is an incredible find as this is the first new VeggieTales Christmas release in 6 years!
Bob and Larry are preparing for their first Christmas show in Mr. Nezzer's theater and the show seems to be headed for disaster. Bob begins to wonder how to celebrate Christmas when everything is going wrong. It's only when the Veggies go back to the very first Christmas, where times were tough and things didn't seem to be working out, that they all learn the promise of Christmas – God is with us. It's a timeless story of hope that every family will enjoy!
DreamWorks Ultimate Holiday Collection
Have you ever wish you could grab one DVD that featured a number of holiday films? Well, that's exactly what you'd get when you grab the DreamWorks Ultimate Holiday Collection! This features 9 DreamWorks holiday favorites together for the first time!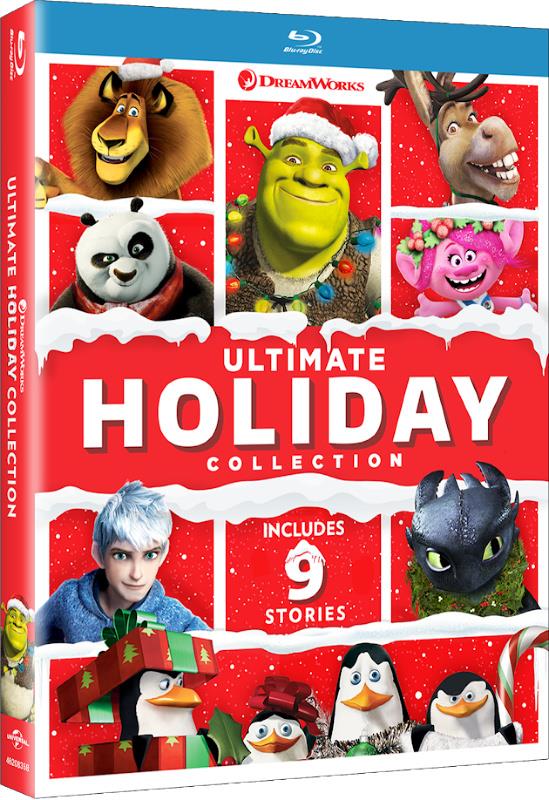 'Tis the season to bring the family together with the DreamWorks Ultimate Holiday Collection! Get into the holiday spirit with Shrek, Po, Hiccup, Toothless, Poppy and many more as they celebrate the most wonderful time of the year. Featuring 9 festive stories with your favorite characters, this collection is perfect for everyone looking to add a little magic to their holidays.
Illumination Presents: Dr. Seuss' The Grinch
Illumination and Universal Pictures present The Grinch, based on Dr. Seuss' beloved classic. The Grinch tells the story of a cynical grump who goes on a mission to steal Christmas, only to have his heart changed by a young girl's generous spirit. Funny, heartwarming and visually stunning, The Grinch is fun for the whole family!
Warner Bros. Blinded by the Light
From writer-director-producer Gurinder Chadha ("Bend It Like Beckham") comes the inspirational drama "Blinded by the Light," set to the music and lyrics of Bruce Springsteen's timeless songs, a joyful story of courage, love, hope, family and the unique ability of music to lift the human spirit.
The film tells the story of Javed (Viveik Kalra), a British teen of Pakistani descent growing up in the town of Luton, England, in 1987. Amidst the racial and economic turmoil of the times, he writes poetry as a means to escape the intolerance of his hometown and the inflexibility of his traditional father (Kulvinder Ghir). But when a classmate (Aaron Phagura) introduces him to the music of Bruce Springsteen, Javed sees parallels to his working-class life in the powerful lyrics. As Javed discovers a cathartic outlet for his own pent-up dreams, he also begins to find the courage to express himself in his own unique voice.
The Kitchen
Based on the Vertigo comic book series from DC Entertainment, the film stars Oscar nominee Melissa McCarthy, Tiffany Haddish and Elisabeth Moss as three 1978 Hell's Kitchen housewives whose mobster husbands are sent to prison by the FBI. Left with little but a sharp ax to grind, the ladies take the Irish mafia's matters into their own hands—proving unexpectedly adept at everything from running the rackets to taking out the competition…literally.