Yesterday I was telling you about our Christmas Eve and family game tradition. Well last year, we also started a new tradition, that I'm already excited to do again this year. Part of that excitement is because it involves my kids and the next closest thing, my nephew and niece. Also, because I have a new and fantastic way to help them unwrap their imagination even more this year.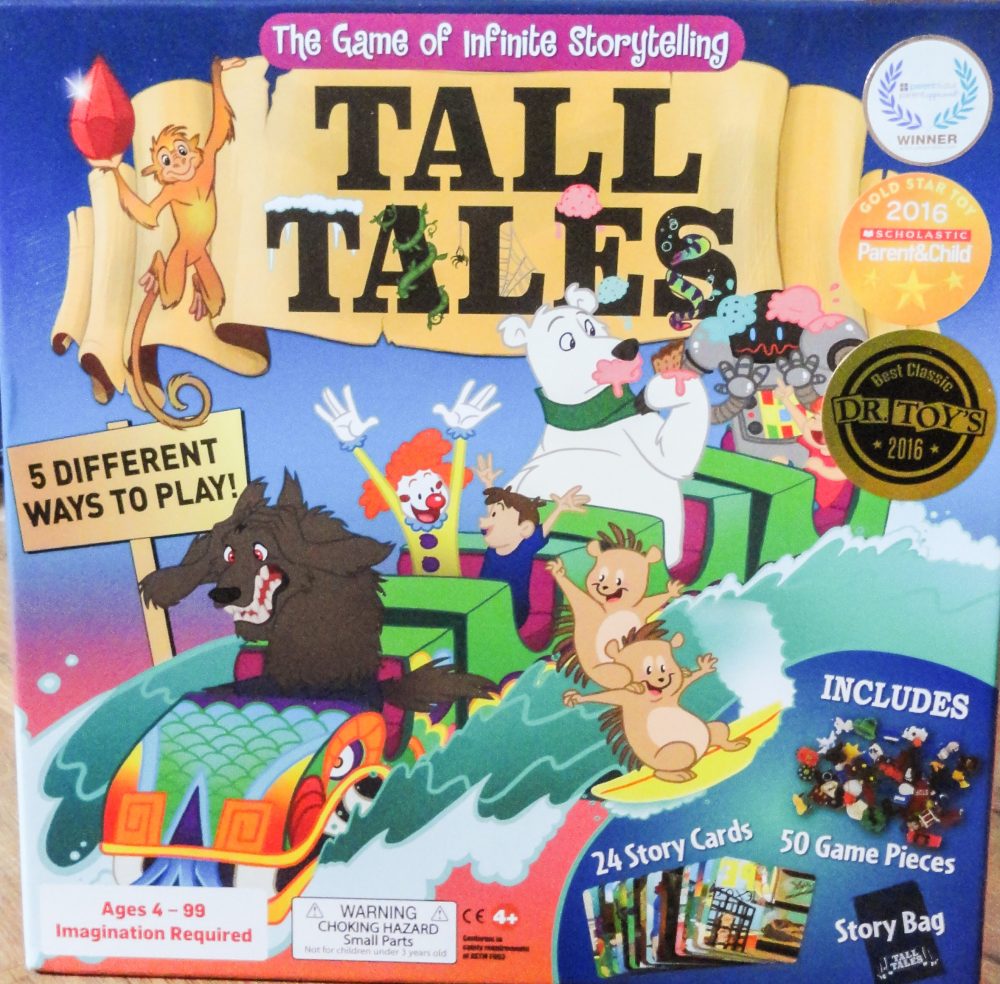 Unwrap Their Imagination This Holiday Season
So our new tradition is that we choose a night to have my niece and nephew over. First we do "brinner," because they love breakfast for dinner. Then we decorate a gingerbread house, and sugar cookies that I prepare ahead of time. Last year they literally spent hours decorating cookies. While they did that, we played a kids Christmas movie, and had hot cocoa. Their little minds were wonderful, their creativity was flowing, and their cookie creations were fantastic.
When all of that fun was done, we played a family game. This year, I have an exciting new game for all of us to play. Tall Tales The Game of Infinite Story Telling is a game of imagination and story telling for kids and adults alike!
We Unwrapped Our Imaginations Early
It just so happens that when our Tall Tales game came, my nephew and niece were here for the back to school sleepover. (Boo summer is over.) When Liam saw what it was, we had to play it. Those kids dove in. I just sat back and watched as their little minds created hilarious and creative Tall Tales.
The game comes with fifty detailed game pieces, twenty-four full color story cards, and a story bag to hold them. There are a few different ways to play the game. The kids chose Group Tales. Basically, they each took turns drawing a piece and telling their part of the story that is inspired by their piece, when they're done, the next child would draw a piece, and extend the story, and so on. It was precious.
Two Thumbs Up and Many Awards Too
All three kids gave Tall Tales two thumbs up. As a mom and an aunt I too give it my full approval. It pulled them away from their tablets, and had them using their minds. I loved it. You don't have to just take our word for it though. Tall Tales has won a bunch of awards to prove how awesome it really is. So whether you're looking for a fun game for a holiday kids party, or you're looking for the perfect gift, Tall Tales is the one.
I received this product to facilitate my post. All opinions are my own!