It's never easy to keep your home as clean as you want it to be. It's hard enough to keep up with laundry and dishes, but many of our everyday items end up gathering dust and accumulating harmful bacteria.
What's the best way to clean a toothbrush, watch, baby bottle, or pair of scissors? The truth is, there's not a convenient way to clean most household items.
Until now.
Ultrasona is a hand-held device that cleans 99.9% of stains, dirt, grime, and bacteria with the power of sound waves.
This high-tech gadget makes cleaning virtually anything in your home as easy as pushing a button.
What is Ultrasonic Cleaning?
Ultrasona uses the power of sound to clean your belongings. Otherwise known as ultrasonic cleaning, it is one of the safest and easiest ways to cut through stains on clothes, grime on dishes, scuffs on jewelry, and contaminants on fruits and vegetables.
Ultrasonic cleaning has been used for decades in industrial and medical settings. It's so effective and trustworthy that hospitals use it to clean surgical tools. It works by reverberating sound waves through water to create tiny bubbles. These bubbles then latch to your things before popping and causing microscopic shockwaves. These thousands of tiny explosions blast dirt and stains off of your stuff and kill microbial life such as bacteria, mold, fungus, and viruses.
Now, you can bring this power into your home to clean deeper and faster than ever before.
What does Ultrasona Clean?
The best thing about Ultrasona is that it cleans pretty much anything. As long as it fits into a sink or basin of water, you can clean it down to a microscopic level.
Ultrasona is perfect for cleaning:
Clothes
Shoes
Dishes
Fresh fruit and vegetables
Tools
Makeup brushes
Toothbrushes and razors
Baby products and kids' toys
Watches and glasses
Much more…
Ultrasona is safe and easy to use, so the whole family can do their part. Kids love to watch stains and dirt lift off of their things before their eyes in minutes flat.
Parents love Ultrasona because it makes life so much easier and provides peace of mind. Now, you can confidently clean all those nooks and crannies in your kids' toys, dental retainers, watch straps, and broccoli florets—all places that harmful bacteria loves to hide.
You can even clean delicate fabrics, fragile jewelry, and fine china with Ultrasona. The cleaner never comes into contact with the objects it cleans (the sound waves do all the work), so it can clean your most delicate belongings totally risk-free. Finally, you can get rid of stains on silk ties and satin pajamas without a dry cleaner!
How do You Use Ultrasona?
Ultrasona couldn't be easier to use. All you need is a basin of water, Ultrasona, and the things you want to clean. You can add some detergent too, but it isn't necessary!
Here's how to use it:
Fill a basin (e.g. your sink) with warm water
Place your dirty objects and the Ultrasona wand into the water
Turn on Ultrasona
Voila! Within a few minutes, the toughest stains and 99.9% of microbial life will be gone—jewelry will look shiny and new, vegetables will be crisp and pesticide-free, and your crusty casserole dishes will wipe clean.
Ultrasona is much easier to use than a washing machine or dishwasher, and it's better for the environment too. Ultrasona requires 40x less water and 15x less energy than a traditional washer (you'll notice a difference in your utility bills!).
Clean Better with Ultrasona
Ultrasona cleans faster and deeper than your washer, and it gives parents peace of mind. There's nothing better than knowing that your home is free from harmful bacteria and viruses.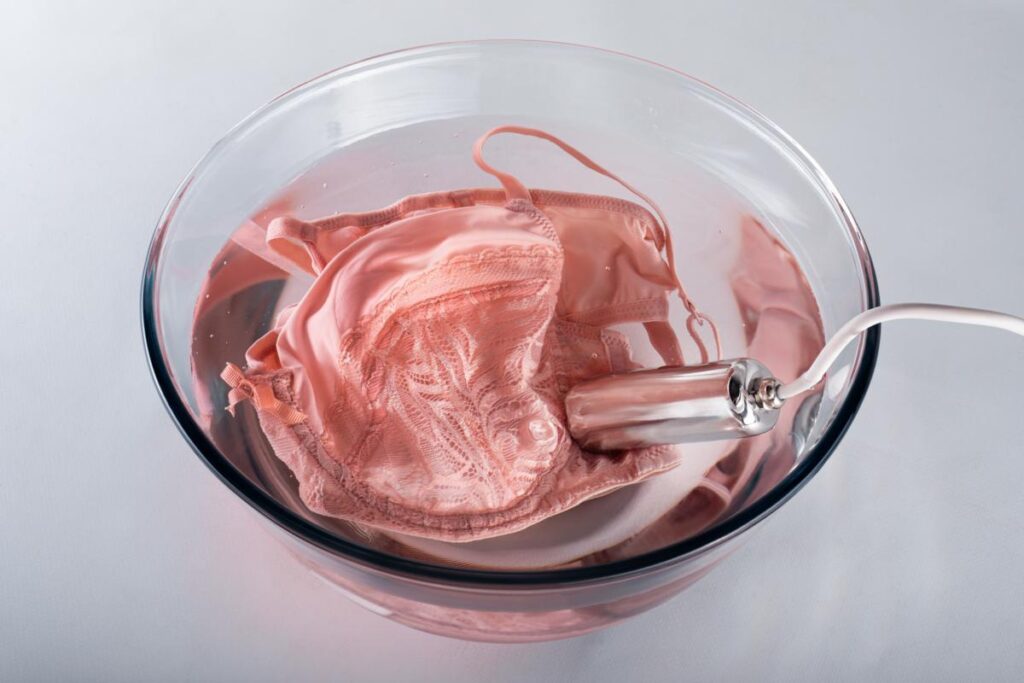 Ultrasonic cleaning typically comes with a high price tag, but you can experience Ultrasona now for a special launch price at ultrasonacleaner.com. During this limited offer, you can save over $100 on a new Ultrasona (over 50% off the retail price!). Try Ultrasona now and rid your home of bacteria, viruses, dirt, and grime at the push of a button!