We have a lot of pet owners as readers, so we wanted to put together a gift guide that will help you find some cool dog essentials.
LEASH
Heirloom Quality leashes made from a very special and extremely limited supply of the best American tanned leather available anywhere
London Tan bridle leather is reminiscent of fine English horse tack; beautiful blond color ages beautifully and only gets better with time
Premium Stainless Steel Hardware and unique braided design details are durable and beautiful
Edges of the leather are beveled, and hand rubbed with leather conditioner for suburb feel and texture
Suitable for any size

dog

; special width is durable for large dogs, yet not too bulky for small breeds (9/16"; 14.2 mm wide)
Artisan made in Aurora, Colorado with a Lifetime Warranty
Taking Harley for a walk with this leash was easy, and I love the NEON ORANGE color, we can see it at night time very clear! This leash is dog essential for sure!
HARNESS
Headlight Harness
is a must have for every dog owner. We love ours because we can take our dog out for walks at night when he really needs to get some aagression out. Headlight Harness startup company that has designed a
dog
harness, with a Patent Pending LED light integrated into the harness.
The chest of the harness lights up your path ahead when walking your
dog
at night. It is compatible with the seatbelt of any vehicle, to keep your pet safe and secure when traveling. They have sizes from XS to our new XXL and we offer custom embroidery, to make each harness truly one of a kind. It is very sturdy and fits our Harley was perfect fit. Even the kids can get the harness on. The light works wonderful and our night walks are fun for the whole family.
COLLAR
Chaco has stylish puppy-related products like the Custom Dog Collar, and Dog Leash are must-have for a new puppy! Both of these products are made from Chaco webbing and feature an ultra-durable, Chaco buckle.
More:
Comfortable polyester jacquard webbing with reflective thread
Adjustable to customize the fit, durable plastic buckle
Plastic beastie D-ring on medium and large collars, perfect for dog tags
Machine washable
Small width:75."
Medium and large widths: 1."
Small length: 11″- 16″
Medium length: 14″- 22″
Large length: 18″- 29″
Assembled in the USA
My Harley loves his collar, and we think he looks pretty darn cute in it:
Personalized Dog Blanket
Oh, my goodness a soft cuddly blanket with our dog's name all of it, the perfect gift for the dog lover in all of us! Now you can get these blankets in SMALL (small dogs) MEDIUM-LARGE- (for large dogs or humans). We got a LARGE, and it is the perfect size to cuddle up with doggie and watch a movie.
My Harley took it over, and that is okay it's quite cold here now. Everyone that has come over comments on how cute the blanket it, and to be honest it is my favorite Harley item.
TheSmootheStore.com is the dachshund gift headquarters. Thier personalized dog blankets for any breed is a great gift for the dog or dog lovers. It won't fade, even after 100 washes which I love because I tend to wash my doggie blankets almost every week.
FUR CARE
Does your doggie have skin issues or dry skin? My Harley itches so much so when we started on the John Paul Oatmeal Shampoo and Conditioner; he decreased on his itching! The Oatmeal gently cleanses and soothes dry skin and coats. It has aloe, chamomile, and hydrolyzed oat protein which cleans without irritation. There is also Sweet almond oil conditions while imparting a pleasant almond fragrance.
When my Harley got a severe case of FLEAS, everyone was telling me to put Tea Tree Oil in his bath. But Tea Tree shampoo and conditioning spray is what WORKED! Oh yes, it has kept the fleas away too so love this product. It also soothes his hot spots and healed several that he had on his legs. Tea tree leaf oil and eucalyptus combine to safely discourage skin irritation, allowing hot spots to heal. The Almond oil and chamomile soothe, while aloe adds moisture.
GROOMING TOOLS
HandsOn Gloves is a revolutionary concept that reaches far beyond the traditional curry combs, mitts and scrubbers on the market today. Wet or dry, they won't slip or fall off while providing you and your pooch with a more thorough and enjoyable bathing and grooming experience. This is a must-have dog essential.
With these scubbing gloves, I feel I'm able to give Harley a deep clean plus it also works as a de-shedders. Oh, love that it doesn't collect the hair, like a brush. I can massage my dog's coat and skin, and it will also improve circulation.
They fit right and don't slip off while I'm bathing Harley. Harley loves when I use the HandOnGlvoes because he arches his back and I think he loves the massage part.
Probiotics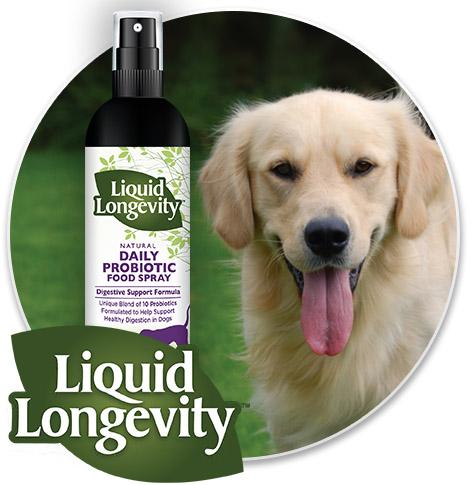 A dog is man's best friend and deserves to be treated as one. That's why it's so important to keep them healthy with the help of probiotics. Probiotics are viable microorganisms that populate the GI tract and benefit dogs by supporting healthy digestion. A properly functioning digestive system is essential for optimal health. Probiotics play an essential role in the function of the GI system and help promote overall health.
Liquid Longevity is exactly what my Harley needed. I spray his food every morning, and it is working. His stool isn't as runny, and his gas doesn't make us run out of the house. I want my dog to be healthy and happy so that we will continue with Liquid Longevity.
Contains a blend of 10 probiotics – each strain selected specifically to help support healthy digestion in dogs.
Formulated specifically for dogs – geared to survive low pH environment, closer to that of a dog's stomach than many other dog probiotics
Easy to use – just spray directly on food – no messy powders or pills to swallow
Convenient to store shelf stable liquid – probiotics are guaranteed viable through to Best Used by date on the bottle.
FITNESS
Americans are lazier than ever before, and so are our pets. Fifi and Fido aren't getting enough physical activity and may be eating too much or the wrong type of food. Some pets may even be sleeping too much – which is often the first sign of illness.
Poof is the first device that tracks pets' daily activity, progress, rest, food intake and calories burned. The devices are the smallest, lightweight and most affordable trackers available on the market, and have the longest battery life of any pet trackers.
The devices pair with the free Poof app (iOS/Android), and over time will track progress and trends in your pet's exercise regimen and make recommendations on food servings and activity for optimum health. Plus, if your pet goes missing, Poof will alert other users in the vicinity as well as shelters to help you find your precious furry friend.
This product reminds me of the Fitbit but for pets. You can track their diet, exercise and even how they sleep. Amazing and the price is so affordable- $39-$49. Thre is 2 different Poof's you can pick from too. Poof will help you get your pet in shape and maybe you too!