Gone are those days when moms were the ones to choose boys haircuts and when salon appointments were nothing but a nightmare for a kid.
Kids' fashion is becoming more diverse each day, and little gentlemen have no choice but to follow it: as it turns out, keeping up with trends is fun for men of all ages. Why?
Well, now every kid can reveal his unique and bright self with a custom fancy haircut.
Modern boys haircuts offer freedom and versatility, so every kid can dictate how to rock his hair to express his sense of style.
"The sooner you help a boy develop his image and taste, the sooner he will become a confident man," the MensHairCuts.com editors point out in their articles.
Keeping that in mind, we've selected the most viewed pics of popular haircuts for boys to show little gents and their parents how variously they can add individuality to their daily looks.
Awesome Short Boys Haircuts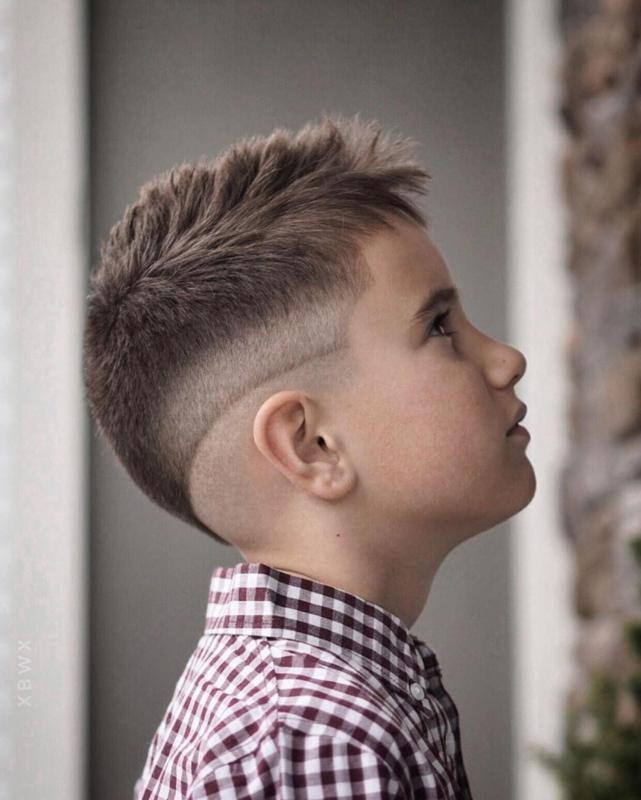 Short hair has way more options for stylish guys than it may seem while also offering a low-maintenance routine.
In other words, short boys haircuts are synonyms to freedom, and here are the brightest examples of today.
Short Faded Quiff
Kiddos love quiffs for their spike-ish appearance that reminds them of their favorite football players.
And now that fade has reached new heights in popularity, your boy will certainly love if you spice things up with smooth transition on the sides.
Spiky Crew Cut
Another amazing option for restless punks!
The crew cut is an enormously popular haircut that appeals to men of any age, and once you give it a spiky twist, you will reveal its teen side.
Tapered & Textured Shag
Apart from working wonders for thicker manes, shaggy texture can also give tons of movement and dynamics to your kid's look, making the haircut look more alive and fun.
Classic Side-Sweep + Hard Part
Like father, like son: when some special occasions are about to come, you little man can try something special with his hair.
The classic sophisticated option with a side-swept look and clean hard part will be a nice idea to steal from his daddy.
Hip Short-to-Medium Boys Haircuts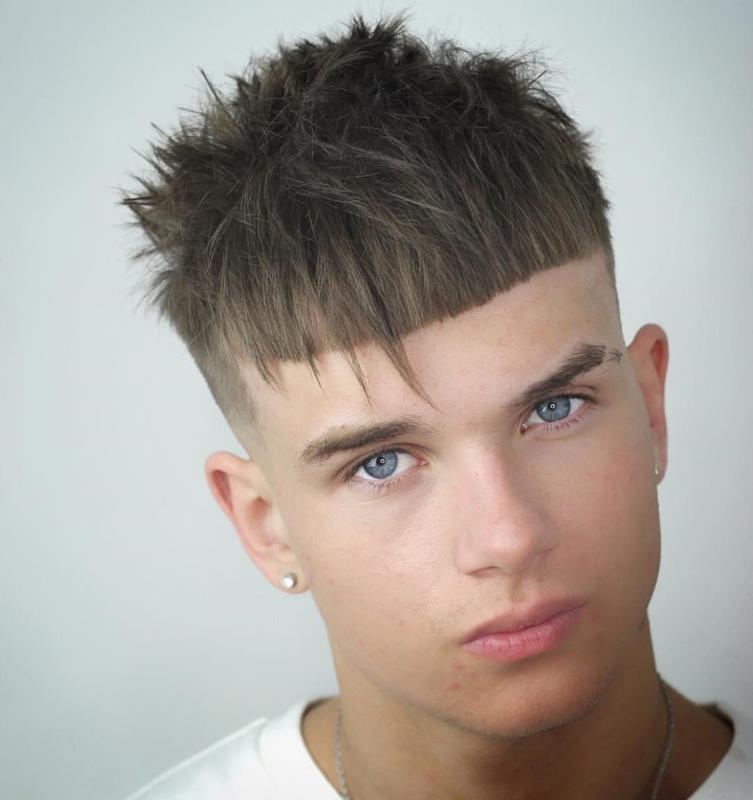 Also known as the happy medium of all lengths, mid-length haircuts for boys are all the rage for their practicality and versatility.
Here are the hottest picks of the year!
Choppy & Textured Caesar
Many men opt for the Caesar haircut for its youthful and fresh appearance.
And that means that it's a perfect option for teens!
Besides, it can be customized in a variety of ways: you can add anything from a textured feel to shaved designs to the look.
Layered Mop Top
The mob top has made a comeback, and its new versions can perfectly fit modern kids' looks.
Make sure to pair it with layers to make the look carefree and effortless, and the bowl-inspired look will give your little man an extra oomph.
Undercut Fade
Something in-between trends and classics, an undercut is a win-win choice for gents who want to stay up to date with fashion while having a neat and distinctive look.
Of course, a fade will be a nice highlight!
Crop Top + Shaved Design
If your kid looks his best with a fringe, then a crop top should be his next go-to.
This cut is flexible enough to play with textures and give a soft frame to the face.
At the same time, it allows for customizations like shaved lines and stripes that boys love so much.
Bold Long Boys Haircuts
Long hair is no commitment when you know which haircuts work best with it. So here are the top long haircuts for boys that will allow them to rock their favorite length while keeping the hair in place.
Wavy & Faded Faux Hawk
A faux hawk is a fantastic idea for rebellious boys who like to have a lot of hair to experiment with.
If your little man has a wavy pattern, it will be a great complement to the fancy punky look.
To balance things out, add a faded touch to the sides.
Medium Waves + Soft Taper
Most boys with naturally wavy hair don't like to cut off those waves, even though they tend to get in the eyes.
And this is where tapers come in: the tapered texture will lighten up the wavy mane, giving the whole cut a balanced and comfy silhouette.
Moderate Pompadour
Pompadour is one of the most desirable haircuts for kids: they just love to look like grown-ups.
For a pompadour, you need an undercut with a pretty long and flexible top and tapered sides that will accentuate the pomp once you style it.
Loose Waves + Undercut Sides
Here's one more creative way to embrace the wavy texture without losing the precious waves: just add a disconnected undercut.
The clean sides will balance out the longer top and whip the texture into good shape.
Conclusion:
Boys haircuts have become something more than just a style detail; they're a new way for little men to show the world how unique and different they can be.
If you and your kiddo are in search of something new for his look, today's ideas will be your guide!
Source: MensHaircuts