Your bedroom should be a place of ultimate peace and relaxation. Reduce stress and promote healthy sleep by selecting one of these seven trending linen colors.
Are you looking to do a little redesigning in your bedroom?
Since there's a massive collection of bed linens to choose from, it's hard to know where to start. It's nice having so many options, but it can get overwhelming!
Perhaps you've already decided on the type of bed linens you want. But now, you're stuck on what colors to choose.
Having a colorful bedroom may be at the forefront of your mind. But, having too much color can make it difficult to wind down. And, if you want to relax and get quality rest, your focus should be adding linens in a calming color.
So, let's learn about some soothing colors that may complement the rest of the space. Here are seven trending shades to choose from to add to a relaxing bedroom.
1. Soothe Your Soul with Grey
At first glance, seeing grey may make you think of cloudy skies.
But, look closer, and you'll experience feelings of calmness and relaxation. When you see it, doesn't it make you want to sit back and relax?
In a bedroom, that's precisely what your goal should be. Unwinding and having sweet dreams is much easier when there are soothing colors!
To create a spa in your bedroom, select a muted grey with green undertones.
Try to incorporate the color throughout your entire bedroom — not only on your bed. You'll sleep like a baby.
2. Combat Stress with Blue
Blue is the perfect color to select for bed linens because it combats stress.
Seeing blue in your space has a calming effect and can lower your blood pressure. (Try blue light while you're at it too!)
For many, seeing the blue ocean and waves relaxes them. So why not bring the sea into your bedroom?
When selecting a shade, go with a deep ocean blue, or in contrast, choose a soft shade such as sky blue.
You'll love how peaceful the blue linens make you feel every time you're in the room.
3. Stay Clear Headed with White
Did you know that the color white helps people feel clear-headed?
Get clarity on how you are feeling in a tranquil bedroom with white linens. After a long day, you can retreat to a bedroom that helps you relax.
It's only appropriate that white symbolizes new beginnings. If you're able to sort through your thoughts in a clean and safe environment — you can start fresh.
Even though your linens will be white doesn't mean the rest of your bedroom has to be that way. If you'd prefer, select an off-white shade to bring in a touch of color.
4. Promote Peace with Pink
Pink is another color that results in feelings of peace and calm.
Even though it's a feminine color, pink promotes having a positive attitude. It's the ideal feng shui color that results in soothing energy.
You may be applying some ancient design philosophies in your home. If that's the case, selecting pink is an excellent choice due to its powerful energy.
If you don't want too much pink, try blush pink, so it's less overpowering.
Add pink to your bed linens, and you'll be eager to grab a good book and get lost in it. And, you'll feel positive and full of hope while surrounded by this tranquil color.
5. Bring in Nature with Green
Most people, when they think of green, think of nature.
It makes sense that they would jump to that conclusion! After all, colors such as celery, sage, and other light green hues evoke feelings of being out in nature.
Having green linens may not be top on your list, but if you go with a lighter shade, it'll all come together. This balanced and healing color will make it easy to relax every day.
So, to bring the outdoors indoors, add green to your bedroom. You'll feel serene and content without ever going outside. (Not to say that fresh air won't do you some good too!)
6. Feel Strong and Wise with Violet
Violet combines body and mind and is the color of imagination and spirituality. People also use a purple shade because it's stress-reducing and helps one unwind.
So, if you want to become all the wiser, add some purple to your bedroom and linens!
This rich color also brings balance. If you enjoy meditating, meditate under violet light! Using this form of lighting in your bedroom will kick your relaxation and focus up a notch.
To go with a lighter shade — try lilac. Purple with grey undertones, like lilac, isn't as bold and promotes feelings of peace.
7. Energize with Sunny Yellow
Yellow is a happy color that gives off energy and warmth.
If your goal is to get out of bed and be productive, yellow may be your color! It's nice knowing that yellow is both a relaxing and energetic color simultaneously. Use that to your advantage!
Incorporating yellow doesn't mean you have to use a bright shade. A pale yellow is soothing and can reduce stress, especially if it's on your sheets or bedspread!
To take advantage of this uplifting color, add it to your bed linens. Who knows, you may have an easier time getting up and exercising first thing in the morning!
In Conclusion
Your bedroom should be a place where you can relax and drift off to dreamland every night. That's why you should focus on selecting bed linen colors that promote feelings of peace.
To achieve a calming bedroom, go with one of the seven colors mentioned above.
Decide on a color that not only promotes peace but fits your personality. Your goal should be to apply color in your room that'll help to banish feelings of discontentment.
That way, when it's time to unwind after a crazy day, you can settle in and feel peace.
Relax on a bedspread in a peaceful bedroom with calming tones. Incorporating any of these relaxing hues will make feelings of anxiousness float away.
Author bio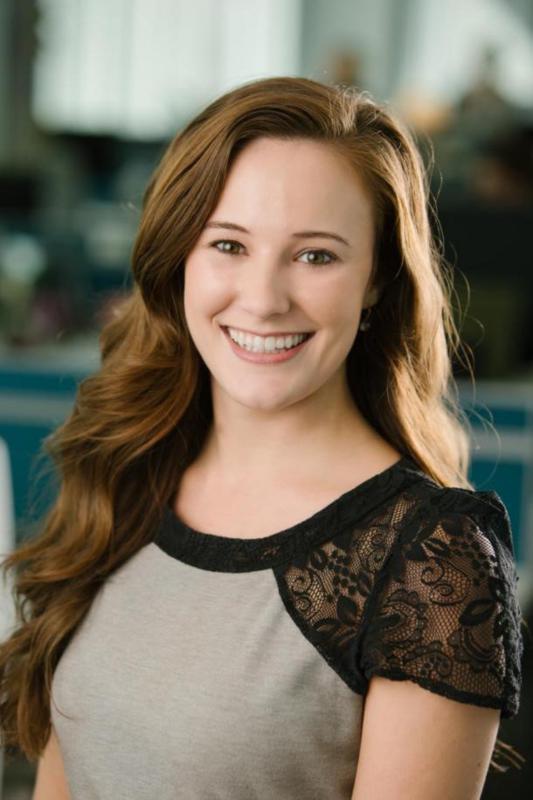 Dominique Daniels is the Business Manager for Anthology at Vista Station. With over ten years of experience in the multifamily industry, she is one of the most
dedicated managers in her field. She loves to help others and takes great pride in working in a community that so many love to call home.