When it comes to wedding planning, there's an overwhelming list of decisions that need to be made. The color palette for your wedding is one of the first major decisions to make before moving forward on bridesmaids' dresses, flowers, decor, centerpieces, and more.
The color palette you choose sets the tone for your ceremony and leaves a lasting impression on your guests. Classic combinations, like black and white, denote a sophisticated, formal affair, while combinations of greens and pinks often evoke an association with springtime.
It can be hard to think beyond traditional holiday colors when looking at color palettes for winter weddings, but there's a lot to experiment with. Below are three of the trendiest color combinations to inspire your winter wedding planning.
Navy & Marsala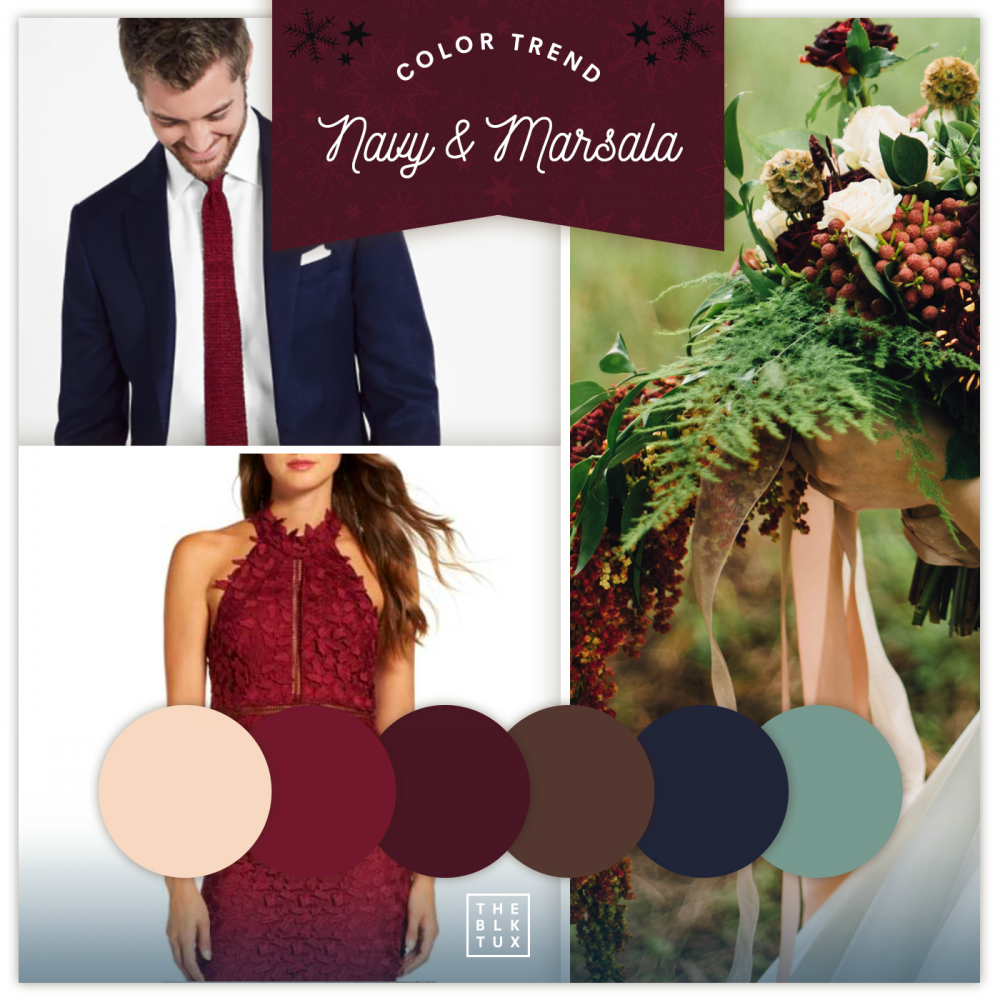 Marsala is a bold, slightly rustic color named after the Italian red wine, while navy is a more neutral dark blue color that carries a sense of sophistication. Combined together, the two colors work off of one another to create a rich, elegant feel for your wedding ceremony.
Envision marsala-colored bridesmaid dresses against navy-colored tuxedos, with beautiful flowers arranged in different shades of marsala, burgundy and light pink. The darker colors fit within both the fall and winter months by evoking a warm-feeling of closeness and intimacy often associated with staying indoors with a loved one, holiday festivities, and the change of seasons.
Plum & Grey
Plum is another rich, bold color similar to marsala. Named after the fruit, the color is a deep purple with brownish-grey undertones. Pairing it with grey, a more neutral color, brings out those color undertones further and makes for a dynamic color combination.
A plum colored tie paired with a grey suit on the groomsmen makes for a smart look, as the plum acts as an elegant accent on the traditional sophistication of the grey. Plum on the bridesmaids is a very attractive choice as well, as the darker color often has a slimming effect and the purple hue is traditionally associated with royalty.
Olive & Black
Olive is a darker green color with yellowish undertones also named after a fruit. While running the risk of evoking a springtime feel if paired with a lighter color, when paired with black it offers a rich contrast that fits with the darker colors winter encourages.
Since green isn't the most attractive color for flowers, choosing a white flower that doesn't take attention away from the greenery coming from the leaves and stems is a great choice. Olive bridesmaid dresses paired with traditional black tuxedos makes for a classic, stunning choice sure to make an impression on your guests.