Every company wants its ranks to be filled with enthusiastic, high performers who exceed expectations and perform their jobs perfectly.
This is because the ability of an organization to achieve its goals depends significantly on employee performance.
Plenty of opportunities are available for employees who want to be instrumental assets of their company.
One example is the certificate courses in Singapore that promote a holistic system of lifelong learning for its students.
When employees struggle with their performance, it's up to the manager to deal with such challenges.
Discover the holistic ways to improve performance development in the workplace.
Use performance metrics
It can be difficult to address performance issues in the workplace without first identifying the existing gaps in the organizational workflow.
In understanding how your workforce is performing, regularly conducting a performance measure analysis is important.
This approach will help you determine why your workers aren't performing to their fullest potential and their inability to achieve company goals.
You can carry out performance appraisals to determine the primary cause of performance issues and potential obstacles that hinder the desired performance outcomes.
Once identifying the causes, establish policies or procedures to help employees be more productive and engaged at work.
Besides tracking how well employees perform their job, managers should also provide realistic and measurable goals.
Failure to set measurable goals will leave employees guessing if they're improving and make them feel as if their performance depends on their manager's opinions.
The last thing you want is to overwhelm them with tasks that seem too unachievable.
In this case, managers should set measurable goals and performance indicators to give employees more direction.
Observe purposeful communication
Having the right communication strategies in the workplace can play an important role in helping employees understand their roles and be more productive.
In fact, communication is directly linked to employee performance.
This is why managers should ensure clear, effective communication when providing performance feedback to help employees realize which areas they are lacking.
With good communication skills, managers can express their ideas and opinions clearly so that employees can determine what their specific priorities and goals should be.
Meanwhile, employees should also improve their workplace communication skills to raise questions and concerns with the management team easily.
Another way to enhance team communication is to conduct stand-up meetings weekly.
Whether virtual or face-to-face, this should be done during the most convenient time for employees, and the ideal meeting length should be 30 minutes or less.
While gathering everyone, allow each member to talk about their weekend, their family, or anything that interests them.
When the meeting starts, ask each member to communicate their expectations, progress, resources, and deadlines related to the tasks they're working on.
Aside from team meetings, you can also conduct routine check-ins or one-on-one meetings with each employee.
This improves the trust between the employee and manager as well as productivity and engagement. You can also take this opportunity to set clear expectations and provide constructive feedback.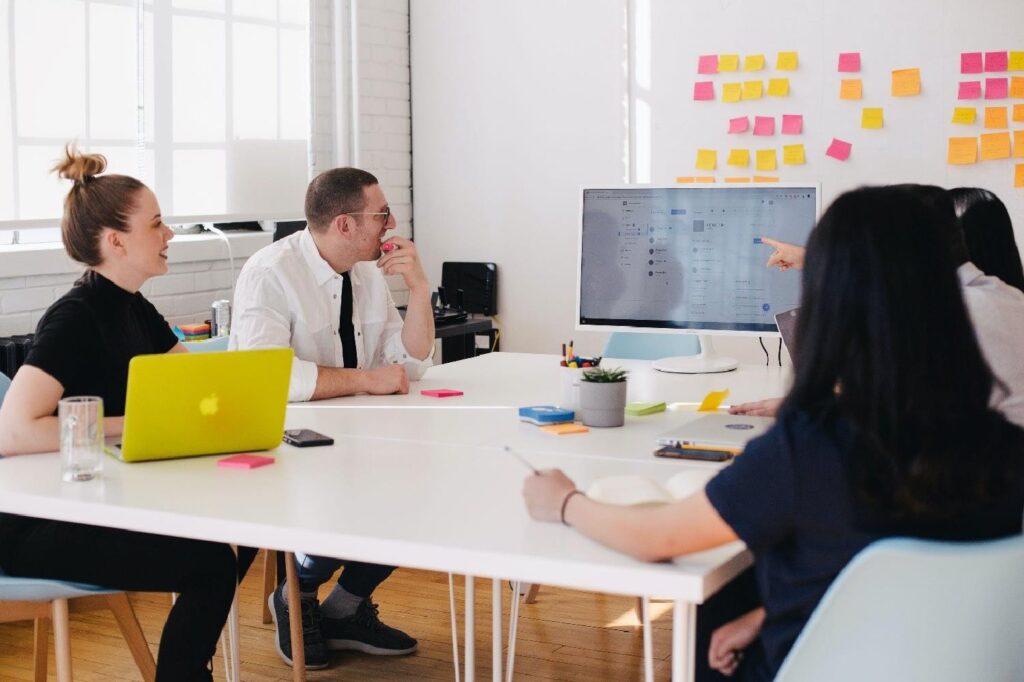 Prioritize learning and development
There are plenty of reasons that contribute to poor performance, but the most common cause is attributed to skills or knowledge gaps.
Generally, companies focus on training only during the onboarding process. The truth is, workplace training should be a never-ending process.
Continuous learning is necessary for keeping your workers motivated and engaged. This gives employees more drive to improve their performance and develop new skills over time.
In creating training opportunities in the workplace, it's important to include employees in the planning process.
Ask them about their expectations, learning styles, the topics they want to be covered, and the preferred method for learning delivery.
This allows them to have a say in what and how they want to learn and have more control in shaping their career path.
You may want to take advantage of online learning resources to further boost employee performance for better results.
Gone are the days when employees are forced to sit through long, boring training sessions.
Today, employees prefer on-the-go learning, which allows them to learn essential skills without sacrificing time spent on more important tasks.
Online training tools also make learning more interesting, which helps solve the low-learner engagement in most generic training programs.
When managers provide employees with tools to perform their job well, they're more likely to feel motivated to do their best at work.
This will significantly affect your reputation for investing in employee development, which can encourage top talents to join your company.
Although you won't be able to provide all their learning needs, your efforts can still lead to fruitful results in terms of increasing employee engagement and satisfaction.