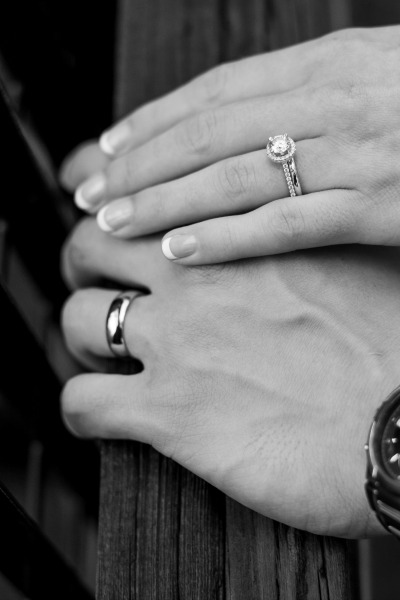 Finding the perfect engagement ring is a process. If you're like many soon-to-be brides you've scoured loads of magazines, visited a jeweler or two, and spent an endless amount of time adding jewels to a shared Pinterest Board dedicated exclusively to your bling wish list. While this sounds wild when you say it out loud, the truth is selecting an engagement ring is a big ordeal.
Many people insist that the engagement ring holds a myriad of information regarding the relationship and the future of the marriage. Here are a few ways this may be true:
Multi-Stone Rings
Many rings like halo rings are busy and complex and could offer some insight to the inner workings of the couple's relationship. While having a complex relationship is not necessarily a bad thing, someone opting for a multi-stone ring may have a lot on their plate, engage in a variety of interests, and have many facets to the dynamic that plays out with their partner.
A Family Affair
Many couples will choose a family heirloom as the engagement ring or the setting for a new stone. For example, using a stone or setting that belonged to a mother or grandparent is a popular trend. Brides who agree to wear a family heirloom are likely to extremely family oriented. This gesture is a way of expressing the couples desire to have a family and their commitment to family values.
Metal Selection
Wedding rings and bands come in a variety of metals. Pure gold, rose gold, yellow gold, and platinum to name a few. The metals chosen for an engagement ring can be highly symbolic of a couple's personality and priorities. A gold band has long been the symbol of quality and class. Rose gold and yellow gold options are often chosen by couples who are soft and romantic and platinum is often selected by truly ambitious and strong couples. While these trends aren't universal it's certainly true of many couples.
A Splash of Color
Some couples steer away from the traditional diamond and opt for a colored stone like emerald, ruby, or sapphire. While these couples are few and far between, opting for a colored stone could mean the couple shares an artistic and creative passion or that both have adventurous spirits. Bonding over these themes can really impact the marriage in a positive way and shows that the couple is on the same page.
These tidbits are just a few of the many ways an engagement ring can shed light on a relationship or the future of the union. Beautiful diamond engagement rings or unique stones are a matter of preference, but no matter what you enjoy seeing on your finger make sure it is an expression of you and your relationship!