Little girls can be easy to dress for holiday pictures or formal events. They have so many pretty dresses with matching accessories. Shopping for little boys can be a little more challenging as the options in color, styles, and sizes are limited. Perfect Tux can help with choosing the right formal wear for your little boy.
Suits for Little Boys
Perfect Tux is the premier online source for men's formal wear and accessories online. Perfect Tux takes pride in details, quality, and providing excellent customer service. They are a family operated and owned business located in Santa Clarita, California.
I received the Boy's navy suit 5-piece set. The Set includes the coat, pants, vest, dress shirt, and necktie. The suit came in a suit bag with the front being see through to show exactly what I was receiving. After opening the bag, I just fell in love with this suit and could not wait for my son to try it on. My husband was very excited as well since he has a similar navy suit, making the boy navy suit the ideal outfit for family pictures.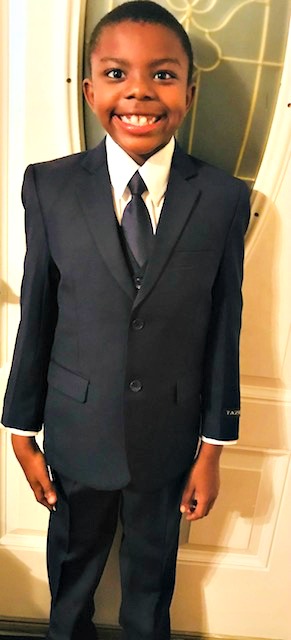 Key Features
The adjustable waistband is one of our favorite features of this suit. My son is slender with a smaller waist, but he is very tall. It is not easy trying to find pants that will match his length and waist. With the adjustable waistband, we had no problems getting the pants to fit his waist, while still maintaining the perfect length for his long legs. Another great feature is the necktie. The necktie is also adjustable which allows for a good fit and neater look. Both the coat and the pants are lined which is great especially for the colder weather. The overall appearance of the suit is quite stunning. It fit my son very well. I sent pictures to my family and they had nothing but good things to say.

As you get ready for family photos, weddings, or any formal event consider shopping at Perfect Tux. They have an excellent eye for detail and quality.
Connect with Perfect Tux: Site | Facebook | Twitter | Instagram | Pinterest