I can't believe I'm saying this, but we are just a few days away from the end of March. That's another month marked off of everyone's calendar. It's hard to believe how quickly these first few months have gone by. Even so, with the passing of March, we have an important holiday coming up. The holiday that gets everyone in a happy hopping mood with everyone.
I know I'm not the only that's looking forward to celebrating Easter this year. Honestly, I look forward to it every year because something is always different. People celebrate in different ways, and some cases may be similar to others as well. Even so, there isn't much time to finish up with the finalizing of plans. I may even have a great idea for you if you're looking for an Easter gift.
Bring A New Addition To The Kitchen Houseware
Now when it comes to surprising someone with an Easter gift, it isn't an easy task. It makes things a bit easier if you know the taste of the person you are searching for. Just think about it, the more you options you have to work with the better, right? Well, I have something that just peeks your interests this year. You can surprise someone with there very own CucinaPro Lazy Susan Acacia Cheese Plate.
Most of us know how incredible the products of CucinaPro are. Well, this is yet another product of theirs that we all should consider. The CucinaPro Lazy Susan Acacia Cheese Plate is designed with a unique round rotating slate plate that can be written on with chalk! So, you can throw in little labels when you are serving everyone. It's the perfect cheese serving station to use while entertaining or simply enjoying dinner at the table. Even better when you relaxing with your friends and family. Extra details include: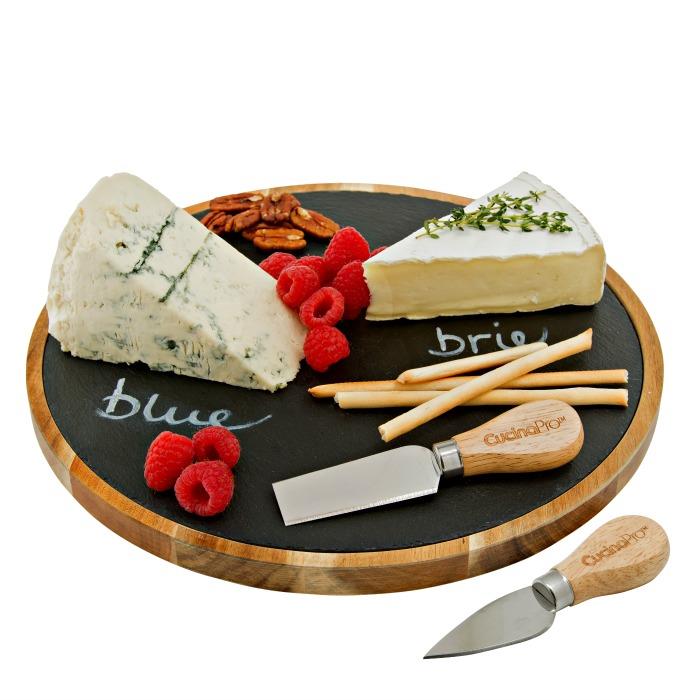 Cheese Board features 2 cheese knives and chalk
Use the chalk to identify different cheeses
Easy to wipe clean and store- quality slate and wood
Whether it's for an Easter gift or for yourself, it would be a great addition to your home. So check out all of the information I have for you above.