Sometimes, when a couple has been together for a long time, it's easy to fall into a routine. Add that to the busyness that most people are dealing with on a daily basis, it's a wonder that a couple can make time for the romantic side of their relationship. But, then, without the romantic side, a relationship can suffer and falter. But, there are things a couple can do to help things stay strong. They can go on dates once a week, cook dinner or take walks together. Or, how about a better idea? A Bonding Bees subscription box.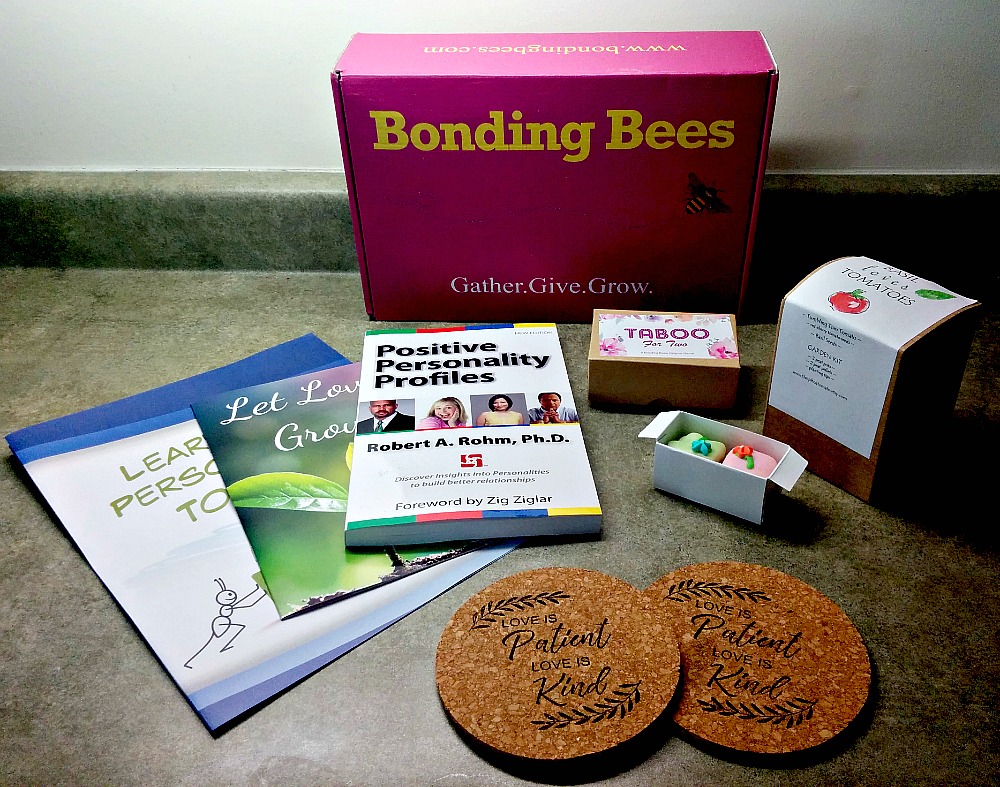 What is a Bonding Bees Subscription Box? It's a date! Well, it's actually a box full of things to do on a date, including things like games and various activities to help bond you two together.
My box included a "Let Love Grow" book, which helps walk you through your date; it helps you get the most out of your subscription box. The box includes how to "Set The Mood" with a link to a playlist of romantic music that they've created for you. It also includes a fun gardening project to help "Let Love Grow," a fun game of "Taboo for Two," a book and other fun info to help you both understand your personalities, a yummy dessert to savor, and coasters to enjoy as a gift. What a fun and great idea! I would have never thought to do all this on a date. The Bonding Bees takes care of the planning of a date for you so you don't have to stress about it.
How The Bonding Bees Subscription Works
Each month's box is a surprise. According to the company's website, activities could include games, food, recipes, crafts, relationship-building exercises, desserts, and more.
There are 3 levels of subscription: Curious (a month-to-month subscription, $39.00/month), Crushing (a 3-month, prepaid subscription, $35/month), and Committed (a 6-month, prepaid subscription, $32/month). And, think about it, the monthly price is cheaper than the cost of most dinners for 2. So, it's a very economical choice for a date, especially if you're on a budget.
Mother's Day is coming up and this would make a wonderful gift for mom (and her man)! And, you wouldn't have to leave your house to buy this gift (and mom doesn't have to leave home to use the gift).
And, what makes this subscription box even more special is that each box purchased helps a child in Brazil who lives in poverty. In addition to that, the company randomly chooses a "Couple of the Month" and Bonding Bees will donate to a charity they choose! That is really cool. Thank you, Bonding Bees!
Connect with Bonding Bees: Website | Facebook | Twitter | Pinterest | Instagram