There is nothing more satisfying than having a breathtaking front lawn in spring; it is truly a beautiful time where everything blooms and sprouts from the dirt. Allow your soul to breathe in beautiful aromas ooze out of beautiful flowering bulbs and to forget winter darkened days by enjoying spring's bright flowering bulbs. One of the perks of wanting to grow spring bulbs in your garden is that there is an overwhelming variety you can choose from. You can never really buy enough of them, the more the merrier. You can also grow them as they are, or create hybrids; really there isn't a way to go wrong with spring bulbs. Here are some of the best flowering bulbs for your front lawn.
Purple Bulbs
Baboon flower
Furnish your front lawn with beautiful bright purple baboon with its red colored center. This bulb is absolutely beautiful; it is so easy to maintain so long as it has dry soil and warm spots.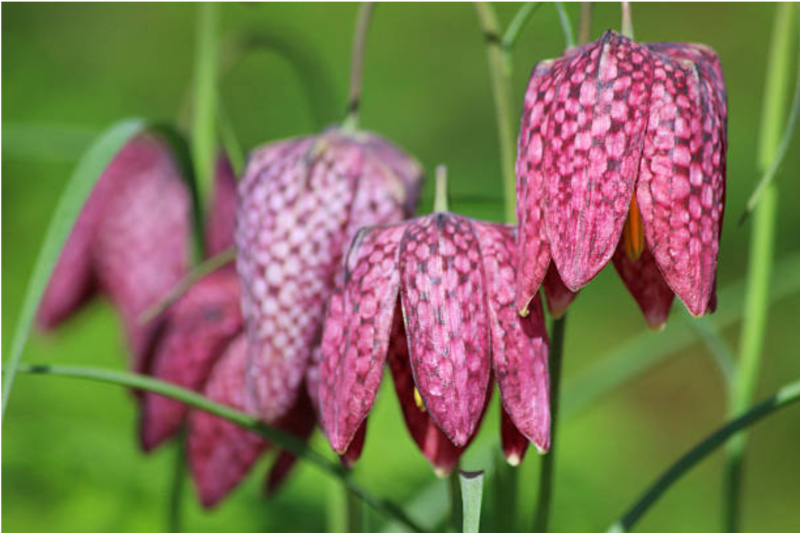 Checkered Lily
This deep purple beauty multiplies at a somewhat slow pace, which makes it a great filler for tiny spaces between the rest of the bulbs. Make sure to always keep their soil moist and plant them 5 inches under the soil.
Common Hyacinth
This beautiful flower is one of the most beautiful, vivid, and rich in color bulb you can purchase. Once it has grown in your front lawn, feel free to breathe in and out its breathtaking scent. This plant is also rich in nectar, which will help save the bees for our environment.
Grape Hyacinth
If you want a plant that grows in mid to late spring, then go for Grape Hyacinth; this beautiful Armenian plant prefers to grow in the shade and in moisturized soil. Make sure to plant them in groups, so around 25 seeds should be fine.
Iris
The Iris bulb is one of the most beautiful looking flowers out there; it's like a two-in-one flower. Its rich purple petals are wide enough and out of them sprouts out a bright yellow petal. This beauty will lighten up your front lawn and will ooze out its fragrant scent.
Yellow Bulbs
Allium Moly
Enjoy looking at the ever-vibrant yellow Allium Moly in your garden. This plant can grow just about anywhere as long as it's not in a bog. It can grow in dry or wet soil, or in sun or shade.
Daffodil
If you are looking for bright bulbs to lighten up your front lawn, then you might want to consider daffodils; daffodils are one of the best flowers you can buy because with enough sunlight and healthy soil they'll come back every spring without needing to buy more daffodil seeds.
Erythronium Pagoda
This hybrid flower grows in early spring; it needs a certain environment so it can properly bloom in your garden. Make sure to plant it under a light soil and a place where it can get partial shade.
Tulipa Tarda
This pretty flower is one of the easiest flowers to grow; every stem has a bunch of Tulipa Tarda is coming out of it. Another perk is that this flower will sprout out of the soil every spring on its own.
Tulips
The beauty of Tulips is that they are available in every color; it shines brightly in every color, especially in yellow. They can bloom anywhere from early to late spring. Just make sure to avoid excessive moisture and place the bulb seed from 4 to 6 inches apart so that they grow comfortable in their space.
Trout Lily
Decorate your garden with these yellow jewels; they prefer a place in the shade or partial shade. Make sure to plant them 2 inches away from each other, and to place them 5 inches under the soil in autumn, so their roots can form in the fall and start sprouting in early spring.
Blue Bulbs
English Bluebell
English bluebell is one of the most beautiful bulbs you can invest it because not only will it lighten up your front lawn with its vibrant blue petals, but it will also attract butterflies to it. So not only will you have beautiful petals that look like bluebells, but you will also have pretty butterflies hovering over them.
Siberian Squill
This vibrant blue bulb blooms in early spring; it swiftly multiplies, so make sure to leave 3 inches between every bulb seed. You also might want to plant them in groups; so 15 seeds per hole is good enough.
Spanish Bluebell
Make sure to plant this beautiful plant in a place where it can get a lot of sunlight; its soil also drains well, so you can water it properly. This plant needs to be planted 4 inches under the soil, and if you're going to plant it in groups, then make sure to have 4 inches apart between the bulb seeds.
Red Bulbs
Aztec Lily
A rich in red Aztec Lily bulb will grow well in a sunny area, so long as it gets enough water. It grows between late spring and early summer; it grows up to 8-12 inches tall and has very wide, showy petals.
Summer Nights
Fill your eyes with this one because you will not get enough of its deep red color. This bulb needs a place where it can get lots of sunlight; it blooms anytime from late spring to early summer. It grows to be 3-4 feet tall.
Pink Bulbs
Marvel of Peru
The four o'clock bulb opens its vibrant pink petals in the afternoon. It grows in groups and prefers a warm environment to grow in. It can take on the heat, humidity and the polluted air; it's beautiful in all its shapes even when it curls up and closes its petals.
Lilium Martagon
This pretty bulb flower prefers moist soil and a warm spot, so it can grow up to 20-40 inches tall. It starts blooming in June and lasts until September. Its vibrant pink petals will properly decorate your front lawn.
The best thing about flowering bulbs is that they remarkably lighten up your front lawn; their naturally vibrant colors look like they are producing light even though they're not. Feast your eyes on your new front lawn that's bedazzled with the best flowering bulbs. Remember that there is no specific science for their organization, meaning you can grow different bulb seeds in a group together. Plant them randomly, have an arbitrary look to your front lawn that way it'll look beautifully unplanned and natural.