Growing up is one of the most incredible things about life, in particular for kids. As parents, we already know what it's like to be a kid. Children are going to need several things in life like love and plenty of attention. Being a kid is the best part about life before growing up. Kids love to do just about everything, and when it comes to their birthdays, it can get a bit crazy.
Now everyone loves to celebrate their birthdays in a variety of ways. When it comes to your child's birthday, presents are going to be key. Every kid is going to want something new to enjoy on their special day. The only problem is finding something they'll enjoy. I have a few options for you that you might want to consider grabbing. So check out all the information I have for you below.
Keep The Options Coming
When you are shopping for your child's birthday gift, you have to keep your mind open. You'll want to get them a gift that is fun, but at the same time, you don't want it to go to waste. So how about taking a look at the following options:
Marcus & Marcus' Kid's Chopsticks – animal-themed chopsticks will help keep your chopsticks in line. The animal hinges are made of soft, food-grade and brightly colored silicone to add an element of fun to the dinner table. Marcus & Marcus kid's chopsticks are made of BPA-free, PVC-free and phthalate-free materials
ZIPIT's Interactive Coloring and Activity Book – is the perfect birthday gift for any child who likes being creative. Inspiring themes, coloring pages, and Magic Stickers take the ordinary coloring book and makes it extraordinary. Inside this coloring book, you will find pages of animated stickers that come alive when you view them with the ZIPIT Creativity App
Little Friends Bendy Dolls – these 4-inch-tall "bendy dolls" are made from flexible soft plastic, with metal wires inside which allow for them to be posable. Collect all the Little Friends dolls characters. Compatible with all HABA dollhouses, furniture & accessories
Hot Wheels® PlayTape® – opens up a universe of open-ended vehicle play that's as simple and unbounded as "Unroll, Stick, and Race!™" Ideal for creating roads for playing with toy cars, sticks to any flat surface, easy-tear, made of paper, no scissors required, repositionable – mistake proof, easy removal, leaves no residue
SoapSox® – is an adorable line of plush friends that kids can take from playtime to bath time featuring some amazing animals including a turtle, hippo, what, seal and gator! It's 2-in-1 fun with the cuddly companions you can actually take in the tub! Snuggle, cuddle, and play together all day and when it's time for your bath, bring them with you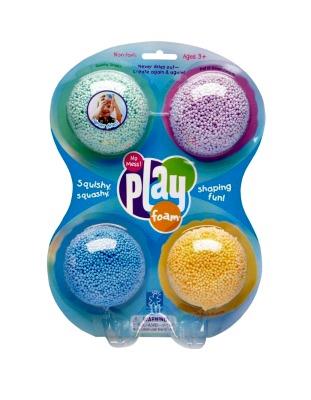 Playfoam – non-stick Playfoam is perfect for sculpting squishy, squashy creations anywhere and anytime! And Playfoam never dries out, so the creativity never ends! Encourages creativity and self-expression, provides tactile and sensory stimulation and develops fine motor skills too! The Playfoam Classic 4-Pack includes 3-ounce pods in blue, green, purple, and orange
Music & Lights Comfy Car – adorable plush car is the perfect place for baby to practice sitting up or for older babies to sit up and play in comfort and style! Baby will love exploring the detachable driver toy which includes loads of fun music and lights features including the sound of the horn beeping, the indicator clicking and the rattling balls spinning
The World Of Magnets – Farm World – one of seven magnetic kits, designed and illustrated by Inna Semadar. The magnetic kits can be used on any metallic surface – refrigerator, magnetic boards, etc. Recommended by psychologists, as a developmental tool enriching the imagination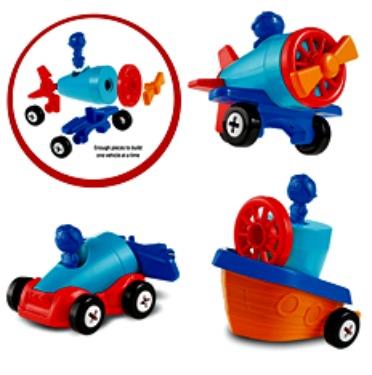 1-2-3 Build It™ Car-Plane-Boat – your budding engineer will love using these mix-and-match pieces to build three different modes of transportation—an airplane, a tugboat, or a car (one at a time). Great for learning early STEM skills
With gift options like these, your child will have more than a heart-warming smile on their face. So go ahead and check out all the information I have for you above.