Children learn through play. If they're having fun, they're more engaged, and don't even realize that they're learning. As a parent, I love toys that encourage imaginative play and education. Recently we got some kits from Little Medical School®, and they are simply amazing!
Take Learning to the Next Level with These Amazing Toys
Liam has always loved stuffed animals. I can't even count how many he has, and they all have their own special names. Quite often he drags them all out into the living the room, and plays vet. Not long ago, he received the cutest vet kit I have seen, and he's been doctoring all of his animals. My Little Veterinarian Kit by Little Medical School® doesn't just encourage imaginative play, but it will actually teach your child how a vet cares for animals.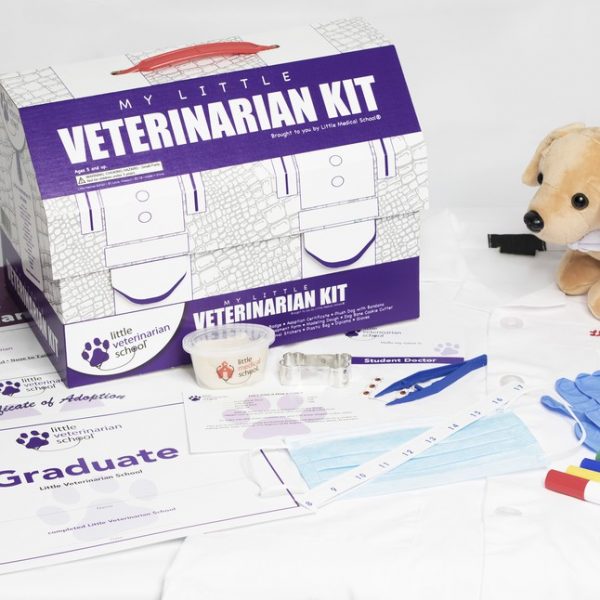 This precious kit comes with a stuffed pet to adopt, and tools to learn how to care for it. Liam named his Bucky, and we had a great time learning how to make sure he's healthy. When I saw my son in that little lab coat, my heart melted, and I know yours will too! This kit even comes with a cookie cutter and recipe so you and your child can make fur baby treats. Liam's favorite part was learning how to remove ticks, since they've been really bad this season. Yesterday he graduated from his Little Vet School, and went on to check out his fur sisters health. They enjoyed playing along too (because that meant treats and kisses!) To get one for your child, CLICK HERE.
Sports Medicine was fun too!
Liam also has the My Little Sports Medicine Kit. He really likes this one too. The other day he learned about all the bones in his hands. He's been stimming on the word "phalanges" ever since. He also loved the skeleton poster and putting the bones in the proper places. It's great because these are things he learned in Science last year, and will be expanded upon this year. To him, he's playing with mom, but he's also learning things he will carry into his school year.
Little Medical School® also has a pediatrician kit. Kids can adopt a baby and learn what their doctors do to care for it. What a great way to ease nervousness about going to the doctor! You never know, one of these kits could spark a life long love for your children, and may end up being what they choose to go to college for. We love the kits by Little Medical School®. They promote cooperation, teamwork, social development, and more.
Get Social!
I received this product to facilitate my post. All opinions are my own!