I'm a big believer in the importance of taking care of one's skin. For my skin, I try to use products that are effective, but that are also made with natural ingredients. And, if they're organic, that's even better. To add to the picture, I also have eczema. My eczema does worsen with certain chemicals, so that's another reason I try to stick with more natural products. One company, Bel Essence, offers products that provide "nutrition for the skin" (quote taken from their website), which is exactly what I love and need to help take care of my skin. Today I'd like to share a few of their products.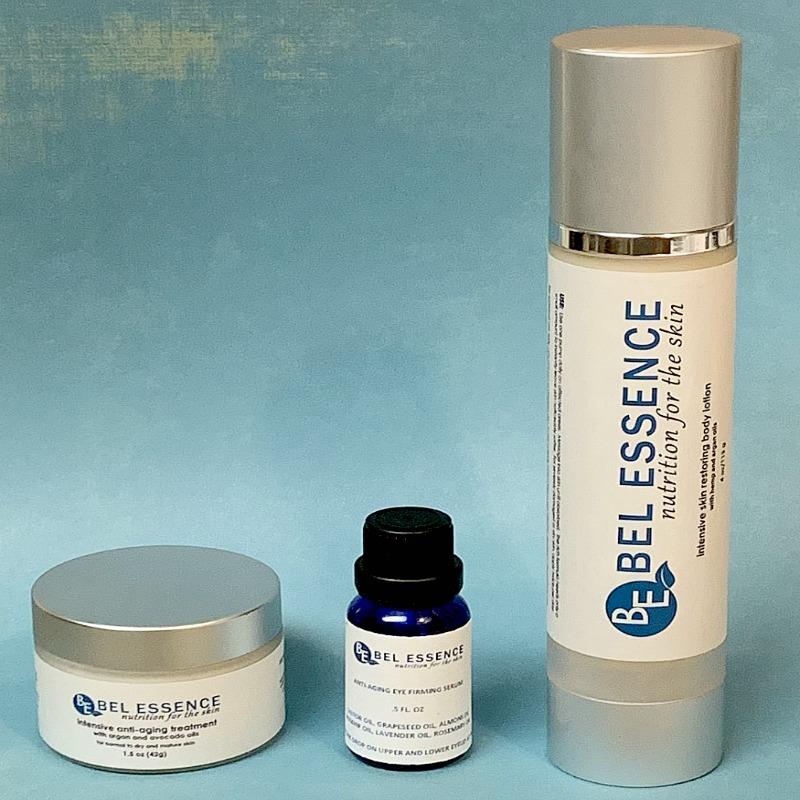 Intensive Skin Restoring Body Lotion
The first product is Bel Essence's Intensive Skin Restoring Body Lotion with hemp and argan oils. According to the website, in this product, "Bel Essence combines the super food Hemp and Argan Oil with 11 other natural, nutrient rich oils that help your skin fight environmental damage, and reverse aging for a natural anti-wrinkle treatment that works."
I, personally, really like this lotion. It's not greasy and goes on very nicely. It has a subtle scent—sort of like vanilla. And, my skin feels protected after application of this Skin Restoring Body Lotion. I'm a big fan of argan oil (I have it in my shampoo, and it has made tremendous improvements in my hair). So, I'm really happy to finally have a body lotion with argan oil in it. The Bel Essence Skin Restoring Body Lotion is available in a 4 oz. container for $26 on the Bel Essence website (all prices in this post are subject to change).
Intensive Anti-Aging Treatment
The next product is Intensive Anti-aging Treatment with argan and avocado oils. This product is for normal to dry and mature skin. According to the product description, this anti-aging treatment contains ingredients (including vitamins, fatty acids, and antioxidants) to help "your skin fight environmental damage and reverse aging for a natural anti-wrinkle treatment that works." This treatment can help with hydration, repair, and rejuvenation.
This treatment is also non-greasy and has a subtle scent like that of vanilla. It blends in easily and seems to do a nice job of moisturizing, which is something I feel my skin needs everyday. The Bel Essence Intensive Anti-aging Treatment is available in a 1.5 oz. container, which retails for $31. Or, you can buy it as a duo with the following serum for $38.
Anti-Aging Eye Firming Serum
The final product I have to share with you is Bel Essence Anti-aging Eye Firming Serum. What I love about this product is that it contains only the following ingredients: castor oil, grapeseed oil, almond oil, rosehip oil, lavender oil, and rosemary oil. That's it! According to Bel Essence, the various oils in this serum provide a multitude of benefits to help the skin and to provide a more youthful appearance to the skin near the eye. This serum is available as a duo set as described above (which is a great deal in my opinion).
Visit Bel Essence and see all that they have to offer. They have several products for addressing anti-aging and other skin care needs. And, to make their products even better, they are certified cruelty-free by the CCIC, leapingbunny.org!
Connect with Bel Essence: Website | Facebook | Twitter | Instagram