Finding Gluten-free snacks can sometimes be hard. It is even harder to find delicious Gluten-free snacks. Absolutely Gluten–free makes it easy to find Gluten-free snacks that are not only good for you, but taste good too!
Gluten-Free
Absolutely Gluten–free packs a flavor-filled punch with its full line of unique and delicious gluten–free products that satisfy everyone's craving for sweet and savory snacks, whether they're eliminating gluten from their diets or not. Absolutely Gluten–free received the 2017 Gluten–Free Trailblazer Award from Grocery Headquarters in recognition of its innovation and impact on the gluten–free and diabetic foods space. "We are committed to the continued development of gluten–free foods that offer great taste, nutrition, and health benefits," states Herzog. "With Absolutely Gluten–free, consumers on restricted diets should no longer feel left out when it comes to a world of delicious food choices."
All products are all-natural, certified gluten–free, and OU certified kosher. AGF is a division of Kayco Foods based in Bayonne, NJ.
Sweet Gluten-Free Snacks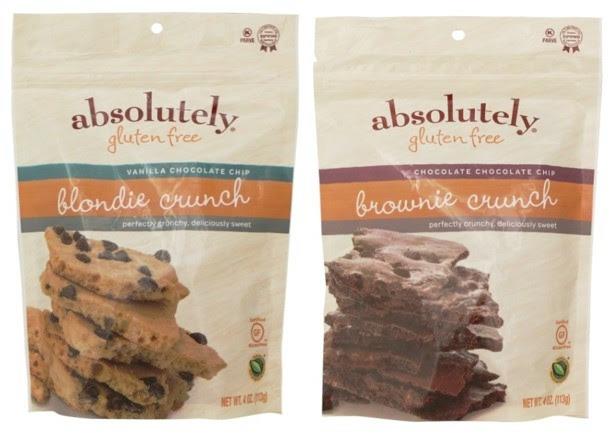 Absolutely Gluten–free Blondie and Brownie Crunch snacks don't disappoint. Blondie Crunch is available in Vanilla Chocolate Chip and Brownie Crunch in Chocolate-Chocolate Chip flavor. They are packaged in a handy resealable bag to eat on the go. And they are great toppers to ice-cream, yogurt, cakes, and mousse desserts.
For those who love a chewy snack, Absolutely Gluten–free Raw Coconut Chews are a great choice. Choose from Cocoa Nibs with Chocolate Drizzle or Cranberry with Chocolate Drizzle. Made with raw coconut, these all-natural treats are vegan and paleo-friendly, and contain no dairy, eggs, or soy.
There's even more variety for those with a sweet tooth on a gluten–free diet. Absolutely Gluten–free Macaroons are yet another tasty snack from the AGF line, in Chocolate or Coconut flavors.
Savory
Gluten

-F

ree

Snacks

Absolutely Gluten–free Flatbread in three varieties (Original, Everything, and Toasted Onion). These flour-free light flatbreads can be used to make pizza, sandwiches, and lunch for kids, topped with just about anything from melted cheese to roasted veggies and sliced fruit. They are all soy, corn, and rice-free.

Absolutely Gluten–free Crackers are available in three varieties including Original, Cracked Pepper, and Toasted Onion. They are flour-free with no soy, corn, or rice, and are light, crispy, and delicious. Serve them as appetizers with dips, crumbled atop salads and soups, or in place of breadcrumb coating.

Connect with Absolutely Gluten–free : Site | Facebook | Twitter | Pinterest